Editorials | Issues
When U.S. Citizenship Doesn't Equal Voting Rights

Clair Whitmer - overseasvotefoundation.org
September 13, 2010

Overseas Vote Foundation is a non-partisan organization providing online tools and services for U.S. voters living abroad. For more information, visit OverSeasVoteFoundation.org.
The Invisible Line Between US Citizenship and Voting Rights

Most Americans assume that U.S. citizenship automatically grants individuals the right to vote. However many expatriate American parents are shocked to learn that their children raised overseas, even if full U.S. citizens in all other respects, do not necessarily have the right to vote in U.S. elections.


The states require that citizens establish residency prior to registering to vote. These residency requirements exist to facilitate election administration, not to exclude voters, and they are easily met in most states. That is, they are easily met unless you are an American born and raised overseas.


These Americans are called "non-domiciled citizens" and are full U.S. citizens in every respect: they have American birth certificates and passports, must file U.S. federal taxes, and males must register with the Selective Service. However, only 18 states allow them to register to vote using a parent's voting address. The other 32 states will not accept their registration forms unless and until they move back stateside and meet residency requirements.


Yet the fact that citizenship can still be granted without a guarantee of voting rights flies in the face of most Americans' understanding of what it means to be a citizen. The Constitution prohibits states from denying the right to vote from certain categories of citizens: women, blacks, adults aged 18 to 21. But, there is no Constitutional guarantee of general voting rights.

The Number of Children Born Abroad

As Dr. Claire Smith discusses in her article, These are our Numbers: Civilian Americans Overseas and Voter Turnout, the U.S. Census Bureau does not count overseas citizens, hence there is no accurate way to know how many potential voters are left out of the democratic process in this way. It is almost certainly a fairly small number compared to the estimated 6 million Americans who live overseas and who exercise federal voting rights under the 1986 Uniformed and Overseas Citizen Absentee Voting Act (UOCAVA).


Fortunately, new data provides insight into the number of children abroad. In 2010, the Bureau of Consular Affairs of the U.S. State Department released information on the number of children born abroad as U.S. citizens during the ten year period of 2000 to 2009. 503,585 consular reports of birth abroad (CRBA) were made and passports issued as a result by U.S. embassies between 2000 and 2009 [Table 1.]


On a regional basis, more U.S. citizen children were born in Europe than any other region and accounted for 40 percent of births in 2000. Europe's importance appears to be decreasing and it represented less than 30 percent of total births by 2009.


Eastern Asia and the Western Hemisphere had roughly the same number of births in 2009, about 24 percent. While South and Central Asia and Africa have shown the most rapid growth in percentage terms, in numbers of births per year they still account for only a tiny portion of the worldwide total.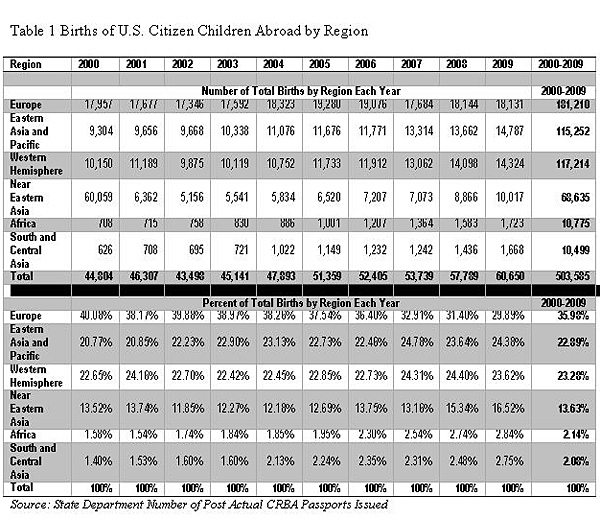 If we examine country results, Germany, Mexico, Japan and Great Britain account for more than a quarter of total births. Although births per year have declined in Germany over the past ten years, they have grown in Mexico, Japan, Great Britain, Canada, and the Philippines.

Light on the Horizon

New legislation that would close the voting loophole American children born abroad fall into, has recently taken a significant step towards adoption. On July 15, 2010, the Uniform Law Commission (ULC) voted unanimously to approve the final draft of the Uniform Military and Overseas Voters Act (UMOVA). Among many other significant provisions, UMOVA would require states to accept voter registration forms from non-domiciled citizens using an American parent's voting address.


The ULC is a non-profit organization staffed by approximately 300 lawyers, judges, legislators and law professors who volunteer their time to the organization. Its purpose is to draft "Uniform Laws" for legal areas that all states must govern and where the law functions more effectively and justly if all the states operate in the same way. The Commission's best-known laws are the Uniform Commercial Code and the Uniform Gift to Minors Act.


The process is lengthy and complicated, mainly because each individual state must approve the solution, as opposed to a federal law like the Military and Overseas Voter Empowerment (MOVE) Act, which imposed reforms this year on all 50 states at once.


Now that the Commission has adopted the final draft of UMOVA, it will be submitted for passage by each state's individual legislatures. The law would apply only in those states where the legislature votes to adopt it. Hence, the law does not need to be passed by all 50 to be valid, although that's obviously the ULC's objective.


On its current schedule, Commissioners are hoping that at least 25 states will pass the law by 2011, enfranchising tens of thousands young Americans in time for the 2012 election. OVF has actively supported UMOVA throughout the drafting process. OVF Chairman, Chip Levengood, and OVF Advisor, Lucy Laederich, U.S. Liaison of the Federation of American Women's Clubs Overseas, participated in drafting sessions and provided the ULC with written comments and research results. OVF has pledged to continue to work diligently with the ULC as the various state legislatures proceed with passage of UMOVA, The legislation represents overall improvement in voting policy and processes for military and overseas voters.


U.S. citizenship without the right to vote is empty. All those who are granted citizenship and who observe American laws should be able to participate in our most important civic tradition and responsibility: voting. Backed by similar logic, in 1986 the UOCAVA law righted this wrong for Americans living overseas; we hope the ULC succeeds in righting it for our children.

Originally Published in the Overseas Vote Foundation July-August 2010 Newsletter

For More Information:

Uniform Law Commission
A list of states that currently accept registration from non-domiciled citizens
---
Clair Whitmer is the Outreach Director of the Overseas Vote Foundation, a nonprofit, nonpartisan organization that provides easy-to-use online tools and services for U.S. voters residing overseas. For more information, click HERE or visit OverSeasVoteFoundation.org.
Tell a Friend
•
Site Map
•
Print this Page
•
Email Us
•
Top