Lectures to Go With That Mai Tai

Elaine Glusac - In Transit
go to original
September 06, 2010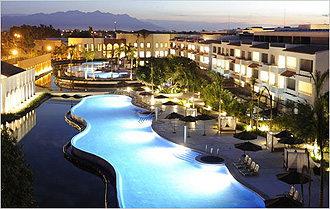 Taheima Wellness Resort & Spa: The campus, er, resort where scholarly lecture sessions are offered. Visit the website at Taheima.com for more info.
The most taxing mental task that you'll undertake at many all-inclusive resorts is deciding between a margarita and a piña colada. But the Tahéima Wellness Resort & Spa, just north of Puerto Vallarta, Mexico, gives its guests more to ponder in a number of lectures by members of the faculty of the Osher Lifelong Learning Institute at the University of California, Berkeley.


In the next weeklong session ("Cultural Legacies: Mexico Across Borders," Nov. 13 to 19), lectures will focus on the cultural relationship between the United States and Mexico. That session is followed by another, in which environmental scientists survey Mexico's biodiversity via field trips ("Flora, Fauna and the Politics of Biodiversity," Dec. 4 to 11). And in "Mexico, Media and Democracy," Jan. 22 to 29, journalists from each side of the border gather to present lectures.


Tuition is $1,400 a person, double occupancy, including educational programming and meals, as well as extras you don't get in a college, like an open bar in the evenings and daily massages and access to a beach, golf course, pools and Jacuzzi.

Visit the website at Taheima.com for more info.