Travel & Outdoors
Hotel Riu Palace Wins Apple Crystal Award

RivieraNayarit.com
September 21, 2010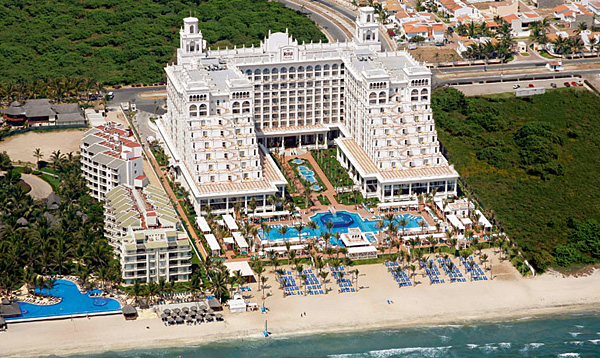 The Hotel Riu Palace Pacifico Riviera Nayarit was recognized by Apple Vacations as the best all-inclusive hotel and presented with the distinctive Apple Crystal award.
Related article: Puerto Vallarta Receives Crystal Award From Apple Vacations as "Best Destination"

Riviera Nayarit was able to present all the wonderful reasons for vacationing at their destination to thousands of travel agents. The Apple Vacations Trade Show in Chicago presented a great opportunity to promote tourism in Riviera Nayarit.


Apple Vacations, founded in 1969, is one of the first travel Charter companies established in North America and the first in creating "All inclusive" packages. Its founders saw a significant business opportunity offering the opportunity to vacation in exotic destinations at a fraction of the cost involved through traditional airlines. At that time, traveling internationally was considered a luxury. Today, Apple Vacations has helped create a culture of travel with quality at affordable prices.


For over 40 years, Apple Vacations has been considered a leader in this market, with more than two thousand employees and offices in 20 U.S. cities. That is why Riviera Nayarit sought to establish a relationship with Apple Vacations, and that relationship has proven to be an important asset in attracting tourists to Riviera Nayarit.


During last week's Trade Show, Riviera Nayarit had the opportunity to present all the competitive advantages that the destination can deliver, where luxury is combined with natural scenery of exceptional beauty, to the thousands of travel agents in attendance.


Some of the hotels presented were Dreams Villamagna, Marival Suites & Resort and Residences Marival, Palladium Resort & Spa, Occidental Allegro, Riu Palace, Vallarta Palace, Villa Palmar Flamingos and Villa La Estancia.


During the Trade Show, Apple Vacations gave the distinctive Crystal Award, offered based on the comments that the company receives from their clients about the quality of tourist products. Hotel Riu Palace Pacific Riviera Nayarit was awarded best all-inclusive hotel by the warmth of the service that their staff has provided.


Recognition was given by the President of the Council of Directors of Apple Vacations, Chris Mullen, and received by the Vice President of Contracts and Marketing of the Caribbean, Pacific, Mexico and Florida of Riu Hotels, Álvaro de Haro.


The intensive work of promoting the Office Of Visitors and Conventions (OVC) in Riviera Nayarit is possible thanks to the strong support of the Governor of the State, Ney González Sánchez, who has placed the tourism as a priority activity for economic development entity and, of course, to work together with the Council of Tourism Promotion (CPTM) and the Secretary of Tourism of the Federal Government, led by Gloria Guevara Manzo.


About Riviera Nayarit: Mexico's newest destination, Riviera Nayarit, stretches along 192 miles of pristine Pacific coast framed by the majestic Sierra Madre Mountains just ten minutes north of accessible Puerto Vallarta International Airport. The region extends along the entire coast of the Pacific state of Nayarit including the resorts of Nuevo Vallarta, the historic colonial town of San Blas, exclusive Punta Mita, picturesque fishing villages, miles of serene beaches and spectacular Banderas Bay. Riviera Nayarit offers countless activities, all pleasantly affordable, such as: PGA golf courses, luxury spas, whale watching, turtle release, zip lining, surfing, record deep sea fishing, bird watching, international cuisine, and shopping for local artwork and traditional Huichol handicrafts. The region attracts and satisfies vacationers of all tastes and budgets with its wide range of accommodations including chic luxury resorts, eco-tourism boutique hotels and quaint B&B inns. Visit the website at RivieraNayarit.com
Tell a Friend
•
Site Map
•
Print this Page
•
Email Us
•
Top