Editorials | Environmental
Conditions Not Met for Climate Deal in Cancun: Mexico

Agence France-Presse
go to original
October 19, 2010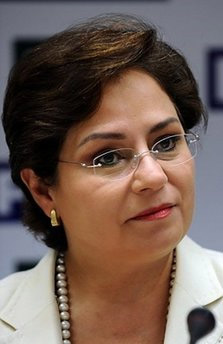 Mexican Foreign Minister Patricia Espinosa (AFP/Prakash Singh)
Mexico City - Mexican Foreign Minister Patricia Espinosa said Monday that "conditions have not been met" for a new climate deal on reducing greenhouse gas emissions at a worldwide summit in Cancun in December.


"For Cancun, the conditions have not been met to adopt a new protocol" to replace the Kyoto accord which expires in 2012, Espinosa said.


The Cancun meeting, from November 29 to December 10, aims to firm up "a basic agenda" for the continuation of negotiations, Espinosa said.


The United States and China clashed at climate change talks earlier this month in China, accusing each other of blocking progress ahead of the Mexico summit.


Delegates from more than 200 countries will take part in the next round of UN talks in Cancun.


World leaders failed to broker a new climate treaty in Copenhagen, Denmark, last year, as developed and developing nations battled over who should carry more of the burden in curbing greenhouse gases, which are blamed for global warming.


European leaders now look set to push China, the United States and a host of emerging powers to extend the Kyoto deal at the crunch talks in Mexico.


Mexican President Felipe Calderon has underlined the urgency for an agreement, saying that the poorest communities were already suffering the impact of climate change.
Tell a Friend
•
Site Map
•
Print this Page
•
Email Us
•
Top