Editorials | Environmental
Forecasting Cancun's Climate Change Talks

David Schreiner - AS/COA
go to original
November 25, 2010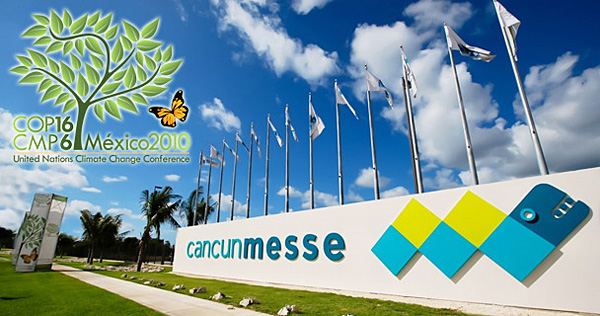 (Presidencia de la República)
Representatives of 194 countries will gather in Cancun, Mexico, on November 29 for the sixteenth meeting of the Conference of Parties (known as COP16), part of the UN Climate Change Conference. The talks will be more subdued than last year's, and no heads of state are expected to attend. Delegations consisting of senior ministry officials and climate specialists will work towards what Christiana Figueres, head of the UN body overseeing the conference, calls "realistic " goals, including some compromises on reducing carbon emissions, as well as cutting deforestation and mitigating global warming.


Rich countries will look to base access to "fast-start" cash, pledged at Copenhagen to help poor countries establish green energy reserves, on transparent emissions reporting. But Beijing made it clear it won't accept these provisions, while Washington's climate-change representative said the United States would push against any deadlines on negotiations for an international climate treaty.


In contrast, Mexico has led efforts at self regulation. In 2008 Mexico City Mayor Marcelo Ebrard laid out a $1 billion-a-year investment strategy to cut the city's emissions by 7 million tons from 2008 to 2012. At the Congress of United Cities and Local Governments, a precursor to COP16 hosted in the Mexican capital on November 16, 100 mayors committed to working towards reducing carbon emissions. Similarly, a plan that Mexican President Felipe Calderón announced in 2008 will cut Mexico's carbon emissions, which make up almost 1.5 percent released globally, by half of 2002 levels by the middle of the century.


Fighting deforestation also plays an important role in cutting Latin American emissions, so "mitigation activities in this sector should be a top priority for the region," argues a World Bank report. Brazil, which has cut greenhouse gas emissions by 34 percent since 2005, still emits the third-highest amount of carbon in the world. "[T]he bulk of Brazilian greenhouse-gas emissions (85%) come …from agriculture, land-use, and forestry activities," says an International Energy Agency report, meaning that by protecting its forests, Brazil could dramatically reduce its emissions.


Success in Cancun will come in small steps, not through a major agreement, argues a piece by USA Today. But the elephant in the room, according to the head of the UN Environment Program, will be the fact that targets set by the Copenhagen Accord are not enough to stop runaway climate change. While the results of the Cancun summit remain uncertain, the UN climate change secretariat says the talks may see the United States and China sign a limited agreement seeking to mitigate climate change by transferring new technologies to developing countries, protecting the world's rain forests, and building a climate fund that could reach $100 billion a year by 2020.

Send questions and comments for the editor to: ascoa.online(at)as-coa.org.
Tell a Friend
•
Site Map
•
Print this Page
•
Email Us
•
Top