Editorials | Environmental
Mexico's Leader Warns of Looming 'Tragedy' on Climate

Tim Johnson - McClatchy Newspapers
go to original
November 30, 2010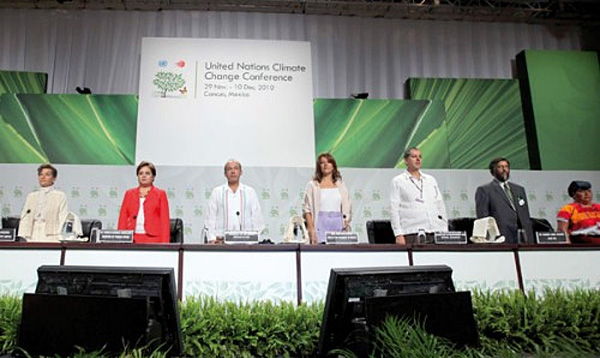 A new round of U.N. climate talks opened on Monday in Cancϊn with almost 200 nations meeting in Mexico in hopes of clinching an agreement on a narrow range of crunch issues dividing rich and emerging economies. (The News)
Mexico City — President Felipe Calderon warned Monday that the globe is on the precipice of a tragedy if delegates at a U.N. climate change summit do not set differences aside and think of future generations.


Despite Calderon's admonition, hopes remained low among delegates in the beach resort of Cancun for a binding agreement on how to reduce greenhouse gas emissions blamed for rising global temperatures and extreme weather.


"It would be a tragedy if our inability to see beyond our personal interests or national interests makes us fail," Calderon told an opening session of some 15,000 delegates from 194 countries. "The atmosphere is indifferent to the sovereignty of states."


The 13-day summit opened with dire warnings from a climate scientist.


"To postpone action ... would mean astronomical costs for future generations," said Mexican scientist Mario Molina, who won the 1995 Nobel Prize in chemistry for his studies of the ozone layer. "We can't wait another decade."


If world leaders act now, Molina said, effective steps to limit warming to two degrees Celsius could be done at "relatively low cost," perhaps only 2 to 3 percent of global economic output.


Calderon, wearing a warm weather guayabera shirt rather than a suit, told delegates that rising temperatures are the greatest challenge of modern times.


"Climate change is beginning to collect from us the fatal errors we humans have committed against the environment," Calderon said. "Either we change lifestyles to halt climate change or climate change will permanently alter the way of life of our civilization — and it won't be for the better."


Citing floods in Pakistan, forest fires in Russia and more numerous hurricanes in the Caribbean, Calderon said extreme weather is felt by millions of people around the world.


"If we do not take immediate decisive measures, the negative effects will worsen and the economic, social and ecological consequences will be devastating," he said.


Outside the conference hall, Mexico sought to show it is a leader in the developing world in seeking sustainable development using renewable energy.


With water and waste recycling systems in place, fleets of bicycles and hybrid vehicles moving between hotels and the conference venue, and tree-planting programs gearing up, organizers said the summit would be "carbon neutral."


Transportation for delegates includes 25 biodiesel-fueled buses, 40 electric vehicles, 17 hybrid vehicles and 254 buses running on ultra-low sulfur diesel.


Lauding Mexico's "enormous wind-energy potential," Calderon on Sunday inaugurated a 1.5 megawatt project of windmills. He said he expected to quadruple Mexico's wind generation capacity within two years, still only to a fraction of the 71,000 megawatts of wind energy that he said experts tell him Mexico could generate.


Unlike last year's talks in Copenhagen, there's no expectation that this round in Cancun will result in a legally binding treaty. Instead, negotiators hope to make progress on smaller steps to reduce emissions.


The Copenhagen talks were marked by sharp divisions and harsh language.


Countries wanted the United States, historically the largest source of emissions, to show that it would impose mandatory cuts, but legislation to make that happen was blocked in the Senate. In the end, the best President Barack Obama and other world leaders could get was a non-binding accord in which countries pledged to reduce emissions. There's still no roadmap for any global mandatory reductions.

Renee Schoof contributed to this article.
Tell a Friend
•
Site Map
•
Print this Page
•
Email Us
•
Top