Travel & Outdoors
Top 5 Most Personally Safe Countries

Global Top 5s - RealClearWorld.com
go to original
November 01, 2010

Foreign affairs journalism often finds itself consumed by heady, "big picture" issues. Have we entered the "Chinese Century"? Is America in decline? Will there be an arms race in the Middle East? Has the European debt crisis abated?


But for millions, even billions of the world's population, questions of grand strategy and smart power are often eclipsed by far more immediate and practical ones: Can I feed my family today? Will we have shelter? Can I find work?


And one concern that binds people from New Delhi to Denver is personal safety. So where, then, do the most people feel the safest? With help from Gallup's global research, we decided to explore this question and find the world's most personally safe places.


• • •


No. 5 Syria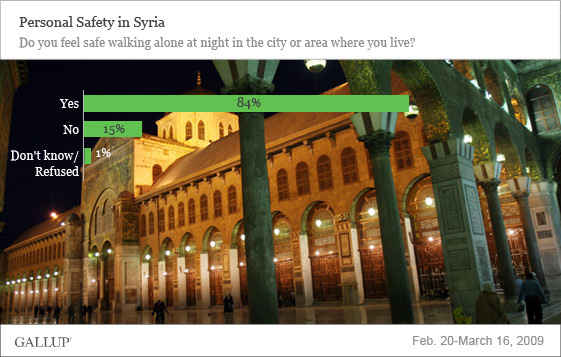 Crime in Syria is low, according to the U.S. State Department, "due to strong cultural mores against property crime and to the pervasive police and security presence throughout the country." Syria has been ruled under emergency law since 1963, which is when the ruling Ba'athists took power. While the State of Emergency is justified as a necessary response to external threats, it has been used by the Syrian state in order to enforce internal security as well.


• • •


No. 4 Jordan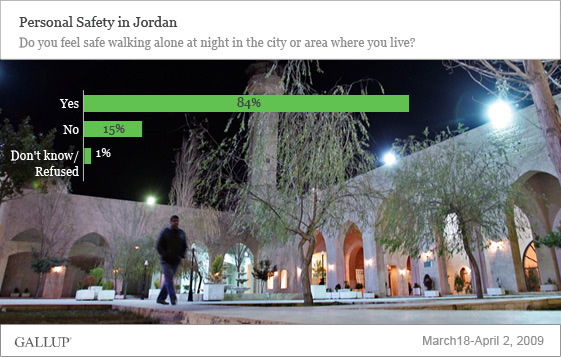 Crime in the Hashemite Kingdom of Jordan, thanks in part to a strong police force and relatively low corruption, has traditionally been rare, by both regional and global standards, making Jordan one of the countries where people feel safest.


Crime has, however, ticked up slightly in recent years, attributable perhaps to the weak global economy and investment scandals, which have left many in Jordan more desperate and economically unstable than in years past.


• • •


No. 3 Hong Kong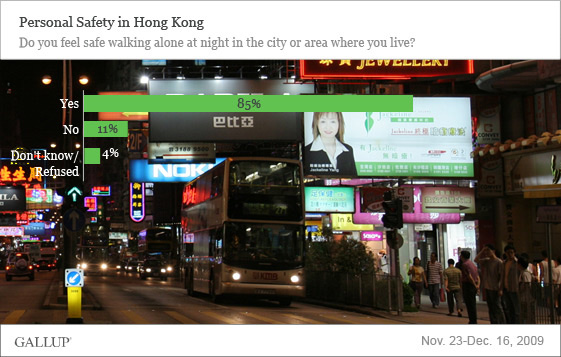 Hong Kong, one of the globe's biggest finance and trade hubs, also happens to be one of the places where people feel safest. First, the two obvious indicators: Employment and standard of living. Both are relatively high in Hong Kong, helping to keep crime low and criminals few.


But Hong Kong, though safe, is certainly not without its criminals. Famous for its, well, infamous organized crime syndicates, or Triads, these mysterious Chinese gangsters are rumored to have their hands in nearly every cookie jar in Hong Kong. And much like organized crime in America, these mobsters feed off Hong Kong's free and easy business climate, ironically serving to deter violent freelancers.


• • •


No. 2 Qatar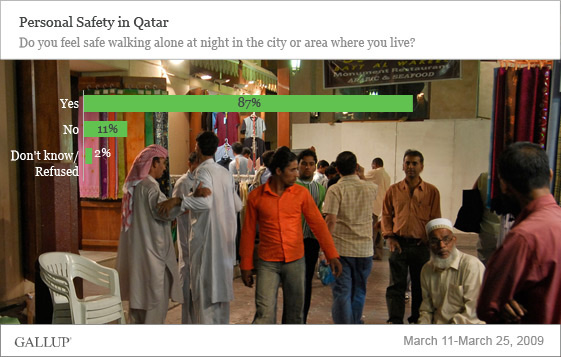 According to the latest government figures, Qatar's homicide rate of 0.5 per 100,000 people make it one of the safest countries in the world - an assessment that's seconded by the U.S. State Department, which deemed the country's overall crime rate as "generally low." That's a welcome trend in any context, but perhaps more so for tiny Qatar, whose population of a little over 833,000 is both overwhelmingly urban (some 96 percent) and quite wealthy, enjoying the second highest per-capita income in the world.


• • •


No. 1 Singapore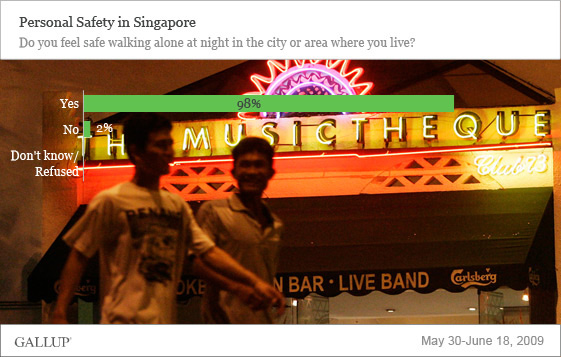 Few could possibly forget the now infamous Michael Fay caning of 1994. Fay, an American citizen who was arrested and charged with vandalism and theft, eventually received four lashes with a cane for his crimes. Another American, former football player Kamari Kenyada Charlton, faces a similar sentence for overstaying his visa.


Singapore is well known throughout Asia and the world for its justice system, and the country ranked high atop the World Justice Project's 2010 index for its strong order and security (PDF). Its authoritarian government has a firm control of its judiciary, with a draconian criminal code, including mandatory death penalty for petty drug smugglers.


But this island republic's methods, though arguably excessive, have a purpose: Singapore relies heavily on its tourism industry, and its image as a friendly, pro-business attraction for global investment is critical to the nation's economy.

Global Top 5s is a monthly feature by RealClearWorld.com powered by Gallup's worldwide research. Learn more at Gallup.com.
Tell a Friend
•
Site Map
•
Print this Page
•
Email Us
•
Top