Editorials | Issues
American Missionary Brings Solace to Drug-Torn Mexican Region

Nick Miroff - Washington Post
go to original
December 08, 2010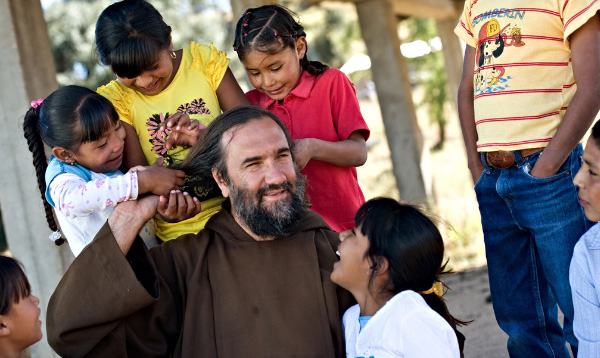 Beaumont, a Franciscan friar, lets Pima children braid his hair during a visit to their village in the Sierra Madre mountains of Mexico. (Nikki Kahn/Washington Post)
Yecora, Mexico - A twisting federal highway passes through this mountain town in the western Sierra Madre, halfway between the states of Sonora and Chihuahua.


The Sinaloa drug cartel controls one side. The Juarez cartel rules the other. In the middle is the Rev. David Beaumont, a Franciscan priest from Hempstead, N.Y.


When Beaumont arrived here 20 years ago as a young missionary, the roads were unpaved, there was no electricity, and there was little to eat besides beans and tortillas. He'd been sent to serve dirt-poor Pima Indians, some of whom were still living in caves, but they ran and hid whenever he arrived in their villages.


"Sometimes I think it was easier back then," said Beaumont, 50, laughing at that memory as he rumbled along a dirt road in a pickup truck and the tattered brown friar's habit he wears over bluejeans. With his long beard and hair, and 6-foot-3 frame, he is an emissary for peace, humility and love in one of the largest and most dangerous drug-growing areas in the world.


Autumn is harvest time in the stream valleys of these craggy, folding mountains, and for centuries that meant corn and beans. Now it is a season of worry, when shifty outsiders arrive from lowland Sinaloa, light aircraft buzz the ridges, and there are roadblocks along the highway, some by the military, others by the men with masks and AK-47s.


Tourists and bird-watchers from the United States used to stop in Yecora and travel this highway, through pine forests that resemble the mountains of New Mexico and Arizona. But today, foreigners do not come here, and even Mexicans, including many who live in town, are too fearful to test the road.


"We haven't had any Americans here in a long time," said Beaumont.


The region now produces billion-dollar crops of marijuana and heroin. The U.S. State Department estimates that marijuana cultivation increased 35 percent in the Sierra Madre last year, despite the Mexican military's slash-and-burn eradication efforts and the United States' $1.6 billion Merida regional anti-narcotics initiative. In a single, record-breaking bust in October, Mexican authorities seized 134 tons of marijuana in Tijuana - worth $340 million - some of it likely harvested here.


Hardscrabble Pimas still live in scattered, remote shacks, but in town there are brand-new pickup trucks and ATVs, and mansions going up with three-car garages and crenelated castle motifs. After harvest, the laborers are paid in U.S. dollars, and they fill the rough cantinas near the plaza. "They'll spend a whole month drinking, and end up with nothing," Beaumont said. "When you plant corn and beans, at least you have food. But when you work marijuana, your family goes hungry."


Often it falls to Beaumont to remedy this, providing food and medical help and a dependable presence to children whose own fathers are dead, or missing, or too drunk. For hundreds of families, he is both a spiritual father and a surrogate one. "How are you, my children? I am so happy to see you," he says wherever he arrives.


The son of a mathematician, Beaumont was an altar boy at 10 and joined the priesthood at 15, stirred by trips to St. Paul's Cathedral in New York City. He was working as a missionary in South Central Los Angeles, helping Central American refugees, when his superiors in the Capuchin Order asked him to go to Yecora.


Today, Beaumont speaks four local indigenous languages, and English so seldom that his pronunciation has taken on a Mexican lilt. "David has dedicated his life to this place," said Cesar Lozano, an apprentice friar on a one-year assignment to help Beaumont. "He embraces the people wherever he goes, and he does not judge them. He is completely devoted to Christ."


Beaumont has also lived in the Sierra Madre long enough that he does not mention the cartels by name, nor speak out against growing marijuana and opium poppies. The friar's habit is not a bulletproof vest.


"I know the first person who planted marijuana here," Beaumont said, laughing again. "He still comes to Mass sometimes."


In April, during Holy Week, nine men were murdered in Yepachi, a town down the highway on the Chihuahua side. Beaumont drove there soon after to console the victims' families and call for peace in a special Mass.


As soon as he arrived, accompanied by a local Pima family, his truck was surrounded by 17 armed men in masks. The men took two teenage boys from Beaumont's truck, placed them on the ground, and put guns to the boys' heads.


Father, their mother screamed, they're going to kill my sons.


Beaumont stepped between them. He got the family back in the truck and drove off. On the highway outside town, they saw two bodies along the road.


Beaumont stopped in the next town, Maycoba, and gave Mass there. Ten minutes after he left, armed men in a convoy of two dozen pickup trucks arrived, blocking off the highway to seal the entrance and exit to town. They fired 70 rounds into the police station and sprayed gunfire in the air. They were hunting for a local rival, and when they didn't find him, they grabbed his 73-year-old father and executed him, along with another man.


By the time Beaumont returned to the villages where the convoy had passed, the Pima families were gone. They had fled into the hills, camping out on the ridges. "The children weren't eating," Beaumont said. "Their mothers didn't want to come down because they were afraid the men with guns would return."


Three weeks later, Beaumont organized a religious procession along the highway. A thousand people came, marching with icons of Saint Francis and the Virgin of Guadalupe. "The message we wanted to send was: We live here, we have the right to live here, and we will continue to live here," Beaumont said. The Pimas returned to their homes.

Tell a Friend
•
Site Map
•
Print this Page
•
Email Us
•
Top