Editorials | Issues
Wikileaks "Gossip" Merely Annoying in Latin America

Mario Osava - Inter Press Service
go to original
December 15, 2010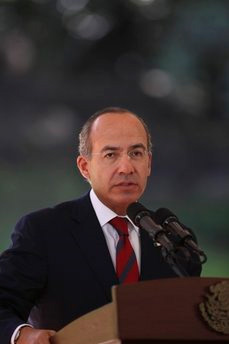 Mexico's President Felipe Calderon speaks during a press conference in Mexico City, Monday Dec. 13, 2010. Calderon said he rejected the contents of U.S. State Department memos regarding Mexico, that were leaked by WikiLeaks, to President Barack Obama for what he said were inaccuracies in the information they contained. (AP/Alexandre Meneghini)
Brasilia - Although revelations by the whistle-blowing website Wikileaks concerning Latin America have caused irritation in the region, they have not had any significant effects so far.


What they do point to, however, is a future of greater transparency in diplomacy and politics in general, some analysts say.


Brazilian President Luiz Inácio Lula da Silva spoke out in defence of Wikileaks and said the arrest of the website's founder, Australian journalist Julian Assange, was "an attack on freedom of expression."


"They arrested him, and I have not heard much protest with regard to freedom of speech," said Lula, referring to Assange's arrest in London last week on a warrant from Sweden, for sex offence charges.


"The guilty person is not the one who did the reporting, but the person who wrote silly things," the Brazilian president said - a reference to the thousands of leaked diplomatic cables sent to or from U.S. embassies around the globe.


Lula's remarks also gave an indication of his confidence that none of the cables will seriously affect his government.


Nevertheless, the revelation that Brazil's Defence Minister Nelson Jobim confided to then-U.S. Ambassador Clifford Sobel that Samuel Guimarăes, who was deputy foreign minister at the time and is now minister for strategic affairs, "hates the U.S." has caused discomfort in the Brazilian government.


Also awkward was a cable in which Jobim told Sobel that Bolivian President Evo Morales had a sinus tumour, which has been denied by the Bolivian government.


The cables have had stronger repercussions than might otherwise have been expected because of the transition to the government of President-elect Dilma Rousseff, who takes office on Jan. 1. If the new president fails to keep Jobim in his post, there will be allegations that he lost his job because of Wikileaks, said André Pereira, an analyst with the CAC political consultancy in Brasilia.


The leaks have revealed "the fragility of the system of communications" among diplomats around the world, who will strive harder to guard their privacy, although it has become clear that "there is no really safe method," he told IPS.


The predominant sensation in Latin America is that the Wikileaks reports, which some have dismissed as mere gossip, are annoying but will not affect relations with the U.S. or among countries in the region.


In Chile, "I think (the cables) mainly reflected conversations in hallways, comments, and rumours," said political scientist Jaime Abedrapo, a professor at the public University of Chile and the private Diego Portales University. "In general, not much importance has been given to them, and the main reaction has basically been to point out that these things occur in diplomatic circles all over the world."


There has been little concern in Chile "over the underlying issue, which is the question of transparency, and of how we are moving towards higher levels of transparency" in democratic systems, "a political effect (of Wikileaks) that seems to be here to stay, but in Chile the reaction will be a little slower," he told IPS.


Chile's politicians are still wavering between applauding "the transparency, or condemning the leaks of the cables," because what has been published so far "has not been very significant here" although the effects the leaks could have in the future are still unclear, he added.


Unless something new comes out, an effect on Chile's relations with the United States "is unlikely," as it is chiefly U.S. diplomacy that has been affected and has had to give explanations to the rest of the world, he said.


With respect to other countries in Latin America, Abedrapo emphasised two cases. "To some extent (the leaks) confirm that the United States was trying to politically isolate Venezuelan President Hugo Chávez, particularly because of the alliance he is forging with Iran. But that is not really new information," he said.


"The other case, which is embarrassing to U.S. diplomats, are the doubts regarding the mental health of the president of Argentina (Cristina Fernández)," he added.


"That of course is going to cause some distancing, even personal in nature, because the Argentine president is still in office and Secretary of State Hillary Clinton signed off on these documents," Abedrapo said.


The cables ask "How is Cristina Fernández de Kirchner managing her nerves and anxiety? How does stress affect her behaviour toward advisors and/or her decisionmaking?" and "How do (her) emotions affect her decisionmaking and how does she calm down when distressed?"


In response, President Chávez quipped that "Someone should study Mrs. Clinton's mental health... She feels superior to Obama...Because she is white". He also congratulated "the people of Wikileaks" for "their courage and bravery."


But the Venezuelan leader kept mum with regard to cables that reported that hundreds of Cuban physicians providing health care to the poor in Venezuela as part of a solidarity mission have fled that country for the United States, and that top military officers in Bolivia received money from Venezuela to ensure that they supported the policies of President Morales, one of Chávez's main allies in the region.


In other cables, Brazilian Foreign Minister Celso Amorim says Chávez's "bark is worse than his bite," and other Brazilian officials make comments on the Venezuelan government.


But Venezuelan Foreign Minister Nicolás Maduro complained that this was just part of Washington's "constant intrigues" against the leaders and governments of Latin America.


The opposition in polarised Venezuela took the Wikileaks cables not as news but as confirmation of things they have long complained about: that Chávez gives money to allied governments, that he has strong ties to Cuba, and that he tries to influence neighbouring countries.


The president's supporters, meanwhile, condemned them as just more evidence of manipulation by the U.S. "empire."


In Argentina, there was as much irritation about the references to the president's mental health as to statements that she was "submissive" to her husband, former president Néstor Kirchner (2003-2007), who died unexpectedly in October.


Cables from the U.S. embassy also accused the Argentine government of being "lax" in the fight against money laundering, and said companies in Spain were concerned about the level of corruption in Argentina.


"It'll take time to overcome the incident," acknowledged U.S. Ambassador in Argentina Vilma Martínez, despite Clinton's apology to Fernández by means of a personal phone call in which she reportedly talked about the importance of the United States' relationship with Argentina and regretted the release of the confidential documents.


Fernández did not publicly address the incident, which could deepen mistrust between the two countries.


But no changes in bilateral or regional relations are expected to occur as a result of the leaks, as reflected by the 20th Ibero-American Summit held Dec. 2-3 in the resort city of Mar del Plata, south of Buenos Aires, where the Wikileaks scandal was not given the importance that the press had predicted.


Argentina, along with Brazil and Mexico, refused to sign a declaration proposed by Ecuador to condemn the content of the secret cables.


The Wikileaks affair has had such huge repercussions because of the ease and low cost with which information can be disseminated today, giving leaks of official documents "a new magnitude," Carlos Castilho, a veteran reporter who is now an academic who specialises in "cyber journalism," told IPS.


A few decades ago, much more damaging secrets about the Pentagon, reported by the New York Times, had more limited dissemination, he pointed out.


Today's glut of information is "a challenge for journalists," who must sort through, select and flesh out the available news, he said.


The trend towards growing transparency is, in his view, a kind of reverse Big Brother, because of the increasing difficulty in controlling information, which gives the public greater oversight of governments.

Additional reporting by Marcela Valente in Buenos Aires, Humberto Márquez in Caracas and Daniela Estrada in Santiago.
Tell a Friend
•
Site Map
•
Print this Page
•
Email Us
•
Top