Editorials | Environmental
Climate Talks Down to Wire, Mexico Pushes for Deal

Gerard Wynn & Alister Doyle - Reuters
go to original
December 10, 2010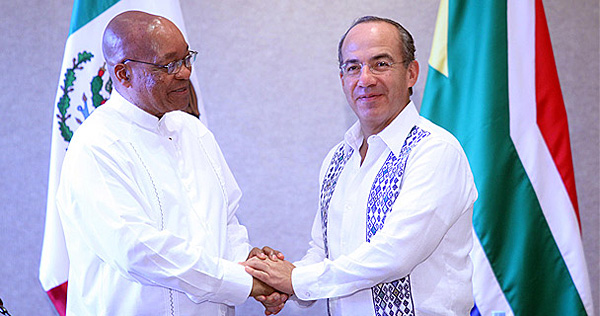 Mexican President Felipe Calderon (R) and South Africa's President Jacob Zuma attend a conference about climate change in Cancun. (Presidencia de la República)
Cancun, Mexico - Mexico scrambled to break an impasse between rich and poor nations over future cuts in greenhouse gas emissions on Friday as 190-nation climate talks went down to the wire.


Delegates said there was little progress in overnight talks in Mexico's beach resort of Cancun and that the negotiations, due to end on Friday, may well be extended into Saturday as all sides seek a deal to address global warming.


"It's in the hands of the Mexican presidency," John Ashe, who is chairing key discussions about the future of the Kyoto Protocol, told Reuters.


The Kyoto Protocol currently binds almost 40 rich countries to cut greenhouse gases until 2012, but wealthy and poor nations are divided over what obligations they should all assume over the next few years.


Negotiators hope for a modest deal in Cancun to set up a fund to help developing nations tackle climate change, protect tropical forests and agree a mechanism to share clean technologies


Ambitions are low after last year's U.N. summit in Copenhagen fell short of a treaty.


Mexico's Foreign Minister Patricia Espinosa is presiding over the two weeks of talks in Cancun and is leading efforts to broker a deal over the future of Kyoto which is blocking progress on other issues.


Britain's Prime Minister David Cameron spoke with Japanese Prime Minister Naoto Kan by telephone to discuss the standoff after Tokyo said it would not sign up for an extension of Kyoto beyond 2012 unless developing nations also commit to cutting their greenhouse gas emissions. The position has angered many developing countries.


A Japanese foreign ministry statement said that Kan would work to make the talks a success. Delegates of Britain and Brazil are also working in Cancun to help unlock a deal.


Ashe said it was "hard to say" if there would be progress on Friday, adding that Mexico's Espinosa was drawing up new texts for delegates.


"At least there's confidence that she could put something for them to consider. This was not the case in Copenhagen. If there's one thing that we've learned in Cancun is that trust has been restored," he told Reuters.


The Copenhagen summit collapsed in acrimony, agreeing only a non-binding accord to limit a rise in temperatures to below 2 degrees Celsius (3.6 F) above pre-industrial times. Another failure in Cancun would badly damage the UN-led talks.


Kyoto currently obliges almost 40 developed nations to cut emissions by an average of 5.2 percent below 1990 levels from 2008 to 2012.


Japan insists that all major emitters, including China, India and the United States, must sign up for a new treaty to succeed Kyoto.


Developing nations say that rich nations, which have emitted most greenhouse gases by burning fossil fuels since the Industrial Revolution, must extend Kyoto before the poor sign up for curbs that would damage their drive to end poverty.


Separately, India said that it might eventually commit itself to legally-binding emissions curbs in a shift that could help the negotiations in Cancun. India has previously rejected any legally binding commitments.


(Additional reporting by Krittivas Mukherjee in New Delhi and Yoko Kubota in Tokyo; Editing by Kieran Murray)
Tell a Friend
•
Site Map
•
Print this Page
•
Email Us
•
Top