Travel & Outdoors
Riviera Nayarit to Celebrate 7th Annual Festival of Migratory Birds

RivieraNayarit.com
December 04, 2010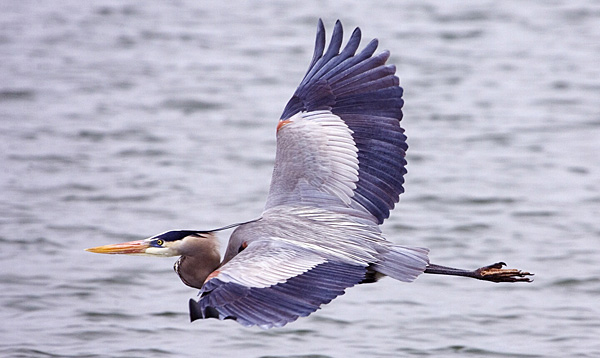 Great blue heron (Alan D. Wilson)
Riviera Nayarit – All eyes on nature! Riviera Nayarit is welcoming the New Year with the exciting annual Festival of Migratory Birds. The region, which is home to an impressive 80% of the Pacific migratory shore bird population, will offer bird enthusiasts the opportunity to experience insightful guided tours of this spectacular nature "show" during the much-anticipated festival. The festival will take place from January 23 – 30, 2011.


Over 500 species of the region's feathered friends will make the migration to the mangrove eco-region of San Blas. An already popular site throughout the year, travelers head to San Blas to view Riviera Nayarit's nature offerings, including the Crocodile Reserve as well as a tour of the colonial history and fishing villages. However, nothing is quite like the once a year Festival of Migratory Birds in which special seminars on birds, bird watching, and environmental conservation are offered to the public. Special boat tours are also offered to highlight the festival and ensure that visitors are able to see these magnificent birds in their natural habitat.


Birds that flock to San Blas are, to name a few, the black-bellied tree duck, great blue heron, roseate spoonbill, and endemic birds, including the bumblebee hummingbird and the Mexican woodnymph.


San Blas, a small fishing village in the state of Nayarit is just two and a half hours north of Puerto Vallarta airport. The town is known as the port where the Spanish priest Junipero Serra, 'Father' of the California Missions, departed from nearby Las Islitas beach on Matanchen Bay in the locally-built barque Purísima Concepción to California. San Blas is a popular town thanks to its many beaches, colonial history, Spanish fort, excellent restaurants, and an abundance of migratory birds which attract ornithologists from around the world. Surfing is one of the top sports activities in San Blas as Playa de Matanchen is famous for being the longest surfable wave in the world as listed in Guinness Book of World Records. The La Tovara National Park nearby is a federally-protected sanctuary for birds in a natural mangrove forest. As part of the park experience, motor boats will unveil a world of mangroves where you have the opportunity to see many of the native birds of the region, as well as crocodiles, swamp turtles, and other creatures.


For those interested in attending the festival and experiencing a traditional Mexican setting, the Hotel Garza Canela in San Blas is offering a special festival discount that will be valid during the festival where rooms will be available for $76 per room in single occupancy or $96 per room in double occupancy. The rate includes 19% taxes and breakfast; tips are not included. Reservations can be made at hotel(at)garzacanela.com or by calling (800) 713-2313 from the U.S. or (011) 52-323-285-0112 from Mexico.


About Riviera Nayarit: Mexico's newest destination, Riviera Nayarit, stretches along 192 miles of pristine Pacific coast framed by the majestic Sierra Madre Mountains just ten minutes north of accessible Puerto Vallarta International Airport. The region extends along the entire coast of the Pacific state of Nayarit including the resorts of Nuevo Vallarta, the historic colonial town of San Blas, exclusive Punta Mita, picturesque fishing villages, miles of serene beaches and spectacular Banderas Bay. Riviera Nayarit offers countless activities, all pleasantly affordable, such as: PGA golf courses, luxury spas, whale watching, turtle release, zip lining, surfing, record deep sea fishing, bird watching, international cuisine, and shopping for local artwork and traditional Huichol handicrafts. The region attracts and satisfies vacationers of all tastes and budgets with its wide range of accommodations including chic luxury resorts, eco-tourism boutique hotels and quaint B&B inns. Visit the website at RivieraNayarit.com
Tell a Friend
•
Site Map
•
Print this Page
•
Email Us
•
Top