Editorials | Issues
Violence in LatAmerica Turns More Ruthless

Gulf Times
go to original
January 03, 2011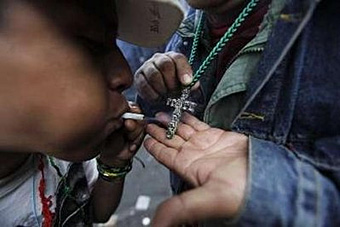 A man blows smoke from a marijuana cigarette on a necklace of La Santa Muerte (The Saint of Death), a cult figure often depicted as a skeletal grim reaper, as part of a cleansing ritual in Tepito in Mexico City January 1, 2011. Followers gathered at her altar to leave offerings of apples, flowers, cigarettes, coloured candles and tequila to thank her for granted favours or to ask for new ones in the new year. (Reuters/Claudia Daut)
Violence and murder increased across Latin America in 2010, with ruthless bloodshed by drug traffickers and criminal gangs making public safety the top concern in the region.


More than 12,000 deaths this year in Mexico's drug-fueled conflict, a recent crackdown on criminal gangs in Rio's slums that left 37 people dead, and a deadly protest against immigrant squatters in Argentina's capital all showed different faces of brutality in the region.


"We live in a region where violent and slow, painful death have spilled across the borders," the director of the Human Rights Institute at Central American University El Salvador, Benjamin Cuellar, said.


He noted that for the past 10 years, Latin America's murder rate has been twice that of any other continent.


In Mexico, President Felipe Calderon in 2006 deployed 50,000 troops to help local police stem the spiraling bloodshed across his country. Since then, however, drug-related violence has claimed some 30,000 victims, more than 12,000 in 2010 alone.


But the 2010 murder rate, Mexico's worst ever, is only part of the story. The ruthlessness, depravity and sheer cruelty shown by the killers has degenerated to new levels.


And in this digital age, gory executions of kidnap victims, torture of rival gang members and shocking decapitations can be downloaded in picture or video format on the Internet.


The ritualistic aspect of these murders, often carried out as initiation rites, add to their harshness.


Western Michoacan state's La Familia drug cartel boss Nazario Moreno, who the government said was killed last week in a shootout with police, wrote a sort of "Bible" for his group, notorious for piling up bodies and tossing severed heads inside bars.


"The hit men are getting younger and more ruthless, sometimes acting out esoteric cult rituals such as beheading or dismembering their victims," said Mexico police commissioner Facundo Rosas.


Some of the names that criminal gangs give themselves reflect their callous attitude. In Ciudad Juarez, Mexico's murder capital across from El Paso, Texas, nearly 3,000 murders this year have been attributed to Los Aztecas and "Los Artistas Asesinos" (the murder artists).


In Honduras, authorities believe the September massacre of 18 factory workers in San Pedro Sula was a settling of accounts between the Mara Salvatrucha gang, also known as the MS-13, and its chief rival Mara 18 (M-18).


Three weeks after that mass shooting, neighboring El Salvador passed an anti-crime gang law that punishes anybody found to belong to such groups with 10 years in prison.


But there are compelling reasons why some young people join criminal gangs.


Becoming a hit man or beginner drug trafficker "is the only door open" to young people living in poverty, author Elmer Mendoza, who has written a series of best-sellers about drug trafficking, said.


"But it's not only about eating and putting food on the table," he said. "It's also about marking out your own space within a group and getting admiration, so they can say: 'There goes so-and-so.' And that's what we're seeing in Mexico, Colombia and Brazil."


This is where the ritualistic element comes in, Mendoza said.


That's why many hit men in Mexico belong to the cult of "La Santa Muerte" (Holy Death) represented by a scythe-wielding skeleton draped in the robes of a Catholic saint. It has an estimated following of two to five million people.


Other gang members worship at altars to "holy bandit" Jesus Malverde, others still sacrifice their victims to Palo Mayombe, a bloody offshoot of Cuba's Afro-American Santeria religion.
Tell a Friend
•
Site Map
•
Print this Page
•
Email Us
•
Top