Punta de Mita, Mexico - I recently fell in love with the town of Punta de Mita, Mexico, for many, many reasons aside from the superlative fish tacos at Oscar's – including the relatively uncrowded and mellow surf, the achingly beautiful Bay of Banderas skyline with the Marietas Islands in the distance, the warmth of the local people, and the extremely laidback vibe (even for Mexico.)
So what's the deal with Punta de Mita?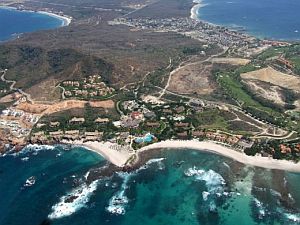 Located on the Riviera Nayarit on Mexico's wild and gorgeous Pacific Coast, about 40 minutes from Puerto Vallarta, and about 20 minutes from the more heavily touristed surf town of Sayulita, Punta de Mita has been known in recent years primarily as a getaway for the rich and famous – especially the Hollywood rich and famous, with its roughly 2-3 hour flight time from Los Angeles. (Recent celeb sightings: Kate Hudson, Charlie Sheen, and Lady Gaga – on a surfboard!)
It's also home to the swanky Four Seasons and St. Regis resorts, which exist (as swanky resorts often do) within a very posh and exclusive gated community known as Punta Mita (as opposed to Punta DE Mita – which is actually the collective name of the two small villages just outside the gates, Nuevo Corral del Risco and Emiliano Zapata, which offer plenty of diversion and local charm for people like myself who prefer to steer clear of the big resorts.)
Quiet and mellow surf mecca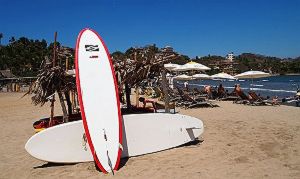 Another reason many folks come to Punta de Mita is for the surf – warm water, righthander heaven (some lefts though), very few people (except during peak seasons), and mostly mellow rides which many compare to Southern California, but not quite as powerful (and definitely not as cold!) There are a handful of great surf shops located right in the town, including Accion Tropical, the first and original Punta de Mita surf shop. They are the coolest guys in town, (though all of the local surfers there are very friendly, exhibiting very little of the localism that seems to plague surf spots at other destinations), offering board rental (both surfboards and paddleboards), panga trips to nearby breaks, snorkeling at the nearby Marietas Islands, and whale watching trips (in season, generally December through March.) The reason I bring up the surf is because as anyone who comes to Mexico to surf knows, fish tacos and an ice cold cerveza are hands-down the BEST post-session meal.
But back to fish tacos...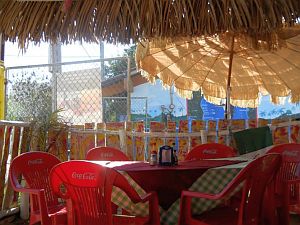 And so it was I stumbled upon Oscar's – at the recommendation of the fantastic Hotel La Quinta Del Sol in town, who I hear have struck up an agreement with Oscar's, who now are able to deliver fish tacos and beer to guests of the hotel at their recently built beach club.) Oscar's Fish Tacos is a humble, authentically Mexican joint – complete with bright red plastic tables and chairs, a sandy floor, and a white brick wall of fame guests are encouraged to graffitti.
The people-watching is great too, as one might expect, located as it is right off the town's main street – from the fishermen to the local surfers to the tamale lady, and the occasional gringo tourist.
And, of course, the most delectable fish tacos I have ever tasted, EVER, anywhere, are served up there daily, and made the way the locals like it – extremely fresh fish, caught that very morning out in the bay beyond – breaded, deep-fried then cradled in a hot, fresh tortilla and topped with cabbage, chopped tomato and (maybe the cosmic key that ties it all together??) Thousand Island Dressing. That's right, Thousand Island Dressing. This ain't Baja – no crema here. And no fancy, chipotle mango salsa or what-have-you either. Just plain, awesome, bring-you-back-to-childhood, zesty Thousand Island Dressing (maybe with the barest hint of picante sauce? If someone told me it was crack, I would believe it.) I paid about $6 USD for 3 tacos and a drink – not quite street food cheap, but very reasonable and budget-friendly.
You're not in LA anymore, Gringo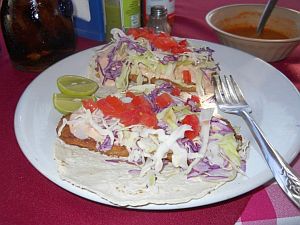 And don't even think of asking to have your fish grilled because you want them "healthy." You take away the fat, you take away the soul. There, I said it. Very appropriate indeed for a culture that generally prefers their women voluptuous. Simply place your order (get at LEAST three, you're on vacation) and let the cooks work their magic. Don't bother with sides, no need. And don't forget to wash it down with an ice cold Pacifico (or Coca Cola in a glass bottle, one of my favorite things about eating in Mexico.) Oh, and the pancake and tocino (bacon) breakfasts are pretty darned good too.
Love is strange
Love is strange, as they say, and who knows what magic combination of factors come into play that cause us to fall in love, even if it is with a fish taco. You can't quite put it into words, but just as with romantic love, you know it when you taste it. Even sitting here, typing this out, I recall the wonderful flavor and crunch of those fish tacos (and yes, that Thousand Island Dressing) as one might recall a past love – with heart all a-flutter, chest heaving, and wistful for more.