La Penita de Jaltemba, Mexico - As the Riviera Nayarit is gaining in popularity with international and national tourists, one of its coastal treasures is Lo de Marcos - a perfect beachside vacation for those who truly want to get away from it all.
This diminutive community, with a population of less than 3,000 inhabitants, enables the visitor to partake of a traditional Mexican lifestyle that includes verdant mountains with tropical vegetation, a fresh water estuary, and a stunning unspoiled Pacific Ocean beach.
You won't find high-rise chain hotels, the entire village is composed of single level homes with only a few 2-story residences and bungalows. Lo de Marcos provides charm and basic shopping along its two main streets, but easy access to larger communities via highway 200 is just a 15 minute ride by Mexican taxi.
The Journey from Coco Farm to Tourism
Major village improvements, including a vibrant town square, have been realized in the last five years through the combined efforts of local townspeople and dynamic international seasonal residents via the active Amigos Lo de Marcos civic group. (Visit their website, AmigosDeLoDeMarcos.org, to find out upcoming events and various civic projects underway.) Also on their website is an interesting history of the pueblo written by Jim Heinrich. In Lo de Marco, as with all of Mexico, the 20th century was the scene of dramatic political and economic shifts that altered the lifestyle of village residents.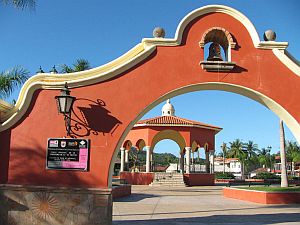 According to historian Jesús de Avila, a local resident, 84 year-old Victorino Salazar Mariscal, explained that the founders of the town were the brothers Oliverio and Pedro Palomera and their three sons, who arrived in the region already known as Lo de Marcos in 1918. There were only a handful of families living there. When the Palomeras settled, Lo de Marcos formed only a small part of the vast holdings of the Camarena family from Guadalajara. These managers could never have envisioned the changes that would occur over the next half-century to this bucolic outpost.
In the first half of the 1900s, the original Lo de Marcos settlers had to go to La Peñita de Jaltemba to obtain food, such as corn and beans, or other necessary items. Back in those days pigs were fed with ripe coconuts and then the pigs were slaughtered to obtain the lard used to cook or fry all foodstuffs, particularly tortillas and beans. The abundant fish, clams, oysters, shrimp and lobster in the sea and the river near the settlement formed an important part of the inhabitants' diet with the hunting of crocodiles to augment the meager incomes earned from working the hacienda crops.
For about 30 years the main agricultural employment was the production of coconut oil and harvesting tropical fruits grown as part of the large Camarena hacienda. Don Victorino tells: "coconuts were gathered and peeled. The landlords hired overseers called Orillero, who coordinated dozens of workers that gathered and peeled coconuts until they had a large amount. Each day's harvest was then covered with palm fronds. In December is when the coconut crushing started with the help of many people who came from other places. This cycle ended on the first days of May and then all of the outside workers returned to their towns leaving Lo de Marcos alone."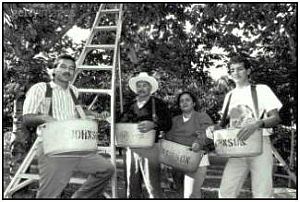 Although the largest source of commercial palm oil during the early 19th and 20th centuries was in Africa, since palms flourish in much of Mexico, it probably formed part of the food supply for Mexican indigenous populations long before then. The British Industrial Revolution created a demand for palm oil for candle making and as a lubricant for machinery in addition to its use as a food. In response to this market, European-run plantations were established around the world.
Meanwhile, the invention of the hydrogenation process for oils and fats in 1902 created the possibility of Western nations using palm products. In 1869 the invention of margarine using palm oil and margarine's development as a replacement for butter had a huge international demand because butter was in short supply.
The palm oil process involves cutting fresh fruit bunches from the tree, sterilizing and threshing bunches to free the palm fruit, mashing the fruit, and pressing out the crude palm oil. The crude oil is further treated to purify and dry it for storage and export.
In the case of the Lo de Marcos palm harvest, the crude oil was then transported to distant facilities for final processing. In the production of palm oil, the greatest cost is paying laborers to produce, plant, and tend seedlings, often on marginal land, in regions where natural groves of coco palms grow. Turning the picked palm fruit into oil was also very labor intensive at that time.
By 1936 Lo de Marcos became an ejido - a Mexican form of community land ownership offered by the government in which owners can work the land but not sell their property. During the ejido period a Compostela investor, Fernando Flores, bought the coconut oil and helped the village residents by hiring during the rainy season.
Until the mid 1950s oysters and limpets were plentiful; they are still harvested seasonally and are enjoyed as a regional Nayarit delicacy. As an insight to the simple agricultural life of Lo de Marcos, 71 year-old Mrs. Ángela Cruz Rodríguez, a lifelong resident of Lo de Marcos, remembers collecting river shrimp and all kinds of shellfish during her childhood: "Back then you fished to eat, not to sell," she said.
Angela fondly remembers how in 1950 the route of the "Tropical" taxi began operating. This was a big deal for the villagers as it afforded cheap transportation to the outlying towns. The Tropical was a primitive vehicle without doors or windows, just wooden benches and a canvas top to shelter passengers from the sun, but quite an adventure for a child living in a settlement of less than 500 people and few cars.
By 1960, when the popular movie made in Puerto Vallarta drew international awareness to coastal western Mexico, a change in the local economy occurred and locals started to work in tourism instead of solely in agriculture. With a population of several hundred people and two streets, Lo de Marcos started to grow and slowly evolve.
In the 1970's when some bungalows were built providing previously unavailable lodging, along with some small restaurants and a trailer park, the village could comfortably welcome tourists to the town. Lo de Marcos presently has seven RV parks that line the southern edge of the beach.
A stay in relaxed, historic Lo de Marcos enables a traveler to practice their Spanish as they visit quaint
tiendas
(small stores) and small family restaurants or stroll the quiet streets. Soaking in the gentle side of Mexican culture and appreciating its natural beauty is what Lo de Marcos is all about.