Mexico - Predictions of apocalypse may be nonsense, but 2012 may indeed be a portentous year – in the positive sense of the word – for Mexico's tourism industry and for longtime travelers to Mexico.
For fans of "Old Mexico," the obsession with beach chairs and all-inclusive resorts that Cancun's birth has wrought, has been an escalating frustration. But this has been a good year, not only for travelers who prefer simpler, authentically Mexican experiences but for the villages, family-run lodgings, and restaurants and the local who serve them.
Tourism Secretary Gloria Guevara engineered a new emphasis on the country's less-traveled destinations - rich in history and culture - while buzz about the misnamed "end" of the Maya calendar introduced what, for many, was a novel concept: Mexico has a vast world ripe for exploring beyond its hugely successful beach resorts.
What better time to offer our list of favorite underrated destinations in Mexico?
Some are close enough to be day trips from large, popular tourist destinations (but merit consideration as destinations unto themselves;) others are more of a challenge. We've included destinations in areas currently besieged by violence because we trust they will one day be safe again. All have one thing in common: They have been unjustly overlooked during Mexico's frenzied ride on the luxury train.
Campeche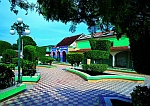 Campeche
One of the greatest of many mysteries encountered in the land of the Maya is why pirates and privateers found their way across vast oceans to the splendid coastal city in far greater numbers than tourists do. The stone wall built in the late 17th century to keep the buccaneers out, a good portion of which is still standing, encloses the largest and most perfectly preserved enclave of postcard-perfect, pastel-colored houses in Mexico.
Nearby Edzna and more distant Calakmul are two of the country's must-see ruins, and the unique Hacienda Uayamon, with its still-crumbling outer walls, is perhaps the most splendid of all the Yucatan's restored mansions. Campechans are the warmest, most serene people you will ever meet. In recent years, business and government employees have become more conversant with English, and the extremely affordable lodging supply has improved.
Ixtapan de la Sal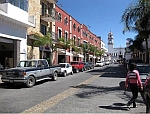 Ixtapan de la Sal
Popular with Mexico City residents in need of a relaxing weekend, the colonial town of Ixtapan de la Sal is best-known for its thermal baths and healing traditions. An important source of salt ever since pre-Hispanic times. Its two rivers and the carbonated water of "La Laguna Verde" (actually a spring erupting from the volcanic landscape,) served as a public bath for indigenous people.
International hotels are sprinkled throughout the area, most often next to their own thermal spring. But the best-known is the Hotel Ixtapan Spa and Golf Resort, has been lavishing massage, thermal baths, reflexology, and mud wraps on its guests since the 1940s. President-elect Enrique Pena lives in Ixtapan – on the golf course affiliated with the Hotel Ixtapan Spa – so this town will probably hit the tourist radar soon.
Parras de la Fuente
For the vast majority of the English-speaking world, "wine" and "Mexico" intersect in just one place: northern Baja California. In fact, the oldest continuously operating winery in the Americas is in Coahuila state's Parras Valley, in the bucolic town of Parras de la Fuente (fittingly translated as "grapevines of the fountain".) Casa Madero, in fact, exported the grapes that started the Napa Valley's wine industry, when California was still a province of Spanish Mexico. The grandiose, 24-bedroom hacienda was founded in 1597 as Hacienda San Lorenzo, and its wines are still found alongside Baja's finest on connoisseur's lists and among the winners of international competitions.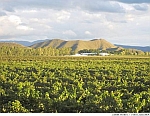 Parras de la Fuente
The warm days, cool nights, and low humidity are just as favorable to tourists as they are to grapes, but it is usually only the most ardent oenophiles who find their way here from other countries. The unassuming town's springs and pecan orchards create an oasis in the arid highlands. Little-known fact: The Sam Peckinpah classic "The Wild Bunch" was filmed in Parras.
Coahuila, long a quiet bulwark against the Sinaloa cartel that reigned in neighboring Durango state, has lately been infiltrated by Los Zetas and has begun to experience some violence.
Tlaxcala
How can you not love a place that houses the national Puppet Museum, has a firefly forest, and one of the few ancient cities (Xochitcatl) that were ruled by women?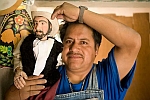 Tlaxcala
The compact capital of Mexico's smallest – and safest – state is full of low, colonial buildings painted in warm colors, set in a fertile, big-sky valley with the twin Popocatepetl and Iztaccihuatl volcanoes as a backdrop.
Tlaxcala rivals the Yucatan for haciendas both ruined and restored, and boasts more than 1,000 archaeological sites (only seven of which are open to the public.) At Cacaxtla, one of the most important ancient cities in central Mexico, perfectly preserved pre-Hispanic murals vividly depict battles and pyramids from the different stages of the Olmeca-Xicalanca culture. The state's primary occupation is agriculture, but it has a significant tourism industry made up mainly of Mexicans and a smattering of Europeans. Though small, Tlaxcala is packed with culture – just not with tourists.
La Paz
Until Los Cabos was born, La Paz looked to become the next Acapulco. The unassuming capital of Baja California Sur remained a relaxed city of Mexicans going about their business, while only a smattering of US tourists joined vacationing Mexicans to enjoy the Mission-style downtown, traditional ways, and long, palm lined malecon.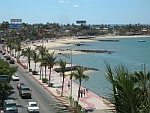 La Paz
That's begun to change already.
First, Costa Baja opened just outside of town, the first resort that would meet the expectations of travelers accustomed to the likes of Cabo or Cancun. The City formed a tourism board and began to toot its own horn. In San Jose del Cabo, Puerto Los Cabos has just opened a new boutique hotel, Hotel El Ganzo, and announced that JW Marriot and Secrets are on the way.
Now that Highway 1 has been expanded to four lanes from Cabo San Lucas to La Paz, the capital is 1½ instead of 2½ hours away, making it an easy ride from the Los Cabos airport and a viable day trip for those tied to Cabo San Lucas.
For those watching these developments with dismay, La Paz's essential nature hasn't changed, at least not yet. But the new road will also take you more quickly to Todos Santos or the rugged East Cape's hiking, kayaking, surfing, cave paintings, and hot springs. And that's a good thing.
Morelia
Morelia is arguably the most splendid of Mexico's colonial cities – and Michoacan one of its most beautiful and traditional states – and it is regrettably at ground zero in the drug war.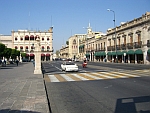 Morelia
Few US tourists found their way there before the cartels started killing each other in spectacular fashion, and it will likely be a while before they feel comfortable venturing there again. But it belongs on any Mexico bucket list.
Morelia, the state capital, was home to the only indigenous people who were never conquered by the Aztecs, and Morelia, the state capital, proudly displays its Indian roots among majestic colonial buildings of pink quarry stone. It is surrounded by villages devoted to a single crafts industry: furniture, pottery, copper, musical instruments, and textiles that fill parks, markets, and shops.
A short distance from Morelia, the city of Uruapan has Mexico's only national park within city boundaries and is close to the Paricutin volcano. Several of the world's most important monarch butterfly wintering sites – a sight no one should miss – are located in eastern Michoacan's mountains.
The US State Department recommends deferring non-essential travel to Michoacan except the cities of Morelia and Lazaro Cardenas, where you should exercise caution.