Costalegre, Mexico - Jet off to Las Alamandas for a vacation getaway and save up to 40 percent on your suite rate anytime in November 2013.
Las Alamandas is a true escape - a luxurious Mexican paradise with just 17 spacious suites on a private beach, where guests enjoy personalized service, gourmet dining, perfect weather, and the gamut of water sports and activities.
Rates start at $293 per night for two guests; tax and service are additional. Children 12 and under stay free. Minimum two-night stay required. Applicable to new reservations only.
All-suite Las Alamandas is set within its own secluded and pristine 1,500-acre nature preserve on Mexico's Pacific coast, midway between Puerto Vallarta and Manzanillo. The weather is balmy, the water warm for swimming and water sports, and guests can choose from numerous activities - from hiking and boat excursions to surfing and horseback riding.
The exceptionally spacious and beautifully appointed suites, with vibrant contemporary Mexican chic décor, are designed for casual indoor-outdoor living with spacious terraces, private Jacuzzis and panoramic views.
The delicious and healthy contemporary Mexican cuisine, savored al fresco at Oasis Restaurant or by the sand at La Palapa Beach Club, is prepared with freshly caught seafood, locally procured meats, and vegetables, lettuces, herbs and fruits grown in the resort's own organic gardens.
Las Alamandas boasts one of the most beautiful natural environments of any resort. It is nestled on its own private sweep of white-sand beach, with a rocky cape at both ends, amid verdant gardens of towering palms, flowing fountains, expansive lawns and flowering plants. All around are untouched beaches where sea turtles lay their eggs, lagoons and streams that are habitats for numerous species of birds, jungle terrain traversed by trails that are ideal for biking and hiking, and lookout points with dramatic panoramas of the coast.
The full range of facilities and activities includes: lighted tennis court, beach volleyball, half basketball court, croquet, lawn chess, mountain bikes, 60-foot swimming pool, fully equipped air-conditioned gym, ping-pong, horseback riding, bird watching, kayaks (doubles and singles), hiking, surfing and boogie boarding. A Kids Club offers a program of games, arts and crafts, and activities. A lounge with a big-screen TV is an ideal spot to watch movies and sports events.
For more information and to book your Mexican beach vacation getaway, call 888-882-9616 toll free in U.S. and Canada; + (52) 322 285-5500 in Mexico; email info(at)alamandas.com; or visit alamandas.com.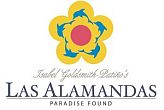 Located 80 miles south of Puerto Vallarta along Mexico's famed Costalegre coast, Las Alamandas Resort is Mexico's ultimate escape. Owned and operated by Isabel Goldsmith-Patiño, this chic private estate offers its guests the highest standards of personalized hospitality in an exquisite tropical setting.

Click HERE to learn more about Las Alamandas Resort.