Costalegre, Mexico - Las Alamandas, the exclusive beachfront hideaway on Mexico's Pacific coast, has appointed Oscar Abel Rivero Estrada the general manager, announced Isabel Goldsmith, the luxury resort's CEO and founder.
Mr. Rivero is a veteran hotelier with 28 years of hospitality industry experience in Mexico, including serving in various positions with Hyatt Hotels in Acapulco, Cancun and Puerto Vallarta. He comes to Las Alamandas from the Hotel Costa Club Punta Arena, in Puerto Vallarta, where he served as general manager since 2002. Previously, he was the resident manager of the Hotel Villa Vera Spa & Racquet Club in Acapulco.
Mr. Rivero earned degrees in Business Administration and Financial Administration from Tecnológico de Acapulco, and in Hotel Marketing from Tecnológico de Monterrey.
About Las Alamandas
A vacation at Las Alamandas is a sublime experience: a gorgeous and pristine natural setting; balmy weather and warm water for swimming and water sports; delectable contemporary Mexican cuisine; an oceanfront Spa Pavilion for massages and treatments to the sound of the waves; exceptionally spacious and luxurious suite accommodations; miles of private beaches; spectacular sunsets; and numerous activities, from kayaking and riverboat cruises to hiking and bird watching.
Nestled in its own 1,500-acre nature reserve on Mexico's Pacific coast, Las Alamandas is the ultimate resort hideaway. Attendees are immersed in a chic haven of gracious living in an extraordinarily beautiful natural environment of untouched white-sand beaches where sea turtles lay their eggs, lagoons that are habitats for numerous species of birds, trails that are ideal for biking and hiking, and viewpoints with dramatic panoramas.
The seven luxurious villas with 17 spacious suites were designed for indoor-outdoor living with shaded terraces, private Jacuzzis and views of the Pacific Ocean. The gourmet contemporary Mexican cuisine features freshly caught seafood and organic produce such as vegetables, herbs and fruits from the resort's own organic gardens. Freshly made breads and desserts are served daily.
An evening rooftop lounge bar offers cocktails and music beneath the stars. Activities abound, from tennis, horseback riding on the beach and our trails and beach volleyball to a fully equipped gym and 60-foot swimming pool.
Las Alamandas - located on the Costalegre between Puerto Vallarta and Manzanillo - is a total escape from the world offering complete privacy and pampering by a caring staff that caters to your every need. A private airstrip allows your group to arrive by private plane.
For more information and reservations: Toll free in U.S. and Canada 888-882-9616; direct dial + (52) 322 285-5500; or email info(at)alamandas.com.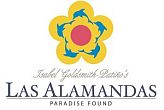 Located 80 miles south of Puerto Vallarta along Mexico's famed Costalegre coast, Las Alamandas Resort is Mexico's ultimate escape. Owned and operated by Isabel Goldsmith-Patiño, this chic private estate offers its guests the highest standards of personalized hospitality in an exquisite tropical setting.

Click HERE to learn more about Las Alamandas Resort.