Costalegre, Mexico - Still hunting for the perfect Easter or Spring getaway? Look no further than Las Alamandas Resort. Located 80 miles south of Puerto Vallarta along Mexico's famed Costalegre coast, Las Alamandas is Mexico's ultimate escape.
Escape from the city to white sandy beaches by the Pacific Ocean. Create memories that will last a lifetime with your friends, your family, or that special someone at spectacular Las Alamandas Resort.
All-suite Las Alamandas is set within its own secluded and pristine 1,500-acre nature preserve on Mexico's Pacific coast, midway between Puerto Vallarta and Manzanillo. The weather is balmy, the water warm for swimming and water sports, and guests can choose from numerous activities - from hiking and boat excursions to surfing and horseback riding.
The exceptionally spacious and beautifully appointed suites, with vibrant contemporary Mexican chic décor, are designed for casual indoor-outdoor living with spacious terraces, private Jacuzzis and panoramic views.
And, with their special four-night Easter Package, available through April 30th, you'll enjoy luxurious accommodations, three superb daily meals and non-alcoholic beverages, plus every amenity, countless activities, and an exotic Easter egg hunt. As an added bonus, kids under 12 stay free!
But wait, there's more! From April 14-19, 2014, this chic Mexican hideaway is teaming up with a rising star of the hot culinary scene in California, to lavish guests with a week of original and exciting Epicurean experiences.
John Paul Carmona, the former Chef de Cuisine at the acclaimed 'Manresa' restaurant in Los Gatos, California, will be preparing original dishes at Las Alamandas' Oasis restaurant each night for dinner.
"Our guests are going to be overwhelmed by the creativity and culinary savvy of Chef Carmona, enjoyed al fresco under a heaven of stars on warm tropical nights at our Oasis restaurant," said Isabel Goldsmith Patiño, founder and CEO of Las Alamandas. "While Chef Carmona brings a unique personal culinary approach, we share the culinary fundamentals of emphasizing organic-garden-to-kitchen ingredients and innovative yet simple preparation."
For more information and to book your Spring Getaway Package, call 888-882-9616 toll free in U.S. and Canada; + (52) 322 285-5500 in Mexico; email info(at)alamandas.com; or visit alamandas.com.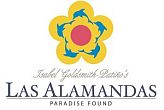 Located 80 miles south of Puerto Vallarta along Mexico's famed Costalegre coast, Las Alamandas Resort is Mexico's ultimate escape. Owned and operated by Isabel Goldsmith-Patiño, this chic private estate offers its guests the highest standards of personalized hospitality in an exquisite tropical setting.

Click HERE to learn more about Las Alamandas Resort.