Cleveland, Tennessee, USA - This post is for the folks who are planning on driving through Mexico but haven't done so yet. We decided to create a sort of guide of what we think folks would like to know before beginning a journey throughout Mexico, and we have been to a great many places. Since my husband and I put 3,300 miles on our Land Rover this last trip, we had plenty of time to create this list.
Of course, everyone's experiences will be different, but we hope this helps in some way. If you have any questions, please feel free to Facebook message me or email me at tndancelover(at)gmail.com. I am no expert, but I will help you if I can.
Getting Started
• Download several Spanish translation applications on your phone, which will not require access to the Internet.
• Make sure you have your original car title, car registration, driver's license, passport, and a couple of copies of each with you. If you finance your car, you may have to get written permission from the loan company allowing you to take the car out of the United States. We did not have to deal with that, so I am not sure what to do with that.
• Have your vehicle thoroughly inspected and have all routine maintenance completed prior to the trip. There are some Auto Zones in Mexico, but they may not have the part you need on hand, and if they need to be ordered it could take an extra day or 2. We actually brought some spare parts with us just in case.
• Pay for Mexico car insurance and have a printout of the insurance details. You can get that online and print out the receipt. You will need all of this at the border crossing. They will put a hold on your credit card for several hundred dollars, depending upon the year of the vehicle. If you sell your vehicle in Mexico, the will charge your credit card that amount. You will receive a sticker to place in the middle of your windshield that proves you have gone through this process.
• Get plenty of pesos and in small denominations. We were not always able to use our credit card when we expected to - so make sure you have enough money in your pocket.
Gas Stations
• All gas stations in Mexico are PeMex. Prices are controlled by the government. The ones that accept credit will usually have a sign that says Pago Electronico. We were fairly successful with this, except that a couple of gas stations near the Southern part of Quintana Roo said they only accepted Mexican credit cards.
• They are one directional, so follow the arrows. You are not allowed to pump your own gas. An attendant will do it for you.
• Make sure that they reset the pump to Zero. Always be mindful.
• The word for Full is Lleno (pronounced yeah no). I would always say "lleno con premium por favor," since we required premium gas.
• Between cities, gas stations can be few and far between - so do NOT let your fuel tank get too low.
Driving / Traffic Tips
• Folks stay on the right side unless they are passing. The shoulders are meant to be driven on to allow for easier passing.
• There are topes (speed bumps) everywhere and not all are marked. It is painful to go over them at full speed (ask me how I know.) Drive slowly.
• On highways, the driver ahead of you will turn on the left blinker to indicate to YOU that it is safe for you to pass. Of course, you will need to use your own judgment about that. Having said that, don't put on your left blinker to pass someone because what you are actually doing is telling the person behind you that they can safely pass you. Drivers driving in the opposite direction will flash their lights at you to indicate there is an issue ahead (i.e. construction, accident etc.)
• It is now allowed to turn "right on red" unless there is a derecha con precauciσn sign.
• In the cities, drivers are VERY aggressive and pedestrians at times with walk right out in front of you. You have to drive somewhat aggressively as well to be able to get anywhere.
• Google maps and other GPS devices are very inaccurate. Case in point, a supposed 2.75 hour trip from Tuxtepec to Oaxaca actually took us 6 hours. It will always take longer than you expect. We encountered more cuotas (toll roads) than we expected. Some were inexpensive and some were quite expensive. The most expensive one we encountered cost $11 USD.
• Military / police checkpoints are common, so be prepared. We had all of our paperwork nearby to grab quickly (passports, proof of car insurance, license.) Roll all your windows down as your approach. A lot of times they will motion you on through. We did get stopped a few times, and they wanted to know where we were going.
• DO NOT drive at night. There are too many topes, animals, and people along the roadside, and it is just not as safe to do so.
Miscellaneous Tips
• Expect to pay to be able to use a public bathroom. Most PeMex station restrooms are usually free though. Most of the time there is not a toilet seat, toilet paper, or soap at the free ones, and often not at the pay one. Have a small "baρo" kit to take with you that has toilet paper, soap, paper towels, etc. Trust me on this.
• Have patience. Keep in mind that everything takes longer in Mexico, even getting gas. I had to work on this.
• There are a lot of fires burning along the roadside. We kept a scarf to cover our noses when the fumes were too bad.
• Do not expect to get consistent wi-fi even if the hotel says they have it. It can be less reliable in Mexico.
Finally, don't expect Mexico to be like the United States because, if you do, you will most definitely be disappointed.
Highlights for me on this last trip were El Tajin, the Costa Esmeralda area, and Oaxaca.
This is by no means everything you need to know, but we hope it at least helps you in some way. Driving through Mexico was a wonderful experience, and we cannot wait to go back and explore some more. Go with an open mind, patience, and an understanding that different is not inherently bad. We made some wonderful friends and saw some breathtaking places.
---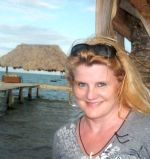 Tammy Barbour is a graduate of the University of Tennessee and the University of Florida in Materials Engineering. Her first career immediately out of graduate school was in the aerospace industry in research and development. With her desire for more freedom she left the engineering field after a few years and became a successful Realtor first in Michigan and then in Georgia and South Carolina. And now after almost 15 years as a Realtor, the desire for the outdoors and adventure led her to her final career change: overlanding expeditions. She has joined the experienced team of Central America Overland Expeditions who drove Land Rovers from GA, USA all through Mexico, over 3,000 miles for this journey alone. This is her fourth trip to the beautiful country of Mexico. Her goal is to explore all over Mexico and every country in Central America over the next few years and hopes to meet lots of like-minded adventurous folks along the way. You can follow their adventures at caoexpeditions.com.