Puerto Vallarta, Jalisco, Mexico - As Mexico's leading residential mortgage broker, Puerto Vallarta-based MEXLend offers their award-winning services for purchasing property in any city, town or resort area throughout the country. As such, co-founders David Schwendeman and Terence Reilly have closed a few loans in the Los Cabos area recently, which means they've been traveling quite frequently.
Travel from Puerto Vallarta to Los Cabos, or PV to Mazatlan, or from Mazatlan to either place, usually requires that you fly into Mexico City then catch a connecting flight to those destinations. Since most of us get a little frazzled at the mere thought of having to travel for 9 or 10 hours to visit one of these relatively close places, we asked Terence Reilly how he manages to seem so calm, cool and collected when he has to travel all around Mexico to close residential mortgage loans on a regular basis.
"Thankfully, business has been brisk, and we have found the need to travel more throughout Mexico than at any time in our business careers. This has been a blessing in that we are not only seeing new sights in this amazing country, but also having the opportunity to avail ourselves of the new crop of airlines that are proliferating in Mexico.
If you find yourself pressed for time and need to fly between Los Cabos and Puerto Vallarta, or Mazatlan or Loreto Bay, Aero Calafia is your ticket. By taking Calafia, you will be there in an hour or three... depending on the destination. Mind you, luxury cannot be of importance here, as the planes are little more than busses with wings.
Seating only 13 people, including the co-pilot seat (yes this is sold), this plane does not have a bathroom nor, basically, any room at all except for its passengers. But never fear, they have an excellent safety record, and the flights are short.
Twice now, I have been recruited as their onboard safety officer, and must be instructed on how to pop the doors off of the plane and inflate the life raft, should we go down in the Sea of Cortez. I have locked the door of the plane and given the 'All Clear' to take off.
By far, one of the benefits is saving time, but also, the view is spectacular, since you are never flying that high and can keep your IPHONE camera at the ready to take photos.
Aero Calafia lands in smaller private airports that will also save you in cab fare when you arrive at your destinations - other than Puerto Vallarta. The airline is based out of Los Cabos and at the time of writing, they only travel between Puerto Vallarta, Mazatlan, Cabo San Lucas and Loreto Bay.
I highly recommend flying Aero Calafia, but caution not to have too much luggage and to make sure you use the restroom before take off," he said.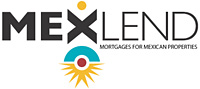 Are you looking to purchase vacation or investment property in Mexico? To discover which one of the many mortgage loan options that MEXLend offers is right for you, visit MexLend.com or MexLend.com.mx, call (322) 222-7377 in Vallarta, toll-free at 1.800.3.Mi.Casa in Mexico or (917) 779-9061 from the US or Canada.

To learn more about MEXlend, click HERE.