Puerto Vallarta, Mexico - Cesar "Moyo" Gonzalez, President of the Vallarta chapter of the Ovejas Negras, along with his executive team, specifically extend the invitation on behalf of the entire Ovejas Negras organization in Mexico for all riders to come together.
"Organizing our first Poker Ride was a natural extension of how we engage in our community," says Moyo. "We promote the Biker Brotherhood, camaraderie, safety, having fun and promote the love of riding, for all motorcycle clubs, independents, and people who love bikes and bikers! We hope to see a great turnout for our first Poker Ride."
The 69 Ovejas Negras invite any and all motorcycle riders in Puerto Vallarta/Nayarit for an afternoon of bikes, cards, and fun! The First Annual Ovejas Negras Poker Ride takes place on Sunday, October 18, 2015. Each motorcycle rider and co-pilot will play a poker hand of 5 cards, which will be dealt in 5 different locations throughout the Bay of Banderas region. It goes like this:
1. The ride starts at Captain Don's, located at Honduras 126, Col. Centro, Puerto Vallarta, at 12:00 noon on Sunday, October 18. Using a standard 4-suit, 52-card deck, each rider will cut a deck and document the playing card. He/she will have his/her picture taken with the card, and the rider will note the selection on a game sheet that he/she takes to 4 additional locations. Cards will be drawn at Captain Don's until 1:00 pm.
2. Each rider will repeat the process at the following four locations:
• La Perla at San Pancho. Cards drawn until 3:00 pm.
• La Terrazola in Sayulita. Cards drawn until 4:00 pm.
• Chile 69 in Nuevo Vallarta. Cards drawn until 5:00 pm.
• No Way José! in La Zona Romantica, Puerto Vallarta. Cards drawn until 6:00 pm.
Poker Ride Rules:
1. Each rider and co-pilot purchase an $80 peso game sheet where each of the five drawn cards will be documented. The team keeps the game sheet throughout the ride.
2. Each rider may choose to have a co-pilot and each can purchase one game card.
3. Each rider and co-pilot can opt to play the hand as drawn during the ride or can draw up to 4 cards in the last hand.
4. Winners will be announced at No Way José! for 1st, 2nd and 3rd place cash prizes. More riders, more money!
5. A portion of the proceeds from The Poker Ride will be donated to a local Puerto Vallarta charity to be announced that evening.
The party doesn't stop there. No Way José! offers 2x1 all night on national drinks, beer and wine starting at 5:00 pm, tacos at $10 pesos each and - of course - rock-n-roll!
Join Las Ovejas Negras, Puerto Vallarta on Sunday, October 19 for the love of the ride. Vroom Vroom!!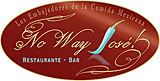 No Way José! is on the south side of downtown at 5 de Febrero 260, just over the Vallarta street bridge on your left heading south from the Malecón. Open daily from 3 pm to 11:00 pm, closed Mondays until December. For more information, visit NoWayJoseMx.com, or join us on Facebook for real-time updates and special offers.

Click HERE to learn more about No Way José!