Puerto Vallarta, Mexico - Thankful for being spared from the wrath of Hurricane Patricia, former Olympic skier and Puerto Vallarta resident, Suzy Chaffee, reflects on the spiritual phenomena she believes kept our beautiful Mexican Pacific resort city safe from harm.
Thanks to Amazing Grace, Puerto Vallarta, our jewel of Mexico, was not wiped off the map with Patricia's 220+ mph winds on Friday, October 23, 2015, and not one life was lost in our city. The UN reported that "Patricia had accelerated to that of Typhoon Haiyan, which displaced millions of people and left 7,300 dead in the Philippines in 2013."
Here are some phenomenal contributing factors how Vallarta is still standing, with the world watching us, which could perhaps help other communities:
• Vallarta has a high vibration thanks to preserving our jungles, and our compassionate, spiritual, Lady-of-Guadalupe-loving people who welcome diverse visitors and retirees.
• Vallartans honor Poseiden/Neptune, the ocean protector with a statue, and the magnificent Azteca-Huicholes dance almost daily in village squares and beside the ocean on Banderas Bay beaches, and welcome us all to join them in blessing the water, crops, marine life, Mother Earth and Her Nature Spirits, and protecting our Humpback whales and bay.
• Many serve the poor ("love in action") through Vallarta's many non-profits. That includes our Vallarta Saludable's Time Affect technology breakthroughs of Dr. Servando that can solve world and Mexican starvation, which Pope Francis and the Bishop of Mexico are looking at. Plus preventing amputations from diabetes.
• Nearby Cabo Corrientes' vortex (Sedona, Machu Picchu) has been protecting Vallarta from most hurricanes for eons thanks to its spiraling energies diffusing the opposite spinning cyclones/hurricanes. Our scientists called Patricia "a strange one," because of its record breaking acceleration and velocity, multiple direction changes, and the only one to move in an East by Northeast direction.
• Growing a lot more organic fruits and veggies to cleanse the soil, waters, and us of pesticides, especially in the Cabo Corrientes vortex. (Check out this song, "You can stay in My garden if you keep My waters clean," on Youtube.)
On Thursday night when the cyclone was building to 150 mph, which scientists said is total destruction, I called Olivia Ellis PhD (Cherokee), my chief advisor of our Native American Olympic Team Foundation, to please pray with me. As Jesus said, "Where two or more are gathered..." She brilliantly requested a plexiglass dome over our region, and we visualized and gave thanks in advance to Creator for transforming the storm from a Category 5 to under one.
Friday morning, Carlos Von Hauske, my co-founder of Vallarta Saludable A & P (Healthy Vallarta), helped me evacuate after finally finding the safest direction, thanks to University of Guadalajara meteorologist Victor Cornejo, who has save countless lives. By then, all the out of town buses had stopped and it started raining, when a stranger, Margarito Larios, owner of the renowned River Café, graciously gave us and four teenagers a ride to four shelters until we found one not full. At the Catholic University UNIVA shelter, the Mayor graciously provided some food and drinks.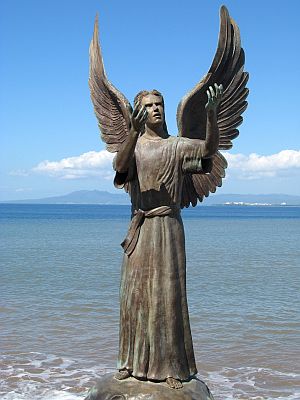 Bless two Native American women, Valerie Nunez (Apache) and Olivia, for joining forces to protect us. Their ceremonies on Los Angels' holy Mt Baldy Ski Area helped trigger ending Southern California's 7 Year drought in 2004. This time, given Patricia's immediate threat to our survival, Olivia called the Aetherius Society, based in Hollywood, to ask if they were planning to use their "Operation Prayer Power" releases to weaken her and limit the devastation. (Stanford University proved a mini version of it worked.)
Valerie contacted California's Questheaven since it is "a Christian mystical center deeply rooted to the Nature Kingdom and Archangel Michael." It was founded by Flower Newhouse, a remarkable soul who began life in the Angel Kingdom, and chose to cross over to the human line of evolution.
When Olivia saw that the hurricane was nearing touchdown at Vallarta in full force, she contacted the Aetherius Society to double check on their plan, often at the last minute, to release radionic "Prayer Power" batteries on Patricia. A senior engineering officer assured her they were on it.
That was around 8 pm Friday, when the Mayor's representative announced at our shelter that "the cyclone has veered south to a relatively unpopulated area. We are safe." Everyone cheered, hugged each other, and we thanked heaven and countless loved ones who prayed for us.
The next day, when the Mexican press reported "not one life was lost," Olivia contacted the Aetherius Society to thank them on our behalf and see if multiple releases were required. She confirmed that 500 prayer hours of energy had been sent from their "Operation Prayer Power" batteries, along with 15,000 prayer hours from their "Operation Space Power II" reserves. These prayer compressing devices were designed and invented by Dr. George King, astrophysicist, for the purpose of world healing.
Therefore, Olivia and I thank Creator for these inventions and the magnitude of world healing quietly performed by the Aetherius Society decade after decade. We are forever grateful to them, Aetherius, Mars 6 and our Solar family, our Lady of Guadalupe, the Angels, Neptune and our Nature Spirits, Valeria and the tribes and EVERYONE whose phenomenal teamwork added up to overcoming the fiercest hurricane in history. Vallarta will be remembered as a miraculous beacon for how through multi-cultural collaboration we are powerful beyond measure.
While still happily dazed from this surreal experience, many of us are more inspired than ever to make every day we have been given put to more service to bring more joy to the world, including indigenous youth, so they may continue to guide this amazing grace.

Suzy Chaffee, a former Olympic skier who helped invent dancing down mountains, has turned activist, journalist, filmmaker, and has worked with seven U.S. Presidents. She is now co-chairman of a non-profit partnership of the Elders of the Americas and Olympians, called the Native American Olympic Team Foundation, which aims to heal Mother Earth for all our children through joyful sports and education. For more information, contact Suzy at SuzyNativeVoices(at)aol.com or visit Snow-Riders.org or NAOTF.org.
Opinions are those of the author and may not reflect the opinion or policy of this site or its publisher. Content has not been edited beyond simple typo checks in order to retain the author's unique voice.