Puerto Vallarta, Mexico - Crocodiles have not changed all that much for about the last 65 million years, but their habitat has undergone major transformation. Humans have slowly taken over the rivers, estuaries and in Puerto Vallarta, Mexico, the mangroves that crocodiles still call home. It is a matter of coexisting so we can observe these majestic creatures and live alongside them and help preserve their natural habitat.
Local biologist, Petr Myska says that there are not more crocodiles in the area, we just made them live closer to us. He says, "The Marina Golf Course is a great spot to explain and illustrate the whole issue of crocodiles in Vallarta because this is a place where they always used to live and they are still here, only the place has changed. This whole area used to be all mangroves and there is still a fragment left, but now it is a place designated for human activity, and it might be surprising that the crocodiles are on the golf course, but we should look at it differently and say the golf course is on the crocodile home."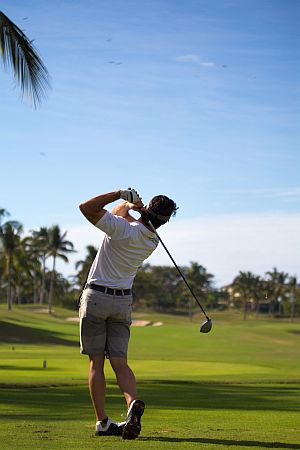 Several golfers like the added attraction. "I think it's kinda neat" says Jake Cassidy from Toronto, "It's kinda cool, I don't see many crocodiles in Canada so it's pretty sweet." Mike Walker, also from Toronto laughs and says, "It's a little frustrating when they eat your ball, so you want to keep it on the fairway as much as you can but it just makes it a little different and it adds to the excitement."
The golf course offers a unique opportunity to observe the wild animals in a modern environment but entanglements are inevitable. Petr says, "There have been some incidents with crocodiles in the area but whenever you have a look at how they occurred, along with the conditions and what people were doing at the time, it's very clear to see that there was a lack of common sense on the part of the humans. So with a little bit of foresight, we can live side by side with these animals with no problem. It's probably easier to avoid an accident with a crocodile than an accident with a bus or a car and we approach those as something fairly safe."
The crocodiles have adapted to human exposure and Petr feels it is now our turn and our job to get used to them being around us. It is mutual respect of natural habits that keeps this relationship going.
"The crocodiles on the golf course move in and out," says Petr, "They are territorial and when a certain place gets saturated with them, some of them have to leave and travel to a new location. So they cross the sand bar and the beach, they go to the ocean, hug the coast and swim to find a new territory, it's usually a river mouth or something similar." There are around ten crocodiles calling the golf course home, ranging from one foot long up to nine feet long.
Crocodiles are noble creatures. They respond positively if what we do means them no harm. They have been making environmental adaptations for millions of years and they will probably not change their ways and we should try to understand their lifestyle and learn how to avoid potential negative experiences with them.
Laura Gelezunas is an agent at Ron Morgan Properties, who has lived in Puerto Vallarta full time since 2002 and knows the bay and its neighborhoods. When you start thinking about making the move to paradise, email her at Laura(at)RonMorgan.net.
Ron Morgan Properties specializes in luxury real estate in the Marina Vallarta area and beyond to La Cruz de Huanacaxtle and Punta de Mita, as well as along the southern shores of Banderas Bay, from the Romantic Zone, Amapas and Conchas Chinas down to Mismaloya and even Costa Alegre. For more information, visit RonMorgan.net.

Click HERE to learn more about Ron Morgan Properties.