Puerto Vallarta, Mexico - Sue Keevil and Ray Vallarta (Drew), both Puerto Vallarta residents, announce the launch of their new venture, Salty Dog Voyages.
If you want to explore the natural wonders of Puerto Vallarta's Banderas Bay, but don't want to take a typical "Booze Cruise," then Salty Dog Voyages are perfect for you! Climb aboard Salty Dog's 58-foot Azimut yacht for a truly luxurious day on the water that you will never forget.
Depending on the season, weather conditions and your preferences, the Captain will choose a southbound or northbound destination. No matter which direction he takes, you'll enjoy the stunning beauty of Puerto Vallarta and surrounding villages from the ocean, and the opportunity to swim or snorkel in the clear blue waters with your friends.
While aboard, you'll enjoy the best customer service you've ever experienced along with gourmet cuisine prepared by Chef Paul Salazar, formerly of Café de Artiste and Le Bistro.
Guests are greeted with champagne, mimosas and fruit skewers. Appetizers such as vegan bruschetta and crab cakes are passed throughout the day. Lunch, such as stuffed chicken with a vegetable medley or mixed seafood with pasta, is served at anchor. Premium cocktails, wine and champagne are also served throughout the day.
The luxurious yacht can comfortably seat 23 people in four distinct seating areas: inside cabin with air conditioning, aft deck, upper deck and forward tanning deck. Two full-sized bathrooms and an aft deck fresh-water shower are provided for your convenience.
Whether you are into swimming, snorkeling, or the pure pleasure of being pampered on a luxury yacht, sailing across beautiful Banderas Bay with Salty Dog Voyages will be an unforgettable experience.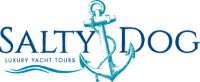 The yacht can be reserved on ticket days for individual sales and is also available for private charter.
For more information, prices and reservations, visit
SaltyDogVoyages.com,
email
saltydogvoyages(at)gmail.com,
or call 322-107-4016 in Puerto Vallarta or (619) 268-3174 from the U.S.