Puerto Vallarta, Mexico - In December, the inaugural International Women's Awakening Summit in Baja Mexico's magical Todos Santos hosted over 90 participants at the Cuatros Vientos (4 Winds) Yoga Center.
Perfect timing since President Obama had just brilliantly shared the McKinsey Global Institute study on CNN that: "The Global Economy Would Increase By $28 Trillion If Women Get Equal Rights and Opportunities." North America - the US, Mexico, Canada and Pacific Islands - could get a $5.3 trillion boost.
First Lady Michelle Obama said in CNN's We Will Rise documentary about spreading education and equality in Africa with Meryl Streep, "We lose out on the full potential of our countries when we don't invest in the talent of our girls."
The study proved her words: "Inequality Costs As Much As the American and Chinese Economies Combined." Here is just one example of our underutilized trillion dollar minds and hearts: Despite discrimination, American women were critical in getting John Glenn to the Moon, but never thanked on NASA's 50th Anniversary. (See Hidden Figures Trailer on YouTube.) So imagine how our GNPs can grow and solve our world problems like costly poverty and our environmental crisis by our governments and corporations acting on this ingenious world research NOW.
Enforcing Existing Laws
Perfect timing for Baja's Todos Santos, surrounded by fields of organic crops that keeps their waters pure and many whales jumping for joy, to host the inaugural International Women's Awakening Summit in December. Ten brilliant goddesses presented valuable ways to lift ourselves and humanity at Marimar Higgins' magical Cuatro Vientos's (4 winds) treehouse-like yoga center. Its founder, Angelica Robinson, a Colorado Mexican-American, asked me to share steps visionary women and men are taking globally to trigger this economic boom.
For example, the most equal country is Iceland, thanks to moms 30 years ago courageously going on strike. The men freaked out and together elected a woman President and not just the banks prospered. To finalize equal pay this year the women went home at 2:30 in the afternoon, reflecting the lingering inequity.
Angelica asked me since I led the Title IX March in Washington DC in 1977 for equal opportunities for women in school sports and education at the request of the PE Teachers of America. I then got Vice President Mondale to host a White House meeting with Billy Jean King and her WomenSports Foundation lawyers. We succeeded NOT by beating up the men out of our frustration or organizing more marches, but praising those who were heroically standing up for us, like Senator Birch Bayh, the Title IX author, while joyfully skiing with him at Mt Snow with Mark Fleischman, the owner who made me director of skiing and first believed in me.
At Bayh's urging I got "the heavyweight," Senate Health Chairman Ted Kennedy, on board. On an Aspen chairlift he saw that his sisters enjoying sports got their whole families fit, and that "the Right to Sport is the Right to Health." He heroically put Title IX under his wing for 30 years, teamed with activists at every school and then with President George Bush Senior. Together we got and kept this law enforced so women went from 1% to 40% of the men's federal budget, which saved the country over a trillion in healthcare and welfare and enriched most sports by billions.
Title IX's equal education opportunities over 40 years also provided girls with job training in technology, arts, sciences and entrepreneurship. The equal sports gave girls the health, confidence and networking to get their dream jobs and be happier and respected family bread winners.
McKinsey author Anu Madgavkar said this created a "major attitude shift among American men; women spent less time on housework, more time on childcare, and men spent more time on both," so even more women got paid jobs.
As a result, "Women's labor force participation in the US has risen 30 percent since the 1960s, adding trillions to the economy," said McKinsey staffer Rebeca Robboy, who helped heal my heart when she said I was her hero! "Legislative chances like Title IX can make a difference," said McKinsey partner Kweilin Ellingrud, co-author of Power of Parity.
Thanks to this study, we now know that courageous pioneers around the world have created a launching pad for this next Phenomenal Sustainable Planetary BOOM for our families, communities, industries, and countries. Since we are also happily restoring the yin-yang balance with enlightened men, we are healing each other and pricelessly healing Mother Earth.
Ivanka Championing Women
Fortunately two things our Republicans and Democrats agree on are job creation and equality. First Daughter Ivanka Trump, whom I met skiing with her President-elect dad in Telluride in the 1990s, brilliantly said her priority is championing "equal pay, tax deductions for childcare and six weeks maternity leave," following the Scandinavian countries that have the highest standard of living for everyone.
CNN said it would get Democratic support thanks to Bernie, Hillary and Senator Elizabeth Warren's groundwork. But since the poorest don't pay income tax, a solution just needs to be found to get them childcare too.
Given the huge success of Micro Loans for women in developing countries, our government should invest in our poorest women, or given that our growing income gap has dubbed us the "Unequal States of America." According to Fortune.com, America is the richest, and most unequal, nation. An equal-pay male Canadian executive said, "your U.S. male execs who get ridiculous corporate salaries should gladly pay for the child care and leaves of the moms who make them so wealthy." Then these execs or statesmen can quickly and heroically help the U.S. economy and others soar and be beloved by countless women. Isn't being loved and appreciated what everyone wants?
Continuing to strongly support women's health, through cancer screening and pregnancy support and prevention, is critical to bring moms happily back to the workforce, while raising smart, healthy children.
Celebrating Mexican Women For Helping Liberate Us All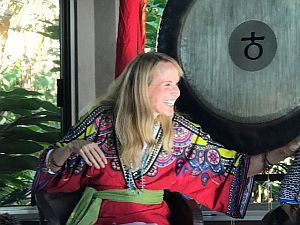 In front of Lynn's vibration gong that helped restore their whales, my translator Elena Ascencio Ibanez helped me celebrate the amazing gifts of Mexican women, who then sang to me and many of us cried.
Who got this world women's progress started? I confessed to the 90 Women's Awakening participants that, "I had a senior moment when I first mentioned to Angelica that I'd share some ways U.S. women helped liberate the world. I had forgotten that the women of Mexico City hosted the UN's first International Women's Year in 1975. Two Olympians, my mom Stevia and I added sports to their World Plan of Action because it is key to developing our full potential as men and Indigenous women have known for eons." Sharing how "the top 100 America women pioneers of business and politics in the 70s were tomboys or dancers in their youth," helped it ripple.
I also shared that I recently learned from the Women Elders of our Native American Olympic Team Foundation (NAOTF), that "most our tribes came from the South, especially Mexico, carrying their delicious avocado, corn, tomato, beans, and chia on their Ancient Trade Routes." The Spanish and President Jefferson then shared their "Vegetable Garden of Eden" with the world. So the Azteca, Huichol and Mayans are the ancestors of most our tribes. The egalitarian Iroquois developed our most advanced democracy, and their clan mothers adopted the Suffragettes who were tortured in jail winning us the vote. Bless them all!
Ten goddesses also presented amazing ways to further access our fullest potential through organic nutrition, healing arts, yoga/meditation and Hawaiian dance.
Since healing trauma is key to a peaceful planet, a few of us shared how instead of passing on our pain, we transformed it into joyful gifts to humanity. I recycled the sting of discrimination of having to hitchhike 75 miles to the mountains to get on-snow training with Denver University men's ski team in 1965, because I didn't have male organs for NCAA insurance, and no scholarship, into leading the Title IX March. Healing the hearts of others helps heal our own.
How Do the U.S., Canada and Mexico Rank in Parity?
Four decades after our (unenforced) Equal Pay Act, America, the richest country, ranks a shocking 20th in Equal Pay and Equality, plus Canada is 19th, and Mexico 69th out of 135 countries, according to the World Economic Forum (WEF). That's why getting compassionate laws enforced in critical so countries can THRIVE.
Since we have millions more moms to help get into the paid workforce and parity, North America has a chance to lift our economies trillions more than the Scandinavian countries. But more importantly this relieves the suffering of 17 million U.S. children going to bed or school hungry, and 1.3 million Mexican children a year dying of starvation or malnutrition.
U.S.
Today, the U.S. Women are paid 77 cents of men's pay for equal work. Most agree that the minimum wage of $7.50 is a "poverty level wage" where single mom families suffer the most, and must be changed to a $15 living wage, instead of just making the rich richer.
Canada
WEF said "Full-time working women in Canada earn only 72 cents for each Canadian dollar earned by men, and their minimum wage is about $10 Canadian, or $7.50 USD, so the same poverty level wage. "The lowest paid are the indigenous women and other minorities, why 50% of their First Nations children live in poverty." (Similarly Native Americans are among the poorest communities in America.)
Mexico
Even though the cost of living in Mexico is much lower, Women generally earn half men's pay, with the exception of the Mexican government wisely paying teachers and doctors equally. Hotel maids make a poverty-level minimum wage of $85 pesos per day, about $4.00 USD! A Mexican dad said these hotel bosses should share their fat checks with the women who work for them.
From decades of pay discrimination, American and Canadian senior women also get lower Social Security than men. Yet we expats pay Mexican maids a livable $200 pesos for half a day, adding up to about $20-35 USD a day to light the way for fair pay.
The Scandinavian countries (my ancestors) and Oprah and Ellen exemplify how women in leadership positions have helped America and the World Rise by compassionately sharing Mother Earth's abundance. Since moms shop for their families their TV shows pioneered sponsors reaping huge profits by giving struggling women who heroically help others donations and their "favorite things."
Saving Billions By Addressing The Roots Of The Wall
If the U.S. wants to prevent illegal immigration from Mexico, this McKinsey study proves that the most cost-effective way is addressing the root of the problem - Mexico's extreme poverty from inequality. It causes such family stress that "4 out of 5 Mexican women over 15 have been abused in some way," says the Mexican government. And women escaping from spousal abuse has left millions of women single with children. And the Banderas Bay Women's Shelter can only handle 40 families a year," said John Warren in the PV Mirror.
The U.S. could earmark a chunk of the billions in aid money to Mexico toward investing in their women - through micro loans, job training, especially in green technologies, healing arts, backyard and terrace gardening, and "connecting hearts," since Pulitzer prize winner Tom Friedman said on CNN that our "No. 1 problem now is isolation." Plus funding childcare and leave time, and requiring the government to double their minimum wage and giving women equal pay. Instead of wasting billions on the WALL and billions every year securing it, together our countries can RISE and be shining models of human rights and dignity - finally walking our talk!
Attracting Moms to Sports Requires Fem Values: Celebrating Women!
Title IX's equal sports opportunities transformed generations of impoverished minority girls into prosperous Olympians, like the "Fab 5 Gymnasts" at Rio. In 1996, Atlanta became the Women's Olympics, and ad agencies hiring women ad writers started appealing to moms who control the family purse strings. Proctor and Gamble then brilliantly started honoring the huge hearts of moms who create the Olympians, and their business THRIVED! Kimberly and Foster Gamble then produced "What on Earth Will it Take to Thrive," the video.
In 2012, the Obamas gave it a boost by convincing the UN to spread our Title IX formula to lift developing countries through their inaugurating an international "Day of the Girl," supported by USAID and micro loans.
Moms Decide if Families go to Puerto Vallarta
In 2015, REI.com, a national outdoor consumer cooperative, found that more women on the boards of outdoor sports companies increased profits by 14% last year. U.S. ski leaders now recognize that moms decide where the families vacation, which ski areas or ports. The main economy of our paradisiacal Puerto Vallarta is tourism.
Ski areas like Vail hired female marketing directors who knew best how to lighten the loads of burnt out multi-tasking moms, so everyone can relax and enjoy their ski experience.
Mom Discounts Fastest Trigger
The fastest way to win moms over, to ski or fly south, is by celebrating them and being sensitive to their financial struggles from decades of unfair pay. Especially through offering females discounts on air fares and other transportation, hotels, and lift ticket ski packages, so millions more women can afford to take vacations and ski again.
For example, since U.S. women are paid 77 cents for equal work, offer all females ideally a 23% discount. This would easily double profits since moms bring an average of three family members with them. That is why Bob Orbacz, the respected former COO of the Snowsports Industries of America, endorsed this solution even before the McKinsey study proved it would increase even more profits. Governors of the ski and port states may also be hiring dynamic women marketers to win the hearts of moms, to join the $4.6 Trillion gravy train for their tourism industries. And pioneers get the lion's share!
How Countries are Restoring Yin Yang Balance
To also awaken humanity how to trigger this economic boom, UNISEF-UN writer Jasmine Pittenger joined forces at Todos Santos. And Feminist Kimberly Gamble, a former Newsweek writer, liked these strategies and offered to spread this Trillion Dollar Baby to their 70 million THRIVE viewers on thrivemovement.com! At her suggestion, videographer Roberta Booth preserved my speech.
Part 2 and 3 of my Women's Awakening stories include the old soul wisdom of Jennifer Lawrence, the highest paid actress, and how we women sports champions demonstrated in Aspen so millions more women can afford to ski again to trigger this $4.3 trillion boom in America this winter. Plus easy ways that empowered moms can pricelessly heroically streamline getting Mother Earth down to a thriving 1.5 Centigrade for their children to prevent a "Sixth Mass Extinction." According to CNN and the WWF, Two-thirds of wildlife could be gone by 2020 - that's just three years away. The morning after the Summit, seven whales spouted in praise.
In spreading and supporting the nurturing genius of "Girl and Mom Power," our Earth Family is bringing in a Vibrant New Dawn for everyone! Anyone wanting to collaborate or assist those in the front lines to streamline this, contact us or donate at NAOTF.org, a 501(c) tax deductible in the U.S. and Mexico.
Women are marching, voting, striking, social media-ing and collaborating worldwide for democracy, climate change and equal rights. Last year, females in unprecedented numbers were voted into office. For other wild, wonderful ways women in the most equal countries got theirs, Read More!

Suzy Chaffee, a former Olympic skier who helped invent dancing down mountains, has turned activist, journalist, filmmaker, and has worked with seven U.S. Presidents. She is now co-chairman of a non-profit partnership of the Elders of the Americas and Olympians, called the Native American Olympic Team Foundation, which aims to heal Mother Earth for all our children through joyful sports and education. For more information, contact Suzy at SuzyNativeVoices(at)aol.com or visit Snow-Riders.org or NAOTF.org.