Puerto Vallarta, Mexico - I don't want to get too political here, but there is no denying that whether you identify as a Democrat, Republican, or Independent, the Trump Administration, will, and already has, affected the Mexican economy.
If you are an expat or snowbird living in Mexico, a frequent visitor, or just have a passion for the Mexican people and their culture, the blow to the Mexican people and economy may tug at your heart-strings as well as your purse-strings.
The Falling Peso:
When my husband and I started coming to Puerto Vallarta twelve years ago, we were lucky to get ten pesos to the dollar. I remember getting excited as it hedged toward thirteen. Nowadays we get nearly twenty-one. Good news, right? Not necessarily. Though your American and Canadian dollar may give you more spending power, it also forces the Mexicans to raise prices, while trying to balance the perception that Mexico is still a very affordable place to live or vacation.
So what are some of the things hurting the Mexican economy and causing the peso to fall?
• Trade - The 2016 U.S. presidential campaign served as a barometer for the Mexican peso. When Trump's numbers improved the peso would fall, when he was dropping in the polls the peso enjoyed a bit of a lift. Now, that Trump has technically won the election the fear of a disintegrating trade relationship with the U.S. has caused the peso into a downward spiral, soon expected to hit twenty-three pesos to the dollar.
Eighty percent of Mexican exports go the US. The United States gets ten times more exports from Mexico than from their northern neighbor, Canada. You can consume only so much maple syrup. The threat of border taxes, closed businesses, and other penalties are some of the main reasons for the falling pesos.
The proposed policies would impact the global market, though some countries doing business in Mexico are ready to stand up to Trump, with Germany leading the way.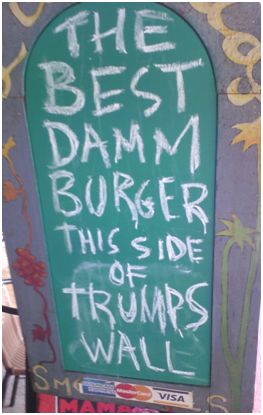 Humorous sign at PV's Café Angel
• Perception - It is no secret that Trump began his campaign with insults to the Mexican community and vowed the Mexican's would build a wall to keep themselves out of the U.S. thereby solving the immigration problem. Well, this kind of perception also does damage to the peso. However, I will have to say, at least in Puerto Vallarta, the Mexicans do not hold this against the American expat community. They are known to be some of the happiest people in the world, and they fight back with humor and grace.
On January 21, 2017, Mexicans, Americans, Canadians and more came together to show their solidarity for women, the LGBT community, immigrants, the disabled and other groups fearing oppression from the new administration. Linda Ellerbee organized an event in Puerto Vallarta and a crowd of over 500 listened to and applauded several speakers on a variety of issues.
• Gas prices - Rising gas prices is mainly an internal problem, which I won't get into here, but I do want to point out as the peso falls and gas prices rise, it increases the costs of cabs. But more importantly, Mexicans who are sometimes getting the equivalent in pesos of about $3.50 a day are spending nearly twenty percent of that to get to and from work due to increased bus fares.
How You Can Help:
Okay, so you may have been able to get a Corona five or six years ago for ten pesos. Now it will cost you a whopping eighteen pesos, but that is still less than a dollar. The point being, keep things in perspective. The falling peso has made things harder for the Mexican economy and the Mexican people. Here are a few ways you can help:
• Tipping - You may have heard that you can get away with tipping ten to fifteen percent. Well, it's true you can get away with it, but remember, your dollar is going further. Why not share the wealth? Your servers will appreciate it. Remember also to be a bit more generous with your housekeepers, taxi drivers, tour guides and grocery baggers.
• Rent - If you have been renting accommodations from a Mexican landlord keep in mind the rent increase probably reflects the changing peso. If, you are lucky enough to have an increase rarely, consider being a bit more generous voluntarily.
• Shopping - Purchasing handmade items for souvenirs, gifts, enhancing your wardrobe and home décor can be an enjoyable and cultural experience. Of course, part of the fun is haggling or getting the best deal possible. But when trying to get the best bargain consider the amount of work that goes into that embroidery, beaded work, painting or pottery. Additionally, if you are buying merchandise at a Farmer's Market the vendors are likely paying a rental fee for their space, and a shop owner has recurring overhead costs. Even if you are buying from an artists on the Malecón with nothing but a table or blanket to display their wares, consider the hours that went into making the product. If you are spending a significant amount of money at one place, it is fine to ask for a small discount, but be willing to meet the artist half way. When you consider you can get a handmade rug, beautiful jewelry, or original piece of art for less than a manufactured item from Target, you can consider yourself a winner, not only in your acquisition but in knowing you are helping the local economy and probably a very deserving individual.
• Amazon Program - If your move or Mexican vacation is far into the future, but you still want to enjoy Mexican art or fashion, Amazon has a program where you can order the real thing and be assured the artist or craft person is getting their fair share as well.
We don't know to what extent the Trump administration will negatively impact Mexico, but we do know the Expat and Snowbird communities, along with people who vacation here, can make a difference by showing the Mexican people respect and generosity. You would be hard-pressed to find a people who will appreciate your efforts more.
Marcia Gage is a freelance writer from Minnesota who has been living in Puerto Vallarta for the last year and a half. She has several books on Amazon, does ghost writing for several clients and writes for International Living. She and her husband, Judd Herrmann, co-author a blog: Mexico Bound Boomers: Paupers in Paradise.