Puerto Vallarta, Mexico - Since we can only ski or snowboard on Mexico's volcanoes with a helicopter, and many snowbirds catch the spring skiing when they fly North, some of us miss regular skiing and snowboarding in the U.S. and South America, as well as stories about them.
Here is an amazing miracle I witnessed in the U.S. last week to show you the power of giving gratitude to Mother Earth. Marie Mercedes Sanchez, the UN Sustainability officer from Nicaragua asked us to spread these stories about the Snowdance Phenomena "to wake up communities to live in more harmony with Mother Earth to help solve this Climate crisis."
And since not everyone has mountains, to "please also spread powerful cross-cultural Oceandances starting in Puerto Vallarta, which helped purify Banderas Bay last year back to the most turquoise in 15 years." Ten whales came to our Whale Protection Ceremony at Los Muertos Pier and frolicked for an unprecedented THREE days, after the PV Business Association asked us to help protect them to the delight of crowds. This year they returned!
Remember Ski Ballet? Thanks to Mother Earth's gracious Snow miracle at Vermont's Stowe Mt, we were able to help rebirth Ski Ballet into a more fun, easy, romantic form for all ages and levels, on April 8,during U.S. Ski Hall of Fame Week (HOF). My FREE clinic was at the urging of ski Elders like John Fry and seven pages on Google. Our ceremonies transformed the rain and fog and week's forecast when we arrived, into 6 inches of Epic powder.
What is Ski Ballet? You can click HERE to download Suzy Chaptick Chaffee Goes Gangnam Style On Skis for a taste, since many weren't yet born in its 1970-90s heyday when it graced the World Cup plus the International Skidancing Association and Championships for the young at heart pairs skiers. As a child ballerina and yogafile, these are some of the contributions I made to pioneering it, which Baryshnikov called "fun, imaginative, with lovely lines."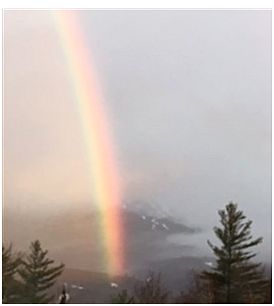 Huntley Armbruster's 'Snowbow' photo
Despite stunning Olympic Demonstrations by World Champs America's Jan Bucher and
Germany's Hermann Reitberger - Men's ballet final
in Calgary and Albertville Olympics, only the more macho freestyle aerial and mogul events became Olympic sports. And then our blissful snowdancing became rare sightings on the world's mountain chains by 2000.
But thanks to Stowe's weather change, the participants were thrilled. Vail's Stan Rumbough said: "Skidancing is as much fun as heli skiing in the Himalayas." Also much cheaper! He also loved the oohs and aahs of onlookers of his spinning, grinning and waltzing down Spruce Peak, along with the other participants, even on the longer shaped skis than my 140s.
Stowe's weather phenomena, including a rare 'Snowbow,' was thanks to our support team: Justin Koski's HOF; our foundation's gifted Natives, including Olivia Ellis PhD, and ski fashion pioneer Barbara Alley, both Cherokees; as well as Stowe Mt executives, Jeff Wise and Shawn Owen, giving gratitude for the amazing snow in Stowe this season at our spontaneous ceremony.
We also gave gratitude to the Nature spirits, who direct the clouds and winds, and ancestral spirits. They smiled on us especially after my fellow Vermonter, Olympic icon Billy Kidd (Abenaki) announced at his Octagon talk on top that the Stowe Mt Club would start an Abenaki Snowsports Program like his Steamboat Ute Future Olympians program to help heal Colorado's past and start a joyful new beginning. (You can see my basic skidancing lesson on the PugSki.com and NAOTF.org sites next season.)
Healing The Hearts of U.S. Women
The Native Elders say that by healing each others' hearts, we heal the negativity that Mother Earth absorbs, which creates this ideal weather. So the miracle was also thanks to the Stowe execs joining 25 other US and Canadian ski leaders, in wanting to help more women afford to ski again. For example, Fry, Chair of ISHA, Bob Orbacz former SIA COO.
Tax Cut for Equal Pay... Renewable Energy
These leaders love how giving a 23% FEM discounts on lift tickets since U.S. women make 77 cents for equal work, could double profits of ski areas since moms decide where families go on vacation.
Plus they endorsed escalating tax cuts for companies giving equal pay, childcare and leave for dads too, $10 minimum wage, and renewable energy (suggested on Fox News), which we gave Ivanka Trump, whom I met skiing with her dad at Telluride. This could also greatly bolster Mexico. Canada is a little better at 19th, thanks to Prime Minister Trudeau.
Since Stowe's HOF inductee Michael Barry, President of the National Ski Areas Association, saw how "giving equal pay and ops like this could heroically also help trigger a $4.3 trillion U.S. economic boost," according to the McKinsey Global Institute study in Time Magazine and CNN, his response there to our plan was, "All your ideas are great."
Women Can Boost Mexican Economy a Quarter of a Trillion
Coincidentally, the Governor of Jalisco called last month for equal pay for Mexican women who are 80th in equality, without realizing it would also help boost the North American economy by $5.3 trillion. Otherwise, due to the family stresses of also an "unlivable" minimum wage, 4 out of 5 women will continue to be abused (according to the Mexican Government), so single moms will keep losing 1.3 million children from starving to death a year (compared to 400,000 deaths in Syria). So equal pay is a win-win that also eliminates the need for The Wall.
Help Our Kids Happily Thrive and Ski into the Next Century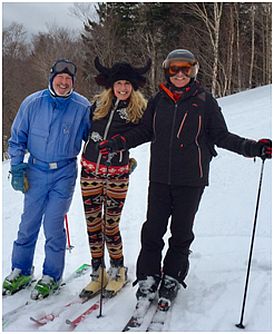 Stan with Suzy and Billy Kidd on Mt Mansfield after a rainy-foggy run.
Stowe's miracle is a Wake Up call and winning formula on this Earth Day/U.N.'s 9th International Mother Earth Day. Along with Puerto Vallarta's oceandance miracles, it will be included in our "Snowdance Phenomena" documentary of the fifty-five years of these gifts from heaven, which an HBO producer and 50 countries are interested in airing.
After the U.N's 183 countries officially recognized Mother Earth in 2009 as a living advanced being and we are all related, these snow, rain and oceandances are critical to healing Her HUGE heart, through giving Her love and appreciation, like all our ancestors once did for all Her gifts. Given that we are experiencing the warmest temperatures in history, this tribal wisdom is critical to ending droughts and preventing fires to pricelessly slow climate change.
The consensus of the United Nation's 192 countries on their 4th Day in 2012, was that the "key to regenerating Mother Earth is a combination of green technology and the ancient wisdom of the tribes, especially the snowdances."
For this rebirth and snow sports to go on, we need to take a science-reality check: The World Wild Life Fund and Stanford say "2/3 of our marine and animal life may be gone by 2020, unless we mobilize." They are key to our survival. The oceandances are key to our tourism here in Puerto Vallarta.
Together we can get the temperature down to 1.5C, so our children can ski into the next century. Please contact us to give us a hand or get help on any of this, via NAOTF.org, a Colorado nonprofit 501C3 that has spread healing joy to 10,000 tribal youth in the U.S. and Canada over 20 years.
See also more ski ballets, as well as stories on Puerto Vallarta's whale and turquoise miracle stories, at NAOTF.org. The site also has stories on Puerto Vallarta's only solution that regrows coral as the ocean warm, as well as the plankton, which "converts CO2 to Oxygen more than all the rainforests and plants on Earth." (Click HERE for a pdf download of the Coral reef and fisheries restoration study at Punta de Mita, Nayarit, Mexico.)
Watch also for our evolutionary plan so this generation could skidance into the Olympics where artistry on ice is the biggest draw then freestyle aerials.
Dr Ellis said, "This Mission serves both Terra and terrestrials better than anything else cooking on the stove." So please spread these solutions from heaven to bring in a beautiful New Dawn on our beloved Mother Earth. 'Sno Kidding!

Suzy Chaffee, a former Olympic skier who helped invent dancing down mountains, has turned activist, journalist, filmmaker, and has worked with seven U.S. Presidents. She is now co-chairman of a non-profit partnership of the Elders of the Americas and Olympians, called the Native American Olympic Team Foundation, which aims to heal Mother Earth for all our children through joyful sports and education. For more information, contact Suzy at SuzyNativeVoices(at)aol.com or visit Snow-Riders.org or NAOTF.org.
Opinions are those of the author and may not reflect the opinion or policy of this site or its publisher. Content has not been edited beyond simple typo checks in order to retain the authorís unique voice.