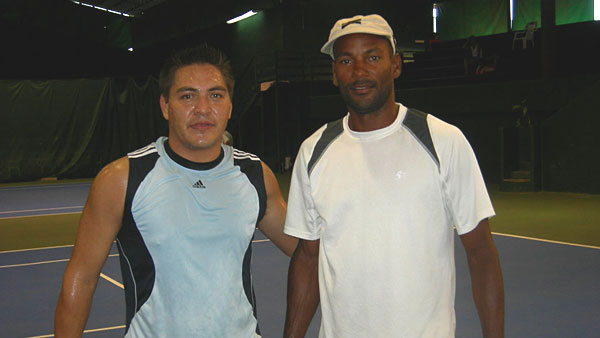 On the left prior to the semifinals is Puerto Vallarta pro Luis Carlos Rodriguez, who was defeated by Lazaro Navarro the winner of the tournament. Navarro has won many professional tournaments at the Canto Del Sol over the years.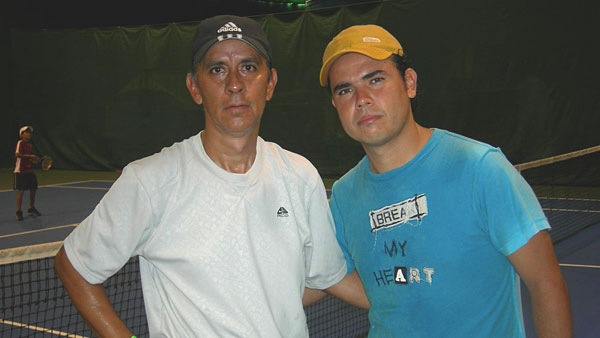 On the left Carlos Muñoz who defeated Marco Corona, both of Guadalajara in a tough three set "B" singles final. The two teamed up to win the "B" doubles championship as well.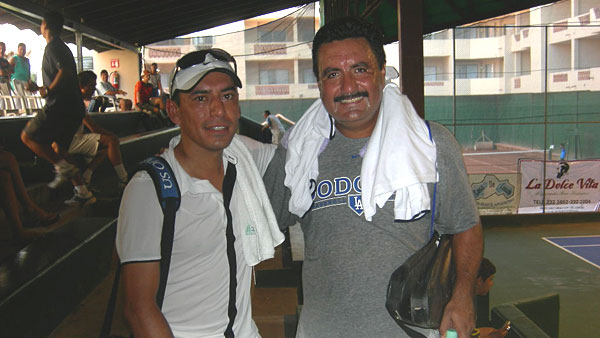 On the left Rogelio Rodriguez the #2 seed in the "B" singles defeated top seeded Sergio Valdez in a thriller, 7-6, 7-6. Both are from Guadalajara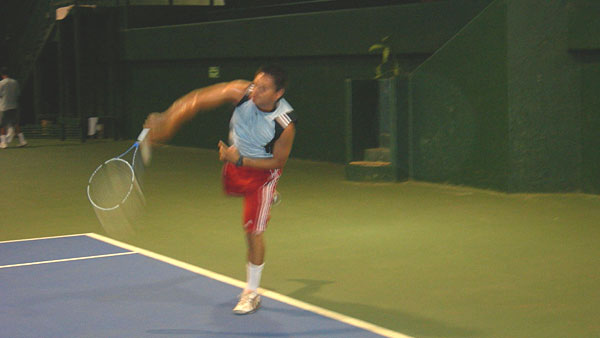 Luis Carlos Rodriguez uncorks a huge serve in his semifinal professional match.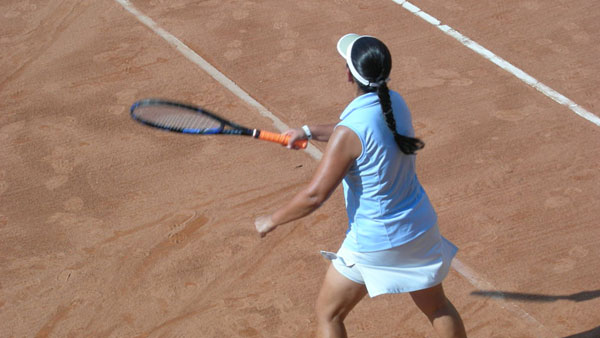 The women were out there in the mid day heat in fierce competition and fun.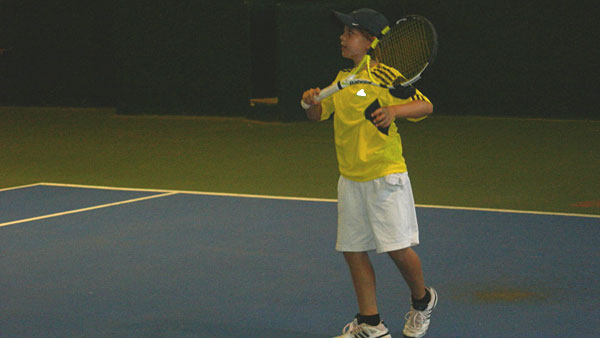 The kids were also in competition. Pictured here is 10 year old Diego Fernandez Del Valle of Puerto Vallarta.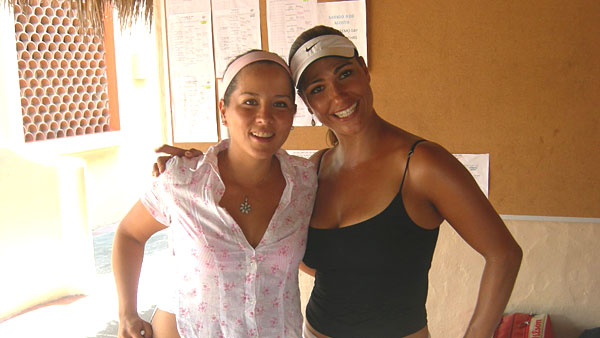 On the left, after winning her "C" singles title, Ericka Del Real with fellow competitor and close friend Emma Puchot, both from Club Atlas Chapalita in Guadalajara.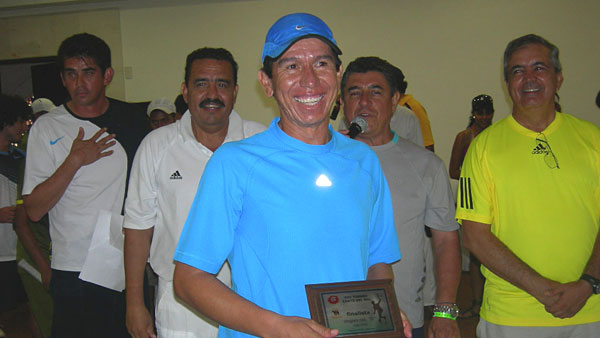 Javier Becerra, a very popular professional from Guadalajara was the finalist in the professional AA division. The plaque was not his, he won a cash prize.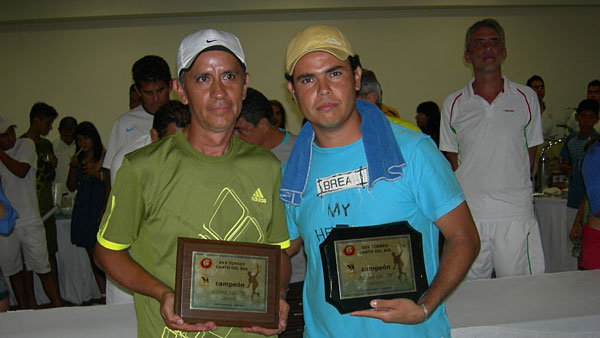 Marco Corona and Carlos Muñoz both of Guadalajara, winners of the "B" doubles title.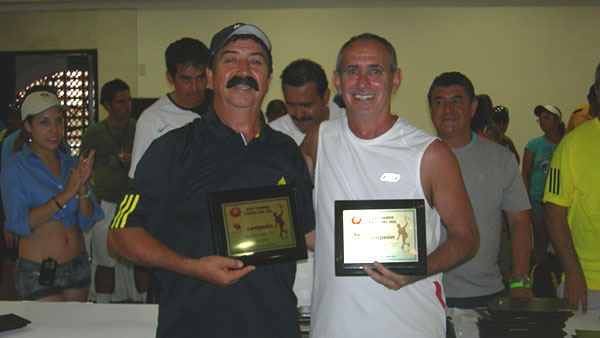 The "Odd Couple" - On the left Danny Gutierrez of Guadalajara with sportswriter Bob Cohen of Puerto Vallarta showing off their hardware after capturing the "D" doubles title.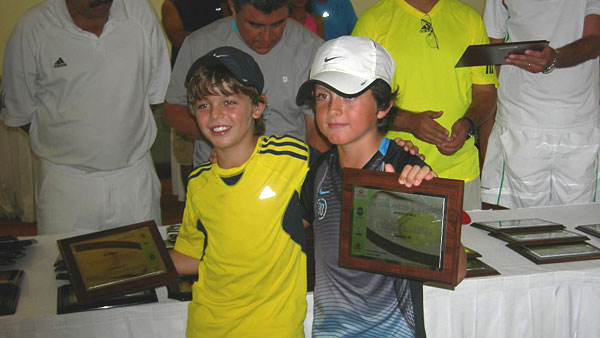 On the left Diego Fernandez Del Valle of Puerto Vallarta and partner Ramon Amezquita of Nayarit, finalists in the 10 year old doubles division. Diego collected another plaque as a finalist in the singles competition.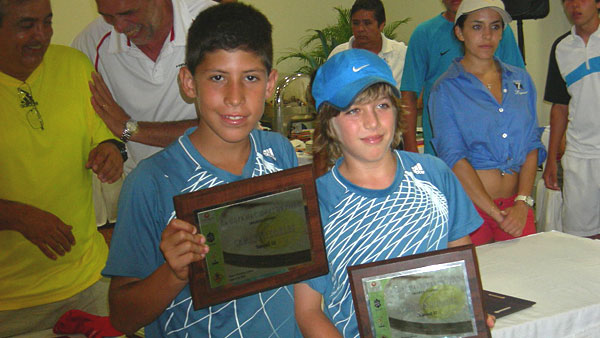 On the left Dagoberto Alacon with Pedro Fernandez Del Valle, both of Puerto Vallarta. They won the 12 year old doubles championship. Pedro was a double winner as he also won the 12 year old singles competition.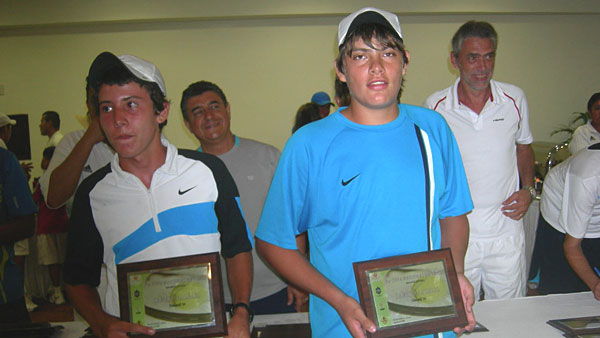 On the left Ramiro Quezada of Nayarit with popular Jerry Lopez of Puerto Vallarta, winner of the 16 year old doubles title.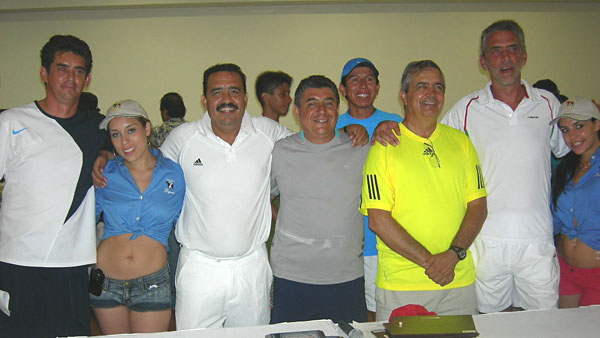 Martin Parra, Tennis Director of the Canto Del Sol with people that insured the tournament ran smoothly as well as tennis officials from Jalisco and Mexico.