Tales of Retirement in Paradise
Chapter 12: You're Invited to Party - Vallarta Style (cont'd)

Polly G. Vicars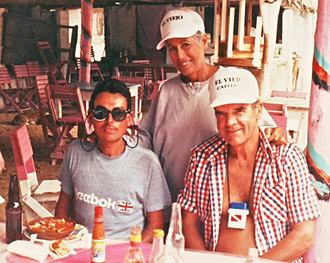 Our first boat captain, Arturo Arce enjoys lunch on the beach at Yelapa.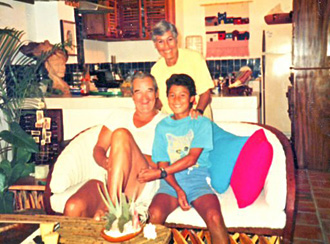 Oscar, who loved to pick fights with El Viejo, AKA Husband AKA Hubert Vicars.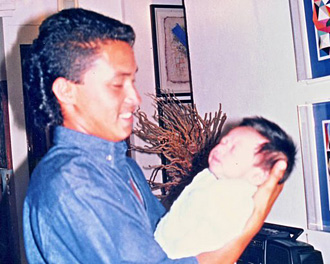 A grown up Oscar, proudly displaying his first child.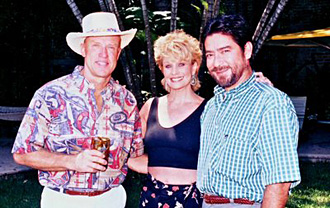 Host Burt Hixson, Mayor Fernando Gonzalez Corona and TV Star Mary Frann living "the Lifestyles of the Rich and Famous."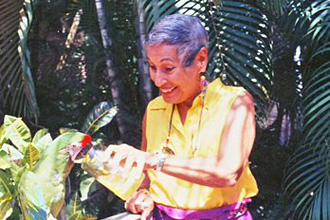 I shared my cool drink with the colorful parrot.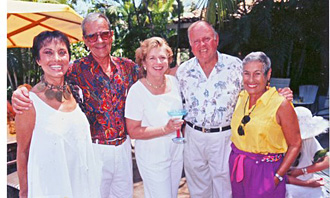 Hinda Apple, Husband, TV star Dick Van Patton with wife and me.
After a much needed siesta, we, with Seattle friends, piled into the van and motored north to Vallarta's magnificent marina, where you will find yachts from all over the world.


You remember that when we made our move to Vallarta, we immediately bought a fishing boat. What I haven't told you is that the man who sold it to us offered the services of his captain. We took him up on the offer and a new and very different chapter opened in our lives - a chapter that eventually leads us to the next party.


Arturo, a born fisherman, had captained the boat since its inception and felt more than a proprietary interest. Even though we changed the name from "María" to "El Viejo" and even though we had the legal papers to prove it was now our boat - none of that mattered to Arturo. We were interlopers, attempting to take over "his" boat.


When I told you Arturo was a born fisherman, I wasn't kidding. He believed with all of his heart that a boat was for fishing - not for partying, swimming, diving, snorkeling, and definitely not for transportation to a destination.


We, although avid fishermen, believed exactly the opposite. We bought the boat with all sorts of water adventures in mind - not only fishing. Arturo felt challenged to change all that. He decided to achieve his goal by teaching us to be real Vallarta fishermen.


He did teach us the tricks of deep-sea fishing (Kentuckians only know about lake fishing), and a few tricks of living too. (You may remember that he is the one who taught us that valuable lesson on time when we forced him to pull in the lines while the fish were biting so we could be on time for a luncheon.)


During our apprenticeship, Oscar, a young boy of fourteen with hopes of becoming a boat captain, joined our group. Not one to miss a chance to mold someone in his image, Arturo had agreed to teach him on our three-days-a-week fishing trips. Husband and I both fell in love with the eager young lad and, much to Arturo's dismay, often interrupted his schooling so we could stop and play in the inviting blue waters.


Some days Arturo even joined in the fun and games, and we connected. But usually, he was all business - and his business was fishing. Finally, though we respected Arturo's prowess and actually had grown more than fond of him, we reluctantly decided we would have to find a captain whose inclinations were closer to ours. It was with sadness that we said good-bye to Arturo and his little apprentice Oscar. But, we soon found El Capitan (you met him in "An Adventure in Paradise"), whose spirit of adventure matched ours, and who has been with us for the last six years.


Oscar continued to visit, and we occasionally saw Arturo on the water. We remained friendly, but drifted apart. However, every few months Oscar would call or come by, and as he grew from teen-ager to young adult, he brought a parade of Novias (girl friends) to meet us. Then Oscar brought his beautiful bride and later his handsome new son, young Oscar.


We lost personal contact with Arturo, but received messages from him periodically through Oscar and El Capitán. We knew when Arturo married and when his two children were born; we knew on which boat he was currently working.


I'm sure you are wondering what all of this has to do with partying, Vallarta style. Patience! Our Seattle friends who had fished with us when we were learning the ropes from Arturo, had kept in touch with him.


The husband, a fanatical fisherman, had formed a firm friendship with Arturo, and when he came back to Vallarta, he contacted his old fishing buddy. They decided it was time for a reunion. Finally - the Party!


Scene Three - The Yacht...
Both Arturo and Oscar now work on big, beautiful yachts moored at the marina. Each of their Patrones (bosses) are wealthy Mexicans who did not live in Vallarta and seldom used their yachts. But yachts (like wives) need constant attention. These guys go to work daily to keep their charges spick-and-span and occasionally take their Patrones fishing.


Using the boat in Arturo's charge, they arranged a party for all of us. (This was the party planned for the evening after the afternoon at the O.K. Corral.) Thirteen of us - wives, husbands and children - gathered on the deck of the luxurious yacht.


Mixed with lots of Abrazos (hugs), we toasted each other with cold ones; we posed for pictures; we hugged and kissed the children. The years dropped away; we were still connected. Arturo and Oscar had planned everything! They had ordered every kind of pizza imaginable -even one with tuna - cold soft drinks, and plenty of Cervezas. They set the table with the yacht's finery, and the party was on!


We reminisced about the old days, We laughed about Arturo's teaching methods with Oscar. We relived all our magnificent catches, and we regaled the wives with tales, some true, most exaggerated. Mike had told the guys of our anniversary and they even presented us with gifts; new lures with which to catch the big ones. With heartfelt promises of doing this again very soon, and not a few tears, we ended an enchanted evening - an evening that erased the elapsed time since we had all been together.


But, wait! There was another party to attend the very next day. Crews from "Lifestyles of the Rich and Famous" turned their cameras on Villa Verano, the Vallarta home of Marina Del Rey entrepreneur, restauranteur and long time Vallarta resident, Burt Hixson and his partner, Gerry Battle. We know Burt and Gerry because of their generous contributions to the AMF and they graciously included us in the fiesta for the film stars.


Scene Four - Villa Verano...
This villa, with twelve or more suites, spacious indoor-outdoor dining areas, sparkling pool, outdoor gym and more, sprawls over a tropical mountain atop the dazzling bay. Photographs of Burt with others of the rich and famous, including the Duke himself - John Wayne, fill the walls.


Amid exotic flowers and foliage, parrots, large and small, ambled among the guests. Marimba and guitar music filled the air. Hollywood stars such as Mary Frann, Ruta Lee and Dick Van Patton chatted with Vallartenses, including our energetic and photogenic Mayor, who the film crew wanted to whisk off to Hollywood, matriarchs of Vallarta society, the cultural elite, the media and just plain folks.


The film crew set up shots in different parts of the grounds. Several times they beckoned to us to join the scene being shot - not because of our celebrity, but because our clothes added a brightly colored backdrop to the real subjects!


After cocktails, we gathered inside the villa to fill our taco shells with delectables ranging from refried beans to succulent chunks of chicken breasts topped with that tongue-tingling Salsa Mexicana. The terrace easily accommodated us at tables crowned with artfully arranged tropical fruit and flowers. Chilled white wine (of a vintage not found in our casa) flowed, as did conversations in Spanish, English and "Spanglish."


Beautiful and exciting inadequately describe this party. Few among us are so blasé that we can resist getting our picture taken with a favorite TV personality like Dick Van Patton from "Eight is Enough" (or later "name-drop" in our conversation or writing), and, of course, I am not the exception. Husband and I mingled and mixed with the best of them and had a glorious afternoon.


Come to think of it, maybe we do party all the time since we retired to Puerto Vallarta. The sound of the Pacific rushing onto our shores, the smell of the flowers, the music of the strolling mariachis combined with our exotic mix of friends, surely are the main ingredients for a perpetual party. Then add that illusive and indefinable ingredient common only to this locale - Vallarta Magic; you have your party. Ya'll come!

(I have to admit that nothing has changed in all of these years. We are still partying Vallarta Style! Last year we attended Yesenia's Quiciañera (15th birthday coming out celebration), had a fishing reunion with Arturo and the Seattle friends (Mike and Kim Scott) on another great boat that Arturo was captaining, Oscar continues to pop in with a different wife or girl friend and we have been to parties at the beautiful Villa Verano several times as Burt and Gerry donate a sumptuous dinner for the annual Becas Ball Auction and we, as well as friends, have been lucky high bidders. The OK Corral still flourishes and though we don't get out there as often as we'd like, we do keep in touch. Vallarta Parties - take it from me, they still are never ordinary nor humdrum.)
---

Polly G. Vicars and her husband of 57 years, Hubert (a.k.a. "Husband") retired to Puerto Vallarta in 1988 and soon became active members of several charitable organizations. Polly is the author of "Tales of Retirement in Paradise: Life in Puerto Vallarta, Mexico" [a sell-out!] and "More Tales of Retirement in Puerto Vallarta and Around the World." Proceeds from the sale of her books go to the America-Mexico Foundation, a scholarship foundation that is their passion.

Click HERE for more articles by Polly Vicars.
Tell a Friend
•
Site Map
•
Print this Page
•
Email Us
•
Top