Tales of Retirement in Paradise
Chapter 18: Raise the Blue Flag

Polly G. Vicars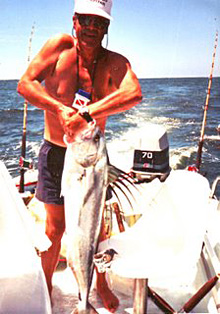 Husband with a big Rooster Fish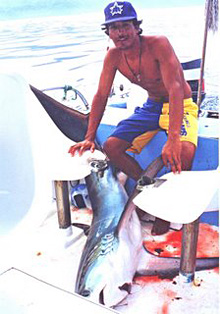 Cheo with the Thresher Shark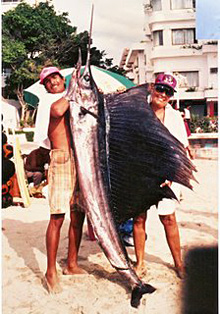 The fishermen here announce the day's catch by flying colored flags as they return from a day on the sea. A red flag signifies sailfish, a white flag, dorado, and a blue flag, marlin. Our red flags had been hoisted often, and we had flown scores of white flags, but our blue flag was still unsullied.


We had caught everything: sailfish, thresher shark, amber jack, every type of sea bird, which we carefully untangle and release unharmed, dorado (some jumping into the boat, and others jumping out), an old beach chair, tuna by the ton, plastic trash thrown overboard by uncaring people, red snapper, roosterfish, skipjack, grouper - but never the elusive marlin.


No marlin had ever tasted our bait in all these years of fishing two to three days every week. Were we jinxed? No! We decided we just didn't have the right equipment to handle the two hundred to two thousand pound marlin and they knew it.


So on a trip to Houston to be with dear fisherfriends at the cancer clinic, we shopped the fishing stores looking for just the right marlin rod and reel. Our friend Jack, who had just undergone brain surgery to try to curb that insidious cancer that was destroying him, was an even more avid fisherman than yours truly.


He caught a trophy size sailfish on his only visit to Puerto Vallarta, and according to his family, made them watch, almost daily, the video Husband had made of the fight and the catch. He, even though not feeling up to par, shopped with us until all were satisfied we had the very rod and reel that would snare the marlin.


With the sleek new equipment, we continued to fish two to three days a week. We caught more sailfish than ever, we caught tuna weighing fifty to sixty pounds, we caught beautiful gold and green dorado - all on the new rod and reel. It seemed the fish knew, and the best and the largest hit on that pole - but the elusive marlin still shied away.


One day this past May, El Capitán, Husband and I just got all the bait in the water and settled down to troll when ZING, ZING, ZING sang the new marlin reel. El Capitán yelled, "PEZ VELA!" (sailfish) and expertly set the hook. Husband took over and started the fight.


The fish ran, took most of the line, but did not jump and dance on his tail, so we didn't get a look at him. We all remarked on how deep the fish was running as Husband fought to bring it in. After about thirty minutes of reeling and running, a magnificent jump by the fish produced incredulous yells of "MARLIN!" from El Capitán and Husband.


The battle was on. Excitement overtook all three of us - we alternately whooped and hollered, then silently prayed that we would get this one in. As Husband reeled that giant fish in toward the boat and the fish laughed and sped far away time after time, El Capitán and I fashioned our plans to accomplish the here-to-fore untried feat of bringing a marlin on board.


As the fight raged on, El Capitán kept his eagle eyes on the fish as he manipulated the boat to the best position, several times having to back into the fish to keep him from completely stripping the line. The driving of the boat became equally as important as the working of the reel as the marlin ran and ran and ran.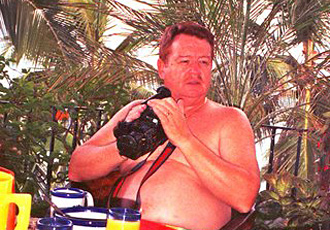 Jack Wolf, the best fisherman in the world!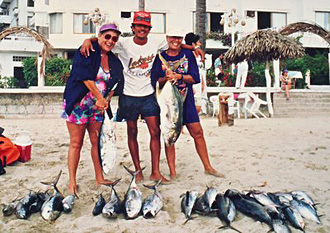 Lynn Nokes, Cheo and me on a bountiful fish day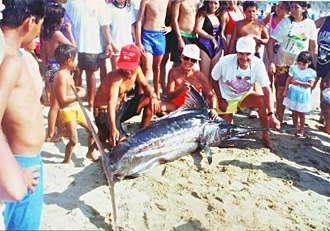 Cheo, Husband and me with "our" beautiful Marlin on Los Muertos Beach
After an emotional four-hour fight, Husband finally had Mr. Marlin along side the boat, still fighting us with everything he had left. El Capitán made a lasso of the anchor rope, and instructed me to lean down into the water to place the lasso over the head of the thrashing fish while he held it in close.


After a watery fight and many misses, the lasso was around the fish's head, the other end in El Capitán's strong hands, and a new fight began with the outcome never clear. As the thrashing lessened, Husband, El Capitán and I combined our strength and brought that magnificent specimen into the boat. There was hardly room for us all!


We engulfed each other with yells, smiles, well dones, buenos, hugs and more yells. We couldn't stop telling and retelling every incident of the great catch and congratulating each other again and again on the specific job each had done. It was an exultant group that motored into Playa Los Muertos (The Beach of the Dead - another story for another book) in front of our condominium with a three-hundred-fifty-pound marlin* aboard and a blue flag majestically flying.


Our dear fisherfriend Jack, who helped select the right equipment to catch the marlin, lost his fight with cancer in October. Jack, that marlin was for you!


*What does one do with a three hundred fifty-pound marlin? El Capitán dresses it and then you share the succulent white meat with everyone you know. It tastes like a cross between lobster and sword fish, and can be cooked any way you like - grilled, baked, fried, sauteed. I'll bring you some of the next one!

(While those days on the ocean with Husband and El Capitán were some of the best days of my life, I still wake up each morning wondering what exciting new adventure, friend or event will greet me! While nothing can outdo the beauty of being on the sea, the incredible friendship that grew among two aging gringos and a young vibrant Mexican man, the catching, cooking and sharing of all that delectable fish - I am a firm believer that "the best days are still ahead!")
---

Polly G. Vicars and her husband of 57 years, Hubert (a.k.a. "Husband") retired to Puerto Vallarta in 1988 and soon became active members of several charitable organizations. Polly is the author of "Tales of Retirement in Paradise: Life in Puerto Vallarta, Mexico" [a sell-out!] and "More Tales of Retirement in Puerto Vallarta and Around the World." Proceeds from the sale of her books go to the America-Mexico Foundation, a scholarship foundation that is their passion.

Click HERE for more articles by Polly Vicars.
Tell a Friend
•
Site Map
•
Print this Page
•
Email Us
•
Top