Tales of Retirement in Paradise
Chapter 27: Just the Facts ... Ma'am

Polly G. Vicars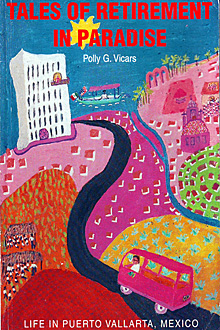 All proceeds from Polly's sell-out book "Tales of Retirement in Paradise, Life in Puerto Vallarta, Mexico" were donated to the America-Mexico Foundation.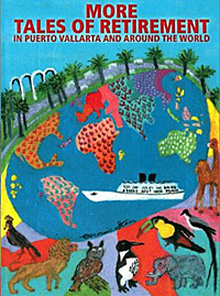 If you enjoyed Polly's first book, you'll love More Tales of Retirement in Puerto Vallarta and Around the World. Proceeds from the sale of "More Tales..." also go to the scholarship fund and can be bought from Amazon.com, from any member of Becas Vallarta or at The Bookstore in Puerto Vallarta.
This is the last chapter of my first book. I hope you have enjoyed reading about Puerto Vallarta and its people as much as I have enjoyed living here and telling about our story. Husbands and my feelings for Mexico, Puerto Vallarta and the people we have met and come to love grow stronger with each passing year. May all of your days here be as happy as ours have been. Remember what Joan Baez said, "You don't get to choose how you're going to die or where. You can only decide how you're going to live now." We are happy with our decision to live in Puerto Vallarta!

I'm sure there are many among you who have just plowed through this book, waiting for me to give you some factual information on Puerto Vallarta. and México. That really isn't my forte, but at the urging of Husband, who loves all those facts and figures, I leave you with "Just the Facts." If you've enjoyed the book so far, you may just want to skip this part!


Located on the same latitude as the Hawaiian Islands, tropical Puerto Vallarta has a mean average temperature of 79º F. The high season, November through April, attracts the most tourists and has the most salubrious weather. However, the low season, May through October, is also extremely pleasant and offers the same amenities of the locale at considerably lower prices. Not even the rainy months, July to September, interfere with the myriad of possible outdoor activities, as it only rains at night.


You find Puerto Vallarta at the midpoint of the Bahía de Banderas (Bay of Flags) which is midway down México's Pacific coast. The bay stretches into two states, Jalisco and Nayarit, and in size is second only to the world's largest, Hudson Bay. The water meets the land at the foot of the Sierra Madre Occidental Mountains, mountains green with palms and tropical growth.


The clear Pacific waters abound in marine life - sea turtle, manta ray, dolphin, marlin, sailfish, dorado, yellowfin tuna, skipjack, Spanish mackerel, rooster fish, wahoo, and scores of varieties of smaller tropical fish. In winter, humpback whales migrate to the warm bay waters to give birth to their young.


The waters around Los Arcos (The Arches) near Mismaloya Beach and Las Islas Marietas (The Marieta Islands), small uninhabited islands at the entrance to the bay, cover exquisite coral reefs teeming with sea life of all colors and varieties - snorkeler's and diver's paradises.


Pelicans, frigate birds, gulls, petrels, terns and brown booby birds constantly dot the sky in search of sardines and flying fish that abound. Herons and snowy egrets frequent the areas where the rivers empty into the sea.


Vallarta's variety of hotels, villas and condos can be found nestled on the mountainsides overlooking the bay, in the modern marina, on the shores of the River Cuale, along the sandy beaches, and inside El Centro, the typical Mexican city of Puerto Vallarta.


Tourists have their choice of elaborate five-star hotels or the many three and four-star hotels that offer fine accommodations at very reasonable prices. Hotel rooms range from $30.00 to $250.00 USD per day, depending on season, location and quality. Most hotels offer package deals together with the airlines, and some offer all inclusive plans.


If you prefer to vacation in a condominium or a villa, choose from the modest to the luxurious. Rent on a daily, weekly or monthly basis. Prices vary with location and season; the most costly being beachfront during high season. During this period a beachfront two bedroom, two-bath, fully-equipped condominium with daily maid service rents from $1000 to $3000.00 per week, with downward adjustments for longer stays and/or low season. Condos away from the beach can be rented from $400 to $1500.00 a week, depending on amenities, distance from the beach and season. Luxury villas with complete staffs can be rented from $300 to $1000 a day, with most accommodating at least three couples.


Additionally, Puerto Vallarta, considered the world's premier timeshare location, tenders condominiums of every size and location for sale for whatever length of time you desire, one week to several months. This is the means by which many people edge into their retirements in paradise.


Property to rent, buy outright or by timeshare, is plentiful. English-speaking agents, who will be happy to help you find just what you are looking for, are easily encountered. Due to México's law that prohibits outright sale of land within fifty kilometers of a sea coast, when you buy in Vallarta, you buy with a bank trust. For all intents and purposes, you own the property; you can sell it, will it, rent it, or lease it. You are issued a trust deed that is good for thirty years with renewals available. The property is in the name of the bank trust, and there is a yearly charge for the service.


Condominiums on the beach range in price from a low of about $30,000.00 to over $1,000,000.00. Villas on the ocean or up in Conchas Chinas (an exclusive section on a mountainside overlooking the sea) range from $150,000 to several million. You should get legal advice before buying any property in Vallarta. Your realtor will help you locate a reliable lawyer.


But you won't need a lawyer to help you find adventures like catching a sailfish or a marlin, observing the humpback whales in the winter, scuba diving, snorkeling, mountain biking, horseback riding, parasailing, ballooning, picnicking on sandy beaches, or exploring jungles filled with tropical flora and fauna. These adventures are easily available and can be arranged through large tour companies, your hotel, or with the Señor on the corner who has a taxi, horse, or van, or with the fisherman on the beach who has a fishing panga.


A day's fishing or whale watching will range from $150 to $500 a day, depending on the kind and size of the boat. A two tank scuba dive runs between $50 and $75 a day. Day trips of many varieties run from $25 to $150 a day, but many such trips can be done on your own for practically nothing. City buses will take you all over for less than a quarter and taxis are very reasonable. Prices of most trips are negotiable and, like every thing else, cheaper in the summer months.


Aero California, Aeroméxico, Alaska, America West, American, Canadian, Continental, Delta, Mexicana, Taesa and TWA fly into Vallarta's International Airport. In addition, most of the luxury cruise lines serve this busy seaside destination. For travel within the country, deluxe buses run between Vallarta and the major cities of México on a frequent schedule.


"Vallarta Today," a daily English language newspaper, is an excellent source of information on local activities, hotels, restaurants, etc. A copy of this newspaper is given to each arriving airline passenger and is available for less than fifty cents at most newsstands.


Even if you have read this whole book, I'm sure you still do not know nearly as much as you want to know about Puerto Vallarta! The American and Canadian Consuls, the America-México Foundation, the International Friendship Club and the English language daily newspaper, "Vallarta Today" are excellent additional sources for you to explore.

(Oddly enough, most of this is still relevant. We now have several very good English language newspapers and many online sites with information. My choice of online sites is banderasnews.com which of course, is reprinting this book and is the best source for local news and charitable organization's schedules of events. Hasta más tarde.)

Editors Note: If you enjoyed Tales of Retirement in Paradise, you'll love Polly's second book, More Tales of Retirement in Puerto Vallarta and Around the World, which tells of the great life Polly and Husband found in Mexico and narrates their four-month globe-circling voyage, introducing the interesting and entertaining people they encountered along the way.


Proceeds from the sale of "More Tales..." also go to the scholarship fund and can be bought from Amazon.com, from any member of Becas Vallarta or at The Bookstore in Puerto Vallarta.

---

Polly G. Vicars and her husband of 57 years, Hubert (a.k.a. "Husband") retired to Puerto Vallarta in 1988 and soon became active members of several charitable organizations. Polly is the author of "Tales of Retirement in Paradise: Life in Puerto Vallarta, Mexico" [a sell-out!] and "More Tales of Retirement in Puerto Vallarta and Around the World." Proceeds from the sale of her books go to the America-Mexico Foundation, a scholarship foundation that is their passion.

Click HERE for more articles by Polly Vicars.
Tell a Friend
•
Site Map
•
Print this Page
•
Email Us
•
Top