Health & Beauty | January 2005
An American's Hospital Stay in Puerto Vallarta

Sueanne Lineberger - PVNN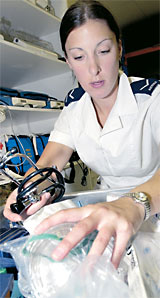 Tossing and turning for two nights having difficulty breathing, I was forced to see a specialist for internal medicine. Dr. Lewgot, (also known as Dr. Lupita) who has a great reputation among the English speaking population saw me immediately, did a battery of tests and gave me two medications to take home. She warned me that this could be extremely serious and I could be hospitalized.


Not sleeping well and feeling worse in the morning, I checked into Medasist Hospital upon the doctor's suggestion the following day.


This has been one my biggest fears, being hospitalized in Mexico. I've been in hospitals before, but only in the finest ones in the states. I believe my fear of being hospitalized has come from a combination of horror stories, and having taken care of friends in some pretty horrible hospitals in Mexico , and the way the hospital appeared (kind of shabby looking from the outside), and the cost.


My boyfriend picked me up and took me down to check in and Dr. Lupita's nurse accompanied me to my room. I checked in (sounds like a hotel), and to my surprise, it was my own room, with my own bathroom. Freshly painted white, there was also a modern air conditioner with a remote control, and a television that had 68 channels of cable and a remote control. The bed had all the bells and whistles; the only thing missing was the Magic Fingers.


Quite impressed, I figured they had me pegged as a rich Gringa( which I am not!) who could pay for her private room, while the other seven rooms had people packed in. They told me the room per night was 600 pesos or $60 USD. Of course the costs of medical services and other care were extra. This room was nicer than hotels in Puerto Vallarta that charged three times as month; I was shocked! The total for my entire hospital stay was under $1500 USD.


But this was not a vacation, and I was diagnosed as bronchial pneumonia with an infected lung. I was sick and I hate being sick! I hate it anywhere. And here at Medasist, I was pleasantly surprised at how responsive and caring the doctors and nurses were. In the overcrowded and short staffed hospitals in the states, you get five minutes a day with the doctor, another five with the chief nurse, mostly having assistant nurses available to me.


Oh, and the vampires, who came up before the crack of dawn, viciously taking blood out of me in the dark. Even the nurse who drew my blood here was painless. Really! Dr. Lupita saw me regularly and spent time with me answered all my questions and the nurses were so pleasant and caring, that I almost forgot I was sick! My food was freshly cooked to my specifications and was excellent. It is my belief our bodies heal faster with love, and they readily gave that out too.


The visitation policy was a real shocker to me. In the states, they have set hours and they want your visitors in and out. Here, they had two big chairs that pulled out into comfortable single beds, and I could have a caretaker sleep over if I wished. I was contagious however and avoided the risk of getting my loved ones sick.


I salute the hospital, Dr. Lupita Lewgot, the nurses, Ana Elia Luna Guerero, Dolores Ramon Aguilar, Argelia Rios Carrillo, Patricia Gonzalez Garcia and the head nurse, Norma Leticia Cruz. Also of assistance was Bertha A. Sandoval, the hospital administrator and receptionist Judith Guzman. I found out that the nurses are paid very poorly in Vallarta and three of my nurses have second jobs, one is a secondary school teacher, and two also work at San Javier hospital in dialysis.


I have overcome my fear of being hospitalized here, but would prefer to stay home. Just a thought for tourists who can't find a hotel in high season; check in here at Hospital Medasist at a fraction of the cost!
Tell a Friend
•
Site Map
•
Print this Page
•
Email Us
•
Top