Entertainment | March 2005
'The Passion Recut' Goes Easier on the Gore

Anthony Breznican - USA TODAY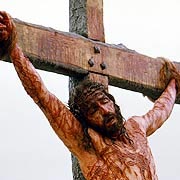 Six minutes shorter: The recut version of The Passion of the Christ, with Jim Caviezel as Jesus, changes some scenes. (Photo: Newmarket Films)




It's called The Passion Recut, but there's actually less cutting in the movie this time around.


Mel Gibson's toned-down version of his biblical blockbuster, The Passion of the Christ, removes some of the grisliest images as Jesus is scourged, beaten and crucified. The film is being released in about 952 theaters today, in advance of Easter, March 27.


Gibson, who declined to be interviewed for this story, says on the movie's Web site that the movie is a gift for admirers who had friends or relatives who couldn't stomach the brutality of the original.


About six minutes have been eliminated.


Along with deleting some graphic shots, Recut features some new images that replace the most blood-drenched acts of torture, often by providing a distant view of action that was close-up in the original, says Bob Berney, president of Newmarket Films, which distributes the film.


"There are new shots but no new sequences," he says. "(Gibson) uses different angles. When you make a movie, there are always different shots."


The two sections getting the most trimming: a scene of flagellation (which had a notable shot of a whip ripping skin) and the scene in which Jesus is nailed to the cross, says the Rev. John Bartunek, a Roman Catholic priest and friend of Gibson's who screened the revision last weekend.


"I was surprised because I was expecting only visual alterations, but there were also some audio adjustments," says Bartunek, author of the book Inside The Passion. "I wasn't aware before of how much the sound effects added to the graphic nature of the scenes."


The film is spoken in Latin and Aramaic with English subtitles, and Bartunek says Gibson also softened some of the translations as the soldiers discuss the process of crucifixion.


The Passion of the Christ became a $370-million-grossing phenomenon last year. Its unflinching depiction of torture and death on the cross distinguished it from any other film about Jesus.


Gibson and Newmarket hope to make a theatrical release an annual Easter tradition. Keeping it in theaters is especially important because its brutality makes it unlikely to play on television, says Berney.


Gibson hasn't announced whether The Passion will ever be shown on cable, and "even the cut-down version probably is not going to be on a main network," Berney says.


Bartunek says Gibson's changes haven't softened the story. "The emotional intensity hasn't been turned down. I've seen the movie about 70 times. It still made me cry."
Tell a Friend
•
Site Map
•
Print this Page
•
Email Us
•
Top