BanderasNews is proud to present a serialized and updated version of Polly G. Vicars' sell-out book, Tales of Retirement in Paradise.
Entertainment
Books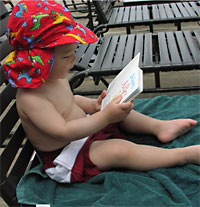 Ahhhh, vacation . . . Vacations provide us with an ocean of free time, time to rest, relax - and catch up on your reading! There's nothing quite like sitting on the beach with a good book, and deciding what to read on vacation is half the fun. If you are looking for some good "beach reading" for your Puerto Vallarta vacation, you've come to the right place!


In Puerto Vallarta there are many bookstores, sidewalk coffee shops and cyber cafes scattered around Old Town, where you can find used books in English for sale and/or exchange. "Page In the Sun," across the street from Lazaro Cardenas Park, has a good selection, "The Book Store" on Carranza offers newly released English books and magazines, and the Los Mangos Public Library on the road to Pitillal has a nice English-language section plus quite a few magazines and newspapers.


If you are staying in Nuevo Vallarta, stop by NVBookstore on the second floor of the Paradise Plaza Shopping Center for Best Sellers and newly released books in English.

• B E L O W T H E F O L D •
Our Wicked War with Mexico and its Repercussions

Ed Schwartz

Living in Mexico half the year has motivated me to learn more about the history of the relationship between Mexico and the US. The current problems on the border further inspired my research. The book, 'A Wicked War: Clay, Lincoln and the 1846 Invasion of Mexico,' fit my interest perfectly.

---
James R. Callan to Speak at PV Writers' Conference

BanderasNews.com

James R. Callan, author of a dozen books, will present a dynamic workshop on how to write novel dialog at the Puerto Vallarta International Writers' Conference. Now in its 9th year, the conference will be held at the city's public library, Biblioteca Los Mangos, March 6-8, 2015.

---
PV Writers Conference: Writing for the Digital Age

Bill Jory

The rules of writing have changed, Texas author Caleb Pirtle plans to tell participants at the upcoming Puerto Vallarta Writers' Conference, and success will only come by embracing the digital age. Pirtle, author of more than 55 books, will be keynote speaker at the March 6-8 conference.

---
9th Vallarta Writers Conference to Offer Tweeting Tips

Bill Jory

If you have written a book and you want to sell it, empowerment writer Donna Dahl will be providing a social media marketing formula at the 9th Puerto Vallarta International Writers' Conference, scheduled to be held March 6-8, 2015 at Biblioteca Los Mangos.

---
Mexican Writer Creates First Comic Book in Braille

MexicoNewsNetwork.com

The first Mexican comic book in Braille was released this past December. The brilliantly elucidated comic was published in order to approach Mexico's 1.2 million citizens who are visually impaired, as well as to raise awareness among the visually able population.

---
Second Edition Puerto Vallarta Guidebooks Have Arrived!

BanderasNews.com

The Second Editions of two popular guidebooks by local author Sandra Cesca have arrived from the printers! 'Walking Puerto Vallarta and beyond' has been updated to 150 pages of full-color photos, and 'Tropical Plants and Walks of Puerto Vallarta' has been updated to include new plants.

---
Ninth Puerto Vallarta Writers' Conference, March 6-8th

Bill Jory

If there is a book inside you bursting to get out, the ninth Puerto Vallarta Writers' Conference will be the place to release it. Scheduled to be held March 6-8 at Biblioteca Los Mangos, the conference will concentrate on helping writers get their ideas from their brain to the printed page.

---
Bisexual Dracula the Star of 'The Sultan's Boy'

Teresa E. Preski

Alex Gomez has written a dangerous book. Dangerous because when you read 'The Sultan's Boy,' you'll run the risk of falling in love with it. Dangerous because its main character is a Dracula, but a beautiful, bisexual Dracula, or Radu, Vlad the Impaler's youngest brother.

---
Dr. Leslie Korn's New Book: 'Medicinas de la Selva'

BanderasNews.com

Dr. Leslie Korn's new bilingual book, 'Medicines from the Jungle/Medicinas de la Selva,' is now available as an eBook for iPad or hard copy at the Puerto Vallarta Botanical Gardens. This full-color book was written in collaboration with her friends & colleagues in Yelapa, Cabo Corrientes.

---
Guadalajara International Book Fair Starts Nov. 30

Richard Dangler

Three Nobel prize winners from Israel including President Shimon Peres will attend the 2013 Guadalajara International Book Fair. As the guest nation of honor the Israelis will introduce audiences to a delegation of writers, academics, and musicians from the Jewish State.

---
'Whiskers, Tails & Wings' Animal Folktales from Mexico

Shari Schmidt

'Whiskers, Tails & Wings' is a must read fantasy adventure containing gorgeous paintings you'll want to frame on your walls. It takes animal folktales from five indigenous groups from Mexico and tells each story in a way that makes you feel like you've known it all your life.

---
Knock Until the Dog Barks: Adventure in Puerto Vallarta

Banderas News Team

D.E. Brobst, the director of K-12/Secondary Teacher Interns for the College of Saint Benedict/Saint John's University in Minnesota, recently released his first novel, 'Knock Until the Dog Barks: An Adventure in Puerto Vallarta,' which is set in PV's Romantic Zone.

---
Women on Vacation Prefer Cozying Up with Books Over Men

Travel and Tour World

Men and women have different notions of what makes a vacation truly relaxing. According to Princess Cruises' 4th annual Relaxation Report, almost one in four women would rather read more, whereas 34 percent of men would rather have more sex on vacation than at home.

---
Less Than 12% of Mexicans Spend Free Time Reading

Genaro Villamil

Out of 108 nations on UNESCO's index of reading, Mexico ranks second to last. According to the National Reading Survey of 2012, 41 percent of the country's population spends their free time watching television and 48 percent say they have never even been to a library.

---
RD Lyons' New Book, 'Ice Fire' Climbs Charts

Laura Gelezunas

On book stands everywhere, including major airports, the explosive debut thriller by Puerto Vallarta author David Lyons is climbing the charts. 'Ice Fire' is the first in a new series starring Jock Boucher, a renegade federal judge who takes justice into his own hands.

---
New Spanish Translation of Book on Autism Offers Hope

PR Newswire

A special education teacher of autistic children has launched a Spanish edition of her book, 'Hope As a Mother's Savior: Children with Autism Inspire!', for National Autism Awareness Month. The book was translated to offer Hispanics parents case studies and resources.

---
Program Hints for the 2013 PV Writers' Conference

Bill Jory

The successful writers speaking at the 8th annual 'PV Writers Conference' would like to offer some hints about what to expect...selling the product will get as much attention as creating it and presenters at the event will be emphasizing networking and social media.

---
Leading Vallarta Interior Designer Offers Free e-book

Patrick Harrison

One of Banderas Bay's leading interior designers, Umberto Ciccolella of Umberto Interior Design Studio, has unveiled a free, downloadable e-book chock-full of home decorating and design tidbits, plus a bonus chapter featuring Puerto Vallarta home trends for 2013.

---
Gil Gevins Book Signing Party December 20

BanderasNews.com

Gil Gevins will be signing 'Slime and Punishment' (a tale of middle-aged lust gone horribly wrong), at a book signing party at Lucy's Cucu Cabaña on Thursday, December 20th from 6 to 9 pm. Lucy's is located at 295 Basilio Badillo, on the South side of Puerto Vallarta.

---
Long Time Resident Dr. Leslie Korn Publishes 2nd Book

Marlene Bremner

Long time resident Leslie Korn has published her 2nd book, 'Rhythms of Recovery: Trauma, Nature and the Body.' Influenced by her 25 years of work in the Banderas Bay region, the book provides a comprehensive approach to the treatment of traumatic stress using natural medicine.

---
A Different Spin on the Mayan Calendar Prediction

Hank A. Muffett

As we approach the long-awaited end of the Mayan long count calendar many people are feeling anxious. All of the latest thoughts and theories maintain that this is not the end of the world or human existence, but a major change in the way we think and behave.

---
World's Second Largest Book Fair in Guadalajara

Allison Jackson

Hundreds of authors from all over the world will be attending the 26th Guadalajara International Book Fair this week. The event is the largest in the Spanish speaking world and the second largest in the entire world with authors from over 40 countries being represented.

---
Author Gil Gevins Book Signing Party

Banderas News Team

PV's favorite author, Gil Gevins, has been delighting readers for 25 years. Widely praised for his best-selling anthology, 'Puerto Vallarta on 49 Brain Cells a Day,' Gevins has recently published his first novel, 'Slime and Punishment.' It's by far his funniest work yet!

---
Site Map
•
Print this Page
•
Email Us
•
Top