News from Around Banderas Bay | March 2005
Puerto Vallarta Celebrates Semana Santa

Denise Derameé - PVNN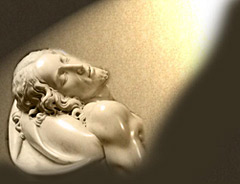 Semana Santa celebrates the last days of Jesus Christ's life.




Puerto Vallarta - Easter, known as Semana Santa, is the most widely celebrated holiday in México, and a time of national vacation and "spring break" from schools. Tourism authorities estimate that one out of every five Mexicans - around 20 million people - will travel during Holy Week, and Puerto Vallarta is one of the most popular beach destinations for nationals looking for a few days of fun-in-the-sun.


Every year during Semana Santa, thousands of exuberant Mexicans intent on having a good time flock to Puerto Vallarta and the beaches of Banderas Bay. Area hotels are at peak capacity, streets are overrun with cars and buses, and Los Muertos Beach fills with tents and sleeping bags during the two celebratory weeks of Semana Santa and Semana de Pascua.


Semana Santa celebrates the last days of Jesus Christ's life. The week-long celebration gets underway with Palm Sunday, with special parades and passion plays during the week leading up to Easter Sunday. In many communities, the full Passion Play is enacted from the Last Supper, the Betrayal, the Judgment, the Procession of the 12 Stations of the Cross, the Crucifixion and, finally, the Resurrection. The enactments are often nicely staged, costumed and acted, with participants preparing for their roles for nearly the full year leading up to Semana Santa.


One of the oldest traditions in México, Semana Santa is an artistic and cultural event of major importance, with everyone - young and old, children and parents, rich and poor - actively participating in the celebrations. But Semana Santa is much more than a religious occasion. In fact, hundreds of people who come to Puerto Vallarta to celebrate Easter Week are not even Catholic.


Like all holidays in Latin countries, Semana Santa is also a festive occasion, a time of celebration that lasts two weeks, when people come together to socialize and enjoy themselves. This year in Puerto Vallarta, Clue Models has coordinated a series of events including a car exhibition, beach volleyball and a soccer tournament. From March 24 at 10 am to the afternoon of March 27, the calendar presents live performances, rock concerts, bikini and wet T-shirt contests, gift giveaways, a hip-hop show and nightly fashion shows.


These happenings take place at a variety of locations, including the Agustín Flores Contreras Stadium, Nikki Beach, La Regadera, Carlos O'Brian's, The Roxy, Zoo Bar, Bebo Tero, Hard Rock Café and at many other locations around Banderas Bay. Although we have listed many of the events scheduled for this week, we urge you to contact Grupo Clue Eventos at 293-6140 for further information and specific event details before making plans.


The week following Easter Sunday is called Pascua, which is the celebration of the Resurrection. Pascua marks the release from the sacrifices of Lent . . . and Vallarta goes into full-on party mode! The beaches are bursting, the streets are jammed, and the Malecon is filled with people enjoying food, fireworks, and live entertainment.


While it may sound a bit chaotic, Semana Santa and Pascua are probably some of the most festive and exciting times to visit Puerto Vallarta. If you wish to witness the beauty of traditional Mexican culture - and enjoy the excitement of a two-week-long party in Puerto Vallarta - Semana Santa and Pascua would be well worth experiencing for yourself.
Tell a Friend
•
Site Map
•
Print this Page
•
Email Us
•
Top