News Around the Republic of Mexico | March 2005
Mexico Undergoing Americanization as Retirees, Others Become Expatriates

Alfredo Corchado & Laurence Iliff - The Dallas Morning News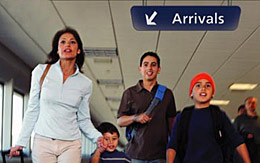 "Fifty percent of my clients are Americans," said Enrique Riquelme, owner of the ReMax real estate firm in Playa del Carmen, a town near Cancun that once was a haven for youthful Europeans.




Mexico City - The day after the U.S. presidential election, Jim and Joan Marker left for a scheduled vacation in San Miguel de Allende, central Mexico.


Now they've decided they'd like to live there permanently.


The Alabama couple are among the many United States citizens who have been going south, for adventure or a new life. The decades-long trend has gathered steam in recent years, statistics show, and Mexico is undergoing a sustained Americanization, with Americans buying more property, seeking permanent residency and congregating in enclaves that seem like home abroad.


The U.S. State Department estimates that the number of Americans in Mexico has increased from about 200,000 a decade ago to between 600,000 and 1 million today.


"Fifty percent of my clients are Americans," said Enrique Riquelme, owner of the ReMax real estate firm in Playa del Carmen, a town near Cancun that once was a haven for youthful Europeans.


"The people who are buying here are three or four years away from retirement ... although there are also a lot of younger people coming - 38 to 40 years old - looking for a place to rest or get out of the cold."


Analysts say the influx of Americans is fueled by such factors as a lower cost of living, more affordable housing, warm weather, a more relaxed pace of life and a different political atmosphere.


More than 76 million American baby boomers are expected to reach retirement age in the next 20 years, and 25 percent of them have no health insurance or savings, according to an AARP report.


A significant number of those future retirees will likely be heading south, said Viviana Rojas, a researcher at the University of Texas in San Antonio.


"Mexico makes them feel younger, connected again and re-energized," Rojas said.


Up to 10 million Americans live abroad, according to U.S. Census Bureau figures. Because of its proximity, Mexico has drawn a significant portion of that group. The exact number is an elusive statistic, despite the efforts of researchers - governmental as well as academic - on both sides of the border.


Just as many Mexicans cross into the United States illegally, Americans sometimes live illegally across the border, Mexican migration officials said. Some Americans who come to Mexico on six-month tourist visas simply overstay their time. Others come and go like nomads, staying for extended periods without necessarily establishing formal residency.


"The United States isn't the only country that has problems with illegal immigrants," quipped Mauricio Juarez, spokesman at the Mexican Migration Institute. "We have our own."


Depending on which part of the United States Americans come from and where they move, living in Mexico can be 25 to 75 percent cheaper. Like most world capitals, Mexico City itself can be comparatively expensive, and its crime, congestion and pollution problems turn off many.


But expatriates in Mexico generally pay less for health care and medicine, housing and domestic help, according to experts and the expatriates themselves.


Rojas and a colleague, T.S. Sunil, are studying a sample of U.S. retirees in Ajijic, Jalisco state. She said more than half the 172 people surveyed said they were living on less than $1,000 a month. That money covered rent, utility bills and other costs such as maid and gardener service and regularly eating out.


"These are people who are looking for alternatives that will accommodate their fixed income," she said. "The key question here is, how many Americans can manage to live (in the United States) on less than $1,000 and have all those amenities?"


American and Mexican developers are building condominiums, resorts and in some cases entire communities in hopes of enticing Americans south. Foreigners, regardless of their immigration status, can now own homes in their own names.


In Cabo San Lucas, businessman Edward Hooton, who is from Oregon, is working with a Southern California consortium that has put up $8 million to invest in a new resort.


In Nayarit state, public officials are trying to lure Americans by hawking an affordable lifestyle. Ads for the fishing village of Sayulita assert that residents can live in the village for as little as $500 a month, gardener and maid included.


"Prices have risen because there is so little available land to purchase and there is only so much view of the ocean, or beachfront," said Caren Elkan, a real estate agent in San Francisco, just down the road from Sayulita.


On the other hand, Ajijic-based realty company Laguna Real Estate lists homes in Jalisco at prices starting at $51,000.


Some Americans have come to embrace Mexico to such a degree that they're becoming citizens. Hooton, the businessman from Oregon, has lived in Mexico for 24 years off and on and recently filed for citizenship. Under Mexican law, he will not have to give up his U.S. citizenship, a factor he regards as an added incentive.


His attorney, Gilberto Pineda, represents 60 Americans seeking permanent residence.


"It's never been easier for Americans, or other foreigners for that matter, to become Mexican citizens," Pineda said


Applicants must prove at least 60 percent proficiency in Spanish - no problem for Hooton - and learn the national anthem.


"That may be the biggest obstacle I face," he said of the anthem, "especially because I don't know the words."


It's not just retirees who are heeding Mexico's siren song. The country also is drawing younger Americans looking for a different way of life and Americans who regard Mexico as part of their heritage.


Darren Ethridge, 34, formerly of Memphis, arrived in Playa del Carmen in October 2000. He's been an occasional bartender at Captain Dave's, a watering hole that is owned by an American and caters mostly to Americans.


"I came down here for the Pan-American (highway) race," he said. "There was a girl involved, too."


Ethridge settled in Playa because, he said, it is younger and hipper than some other expatriate centers - and has topless beaches as well. He said that he could not imagine returning to live in the United States and that he does not miss the hectic pace and materialism of his native country.


"Another thing about living in Mexico: I don't need every gadget that everyone has in the States; I don't need the BMW, and a house is just a place to crash," he said.


Tereso Ortiz, of Dallas, is one of the estimated 24 million U.S. citizens and residents of Mexican descent. He sees Mexico as the place where he will spend his golden years - to be closer to family and to enjoy a retirement that he could not afford in the United States.


"I love this country," Ortiz said of the United States. "But Mexico will always be home." He already has bought a retirement home in Ocampo, Guanajuato.


For other Americans, Mexico is a refuge from what they view as a rancorous environment back home, awash in disagreements between "red" and "blue" states following the re-election of President Bush.


The Markers said they were drawn by "Mexico's ideal political climate," adding that the November elections left them feeling like strangers in their own land.


"The election was a clear indication of how divided we are as a country," said Marker, 65. "Here, I feel politically comfortable."


In San Miguel de Allende, Guanajuato state, real estate agents said that the day after the election, they received many phone calls from Americans inquiring about moving to the town.


Alexis White, 56, of New York City, was in San Miguel recently. She said the election results helped send her there.


"I come from one of the two (places), New York and the District of Columbia, which were attacked on Sept. 11," she said. "And we don't feel any safer. If anything, I feel more scared and that's why I'm looking for a home here in San Miguel. Is Bush the sole reason? No. But he's a big factor."


Ironically, the influx of people from north of the border is sparking a kind of backlash - against Americans among Americans.


San Miguel de Allende may be the most American town in the country. About 10 percent of the residents are American. Most stores price their wares in dollars. English is heard everywhere.


"Americans have been coming here for years," said Daniel Scher, a businessman in the town. "Now it's a crescendo."


The Americans in San Miguel are the ones who regularly oppose allowing chains such as McDonalds and Starbucks to move in. And they frown on the idea of building a freeway to better connect San Miguel to the rest of the country.


Residents of Ajijic share those sentiments.


"There's a growing sense here," said Karen Blue of MexicoInsights.com, a Web magazine published in Ajijic, "that it's time to shut the door to outsiders, bolt it and throw away the key. But these are just people being selfish - because the flow will only grow."


Dick and Marge Olson manage an RV park-cum-apartment community for Americans in Todos Santos, Baja California Sur, off the surfing coast between Cabo San Lucas and La Paz. The area once was pristine, quiet and isolated, but developers plan to build golf courses and big hotels on traditional tomato farms. The farmers are resisting the project, but the developers are expected to prevail.


"When we first came down here, it was like going back in time 50 years," Ms. Olson said.


Added Mr. Olson, 67: "We love it here, we really do. But there's too many people, Americans and Mexicans."
Tell a Friend
•
Site Map
•
Print this Page
•
Email Us
•
Top