News Around the Republic of Mexico | March 2005
Mexico Mulls Silver Lining Against Currency Crash

Pav Jordan - Reuters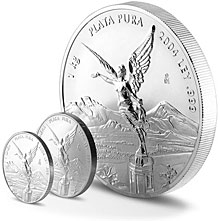 The 2004 silver Libertads from Banco de Mexico




Mexico City - An influential Mexican businessman wants to reintroduce silver coins as legal currency - as in Mexico's 16th century heyday - and, far-fetched as it may sound, the idea is winning support.


The Senate has already passed the initiative, and the lower house is expected to vote soon on the bill, which has struck a nerve in a country where decades of financial crisis have fomented a deep distrust of paper currency.


The central bank opposes the plan as anachronistic.


Hugo Salinas Price, founder of the specialty retailer Elektra, says silver could be the shield to protect Mexicans' savings from another currency collapse.


"The idea was born from the need to protect the currency," said Price, whose son, Ricardo Salinas, is chief executive of Mexico's No. 2 broadcaster, TV Azteca.


Mexico's peso is stable now, and has actually strengthened of late, but fear of currency collapse is etched deep in the Mexican psyche after previous financial crises.


Mexico was a top supplier of silver coins during the colonial era, when they were significant components of the Spanish and British treasuries. The minting of coins in the New World began in 1535 in Mexico City.


According to Price and advocate lawmakers interviewed by Reuters, the new coins would be valued according to the price of silver as a commodity, with the central bank, Banco de Mexico, managing coinage and charging a 10 percent seigniorage.


The 1-ounce silver coin, called the Libertad (Liberty), would have no nominal value engraved upon it, and would circulate alongside the conventional peso currency. Its worth would be stated daily in a central bank quote.


Silver traded at about $7.50 an ounce on Friday in New York. The peso was valued at about 11 per U.S. dollar.


Price said the Libertad would be protected from losing value because losses on commodity markets would be compensated for by central bank valuations.


Representatives of the central bank could not be reached to comment, but it has rejected the idea in arguments to legislators, citing concerns ranging from counterfeiting to minting costs.


Independent economists also argue against monetizing silver, saying it has no place in a modern world of interconnected and open economies.


Rafael Urquia, an analyst with Banamex Accival brokerage in Mexico City, said the plan would limit the flexibility of monetary policy.


"I am inclined to think that this will not pass (Congress)," Urquia said in a recent interview. "I would like to think that the legislators sitting on economic committees have some common sense."


Opponents also cite the costs of adapting the currency system to incorporate silver coins, and list the subsequent transaction costs and even minting costs as other concerns.


"This idea of a hybrid currency seeks the best of both worlds - and I think that would be difficult," Urquia said.


Still, the 1994-95 financial meltdown known as the "Tequila crisis" is just the most recent example of why some Mexicans are eager for an alternative safe haven for their money.


Despite recent advances, Mexico still has one of Latin America's lowest rates of savings and bank credit.


Most past crises have coincided with presidential elections, and the tight, three-way race for the 2006 vote has generated worries that the peso could be in for a steep decline.


Still, Mexico produced some 3 million ounces of silver in 2004 and state governors and legislators say the plan could give a boost to the economies of states producing silver.


"We see this as a viable initiative," said Fernando Guzman, a federal deputy with the governing National Action Party. "It would bring a new vitality to the state economies."


Proponents of silver money cite Gresham's law - named after the financial agent of England's Queen Elizabeth I, Sir Thomas Gresham (1519-1579) - to support arguments that people tend to save currencies with intrinsic values when they are traded alongside fiduciary monies.


"I can tell you one thing for sure, I don't always stop to pick up a peso if I drop it," said Violeta de la Torre, an office administrator. "But I certainly wouldn't leave a silver ounce lying in the street."
Tell a Friend
•
Site Map
•
Print this Page
•
Email Us
•
Top