News Around the Republic of Mexico | April 2005
Mexican Boxing: A Phenomenon

Bob Cohen - PVNN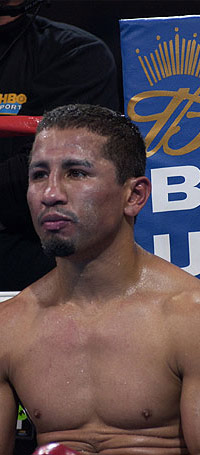 Junior Lightweight division (130 lbs) WBC champ Marco Antonio Barrera

Soccer is most definitely the number one sport in Mexico followed by baseball. But the most international success has been achieved by Mexican boxers, the country's third most popular sport. Due to the economy of the majority of the Mexican population, competitors are forced to engage in sports that are inexpensive.


Mexico has one professional golfer and a few professional tennis players, sports which are expensive and lessons are necessary to excel in these sports. There is also one NBA professional, but size constraints hamper the opportunities for the Mexican athletes here.


This brings us to an issue other than money. The majority of Mexicans are not tall, therefore eliminating some sports, most notably basketball and football for professional competition. Baseball is a sport where Mexicans excel, as well as many Latin American countries. The game can be learned using a broomstick as a bat and almost anything for a glove.


Boxing, however in the welterweight division and below, have a multitude of Mexican participants and champions. We probably will not see a Mexican heavyweight champion, and once again size, or lack of it, is the reason. Mexican fighters are known as warriors in the ring, exchanging punches aggressively and at a rapid fire pace. Also, they can take punches as well as any shake off any effects and keep fighting at the same pace.


Why such a multitude of Mexican fighters? Is it that the people of Mexico are a violent group and love to fight? Not at all, there is far more danger walking in the streets of almost any city in the United States. Money, or rather lack of it draws the people to the sport out of necessity. At a young age, potential athletes have to choose a sport that they will participate in, hoping to reach professional status. Boxing is a road many choose to travel due to necessity and now pride in upholding Mexican dominance in the ring.


The most famous Mexican boxer was Julio Caesar Chavez, who was a warrior and world champion in the lightweight division for years, and now his undefeated son is following in his footsteps. Although he is American, Oscar De La Hoya, of Mexican descent has brought glamour to the sport.


Let's look at the weight divisions and see where the Mexican fighters rank.


Lightweight division (135 lbs) WBA champion is Juan Diaz (Mexican American) at 27-0 WBC champ is Jose Luis Castillo at 52-6.


Junior Lightweight division (130 lbs) WBC champ is Marco Antonio Barrera at 59-4 and IBF champ is Erik Morales at 47-2.


Featherweight division (126 lbs) IBF champ is Juan Manuel Marquez at 43-2.


Junior Featherweight division (122 lbs) WBC camps is Oscar Larios at 55-3 and IBF champ is Israel Vazquez at 37-3.


Bantamweight division (118 lbs) IBF champ is Rafael Marquez at 33-3.


Junior Bantamweight division (115 lbs) WBA champ is Jose Martin Castillo at 27-1 and IBF champ is Luis Perez at 22-1.


By far the most competitive and perhaps the world's most watched division is the Junior Lightweight with warriors Marco Antonio Barrera and Erik "El Terrible" Morales a huge pay per view draw. They have fought three times, each a remarkable fight, with Barrera winning two. There is a potential fourth fight in the making which people will have to pay $49.95 just to watch on TV.


These are just the champions, the divisions dominated by Mexican boxers. Many others are ranked in the top 5 in their respective divisions, waiting for their title shot. Viva Mexico!
Tell a Friend
•
Site Map
•
Print this Page
•
Email Us
•
Top