News from Around the Americas | June 2005
Mexican Mafia Grows in Staten Island

Carrie Melago & Jose Martinez - New York Daily News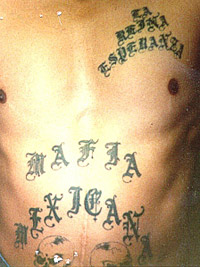 Mexican Mafia tattoo
(Photo: Security Threat Group)

New York - At the foot of the Bayonne Bridge, in the Staten Island neighborhood known as Little Mexico, crime is down - falling by more than 6 percent this year. But troubling signs remain.


Fights regularly break out in the Port Richmond neighborhood's Latino nightclubs, and even more unnerving are the graffiti scrawlings for M13, a street gang with ties to the notorious Mexican Mafia.


"We've got a lot of problems right now with the gangs," said a 28-year-old Mexican man who ran with a gang for five years before being jailed. "They're even going after the 14- and 15-year-old kids."


A federal sting operation last month in Staten Island netted 20 members of the Mexican Mafia, shining a local spotlight onto one of California's oldest and most violent prison gangs.


Its members have been accused of killing Bill Cosby's 27-year-old son, Ennis, in Los Angeles in 1997, targeting mob turncoat Salvatore (Sammy Bull) Gravano in an Arizona prison in 2002 and devising a sophisticated plot last February to murder three guards at one of California's most secure prisons.


The thought of the Mexican Mafia migrating to the East Coast and laying down its roots in the city is disturbing to many.


"A lot of these kids are looking for an identity, and if they get together in a gang, there is strength in numbers," said the Rev. Terry Troia, who sponsors a gang-intervention program through the nonprofit Project Hospitality.


"But a gang should not be the center of a community," she said.


Thanks to Troia and teams of cops and community leaders fed up with seeing children swept into a life of crime, the gangs in Little Mexico are feeling the heat.


The NYPD has created an "impact zone" within the 102nd Precinct, flooding cops into Port Richmond's commercial hub, shuttering a nightclub known as a gang gathering spot and sinking crime in the zone by more than 70 percent since last year.


"It used to be a war out here," said Jose Rodriguez, who works in a deli on Port Richmond Ave. "Compared to what it was, this is a paradise now."


The Staten Island district attorney's office indicted 85 gang members last year, and charged 39 with violent crimes - both increases from the previous year.


"There's no area that you can say is immune from gang activity," said District Attorney Daniel Donovan.


Police officials believe Port Richmond serves as a base for many Latino gangs who spread their mayhem elsewhere.


Federal authorities say they are seeing evidence of the Mexican Mafia infecting neighborhoods throughout the city.


"It's not exclusive to Staten Island," said Martin Ficke, special agent in charge of the U.S. Homeland Security Department's Immigration and Customs Enforcement division in New York. "We have Mexican Mafia now in other boroughs."


In Staten Island, the gangs try to recruit children in schools and on the streets, according to a former gang member. They don't take rejection well.


"If you don't join up, they will go after you," he said, recalling how bat-wielding thugs trashed the house of a young man who defied them. "The truth is, the gang life is not a good life."


But for new arrivals to the United States, especially young men, it can often seem like the only life, Troia said.


Many of the kids who her group works with are undocumented immigrants who see little future beyond standing on a corner looking for work, she said.


In a gang, they find a ready-made community.


"They feel alone out here," she said, pointing out that many of the young immigrants have never been to Manhattan or even ridden a subway.


Troia's group organizes weekly outings to other parts of the city. The idea is to give them reasons to steer clear of thug life. She is also helping to establish so-called "safe spots" in neighborhood stores where kids can escape pressure from the streets.


"We want to make sure no one goes around in fear," she said.
Tell a Friend
•
Site Map
•
Print this Page
•
Email Us
•
Top