News from Around Banderas Bay | July 2005
New PV Hospital Aims to Smooth Insurance Tangle

Elaine Halleck - Guadalajara Reporter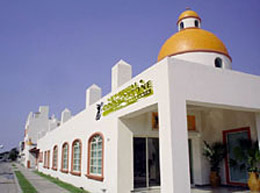 Cornerstone Hospital opened two months ago in Puerto Vallarta. (Photo: CR)

Among the new hospitals catering to foreigners and certified by U.S. hospitals that have opened in Puerto Vallarta in recent years, the newest is Cornerstone Hospital, located on the south side of Plaza Caracol. And it almost goes without saying that one of the reasons the town was chosen is the boom in the local population of Americans and Canadians, says Juan Enrique Hernandez Arriola, the hospital's administrative director.


But Hernandez hastens to add that prices at the facility are accessible both to Mexicans and foreigners and that there is only one tier of prices, which applies to all.


The hospital's English name reflects the facility's roots in McAllen, Texas, where it is based. The owner is a Mexican who lives in the United States and the well-known medical director is Max Grieg, known locally as Doctor Max, a Mexican orthopedic surgeon of German lineage.


Representatives point to an impressive array of features in the facility, which has only been open for two months. Hernandez mentions the "tecnologia de punto," the latest and greatest in equipment, such as a new, open magnetic resonance imaging (MRI) equipment, with the emphasis on open -- no more claustrophobia-inducing tubes.


There is also a complete rehabilitation center and 24-hour, 365-day-a-year emergency facilities, including for pediatric emergencies. And from 7 p.m. to 7 a.m. there is a bilingual pediatrician.


Pamela Thompson, the hospital's patient services coordinator, says she thinks the feature of the hospital most interesting to foreigners is the fact that the administration "will do everything they can to accept insurance."


This includes the services of an on-site staff person to deal with foreign patients' insurance matters and paperwork, at no cost to the patient. Thompson says that other area hospitals say they accept foreign insurance, but the reality is that often patients have to pay up front. Of course, that may happen at Cornerstone too, she says, but there is more effort at Cornerstone to smooth the insurance process.


One of the best features of the new hospital may be Thompson herself, who in turn raves about the other employees, citing how helpful they are. Thompson says no other hospital in Puerto Vallarta has a position such as hers. She says that she meets with every patient who is admitted, Mexican and foreign (she speaks Spanish well), and explains how the hospital works, how phones work, acts as a patient-doctor go-between, meets with patients every day and maintains a lot of medical information and a list of clergy.


Thompson says she has lived in Puerto Vallarta for 15 years and has worked with many area hospitals in her other job as a coordinator for Global, an air ambulance company. Her experience with local medical facilities puts her in a good position to know what is available, she said, and this experience is behind her enthusiasm about Cornerstone.


Thompson urged interested readers to e-mail her (pmt15@hotmail. com) or phone her (322-224-8122). She said she is eager for questions about insurance and is glad to give tours or make doctor referrals.


She mentioned another of Cornerstone's features that she finds remarkable: "There's a cafeteria here!" she said, adding that Cornerstone is the only hospital in Puerto Vallarta with one.
Tell a Friend
•
Site Map
•
Print this Page
•
Email Us
•
Top