News from Around the Americas | July 2005
Gavaldon Helps Nurture Mexican Talent

Jerry Magee - Union-Tribune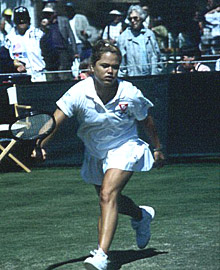 Angelica Gavaldon at Eastbourne, Sussex, 1995. (Photo: Jim Berryman)

Angelica Gavaldon can be remembered as a tennis player who prepared for matches by munching on a chocolate chip cookie and played them with large hoop earrings dangling from her ears. She could play, too; she twice was a quarterfinalist at the Australian Open.


At 31, Gavaldon, holder of dual citizenship as a person born in the United States of parents born in Mexico, has recognized her debt to the game. In January, she invited members of Mexico's Fed Cup team to spend six weeks with her at Loews Sea Spa in Coronado, where she teaches tennis.


Her thrust was to give these players the sort of instruction that is not available in Mexico.


"When I go to Mexico, people ask me why there aren't more players from there," Gavaldon said. "It's not lack of talent; there are a lot of girls there who have the talent, but they don't have the support of sponsors or a federation."


After Gavaldon contacted Olga De La Fuente, president of the Women's Tennis Federation in Mexico (which is independent of the Mexican Tennis Federation), four players and a coach joined her in Coronado.


"In six weeks, it is too hard to make changes; they need to have a program that has continuity for them to improve," Gavaldon said. "My goal was to give each of them something they could take home with them. They have a lot of bad habits; they have to be exposed to good coaching."


At the Angelica Gavaldon Tennis Academy in Coronado, Angelica is establishing her coaching expertise. One of the players who has profited from her counseling: Biffy Kaufman, the Yale graduate who won the Acura Classic "opportunity" event that concluded Sunday at the San Diego Tennis and Racket Club.


"Getting to hit with somebody like that could only help me improve," Kaufman said. "A, she has experience, and B, she arguably still is the best player in San Diego."


Two other players in the "opportunity" draw, the Abdala sisters, Laila, 18, and Nadia, 16, also are Gavaldon students. The Abdalas are natives of Mexico City who reside in Chula Vista.


About those hoop earrings. Angelica said they are in a drawer someplace. She said she continues to have an appetite for chocolate chip cookies.
Tell a Friend
•
Site Map
•
Print this Page
•
Email Us
•
Top