News from Around the Americas | August 2005
Mexican Consulate Opens in Tiny Farm Community

CTV.ca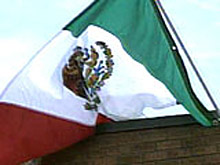 The Mexican flag flies over the new Mexican consulate in Leamington, Ont.

A Mexican consulate officially opened Monday in the small farming town Leamington, Ont., to assist the thousands of migrant workers that flock there every year for the harvest season.


Leamington - the tomato capital of Canada located about 50 kilometres southeast of Windsor - is one example of a Southwestern Ontario farming town that's increasingly attracting migrant workers, many of them Mexican.


Fruit and vegetable production in Canada has more than doubled in the past decade. Farmers insist it's the migrants have made that possible, and that they just can't find enough willing and reliable Canadian workers.


The decision to open a consulate in Leamington (population 16,000) was made when Mexico's Toronto consulate - over 340 kilometres away - was becoming overwhelmed with issues.


Alberto Acosta, the new office's consul, says his office is there to protect the Mexican workers, inform them of their rights and attempt to settle any disputes with their employers.


Margarito Gonzalez is among the 20,000 foreign migrant farm workers doing a backbreaking job that many Canadians refuse to do under the hot Ontario sun.


Gonzalez has been returning to a Leamington farm for 23 years -from April until November. He tells CTV News that he's earning twice what he could in Mexico in half the time, enabling him to send two children to university and two to technical college.


The workers earn roughly minimum-wage, but this often amounts to 10 times what they would make doing the same job in Mexico.


Farm workers in Canada have defined pay conditions and pay taxes under this country's migrant workers program.


"One of the things that shows that, on balance, the program is successful is that over 95 per cent of the workers that come are the same that come every year," Mexico's Under Secretary of Foreign Affairs Geronimo Gutierrez told CTV News.


But the United Food and Commercial Workers' Union says Canada is taking advantage of these migrants. It's suing both the federal and Ontario governments, claiming the workers are left without social or legal support; and no protection from retaliation for reporting an abusive employer.


"They should have the right to join a union and bargain," United Food and Commercial Workers Union representative Stan Raper told CTV News. "They should have health and safety protection. They should have the basic employment standards protection that everyone else has."


UFCW Canada, one of this country's largest private sector unions, says its efforts convinced the Ontario government to end the discriminatory exclusion of farm workers from coverage under Ontario's Occupational Health and Safety Act (OHSA)this past July.


The union funds and operates five migrant agricultural support centres in Canada, located in Leamington, Simcoe and Bradford, Ontario; and in St-Rémi de Napierville, Quebec.

With a report by CTV's Peter Murphy in Leamington, Ont.
Tell a Friend
•
Site Map
•
Print this Page
•
Email Us
•
Top