News from Around Banderas Bay | September 2005
Miracles in El Tuito

Bob Cohen - PVNN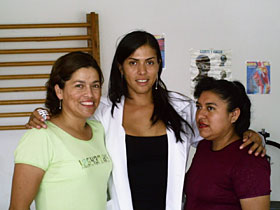 Dra. Lizaola (C) and staff at the Clinica De Terapia Fisica, in El Tuito.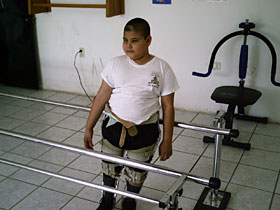 Eight-year-old Adolfo Issac Gomez Bañuelos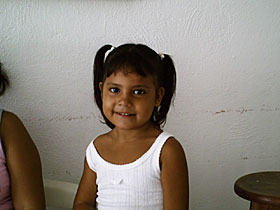 Four-year-old Jaydy Misledy Gomez Lepy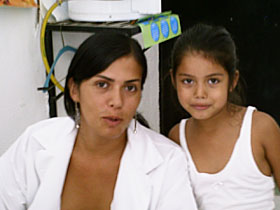 Dra. Lizaola and patient at the Clinica De Terapia Fisica, in El Tuito.

Thursdays are a special day for some kids who live in El Tuito. No, they don't get to skip school nor do they get presents, but instead they receive a special gift from a generous doctor that practices medicine here in Puerto Vallarta. Dra. Valeria Lizaola, who owns and operates a growing sports medicine clinic here, leaves town every Thursday morning for a pleasant one-hour drive south on a mission to help physically challenged kids that live in El Tuito.


Every Thursday for the last eight months, Dra. Lizaola has endeavored to spend her day at the physical rehabilitation clinic, or Clinica De Terapia Fisica, in El Tuito. Though the kids weren't injured while playing soccer or any other sport with their friends, they were born with illnesses that require treatment and therapy that weren't available before. Prior to the doctor's weekly visits, the clinic was run by DIF for four years, but all they could offer were treatments from assistant therapists, who helped the best that they could.


Dra. Valeria brings her vast knowledge and experience to the rehabilitation techniques offered in El Tuito, and happily the kids are responding. This past Thursday I went along for the trip and watched as the kids ranging from 1 ½ to 8 years old received the quality medical and professional treatment that they deserve.


The doctor treats adults as well as children; in fact anyone who needs physical rehab can pay only $20 pesos to DIF and be treated as well as patients who pay in full at her local practice. As I observed, not only were the kids working at overcoming their physical shortcomings, but they were also smiling, happy and proud of what they were doing.


The cutest little girl, sporting the nicest smile I have seen in years was the first in the waiting room, accompanied by her aunt who brought her up from birth. Four-year-old Jaydy Misledy Gomez Lepy had a bump on her head and though medication was applied, that wasn't the reason she was there.


When Jaydy was born she had nerve damage in her right shoulder, which did not allow her to use her whole arm and hand. After being given ultrasound treatments and physical therapy for only four months, she has responded well. When I asked why they'd waited almost four years before seeking rehabilitation treatments, their response was the same as all the other's; they just didn't know that their kids could live normal, happy lives after receiving proper medical attention.


Next in line at the clinic was 1 ½ year old Oscar Daniel Padilla Flores, who has already had two major surgeries to treat the fluid on his brain which paralyzed the whole left side of his little body. Oscar was not even able to lift his head, as it just hung with no movement until he began treatment.


The treatment Oscar receives is similar to the treatment that someone who suffers from a major stroke receives. After receiving only two months of treatment, he now is able to hold his head up and can move his once paralyzed left side. Oscar has a long way to go, but I could sense the pride he felt from achieving his improved physical condition.


One of the procedures that Dra. Valeria loves to, and often, performs is a treatment for kids that have Down syndrome. She told me that these kids have a natural capacity to display their love more strongly than others. Two-year-old Paula Castellon, who has been seeing the doctor since she arrived eight months ago, is about ready to take her first unassisted steps any day now.


Paula has been practicing her walking skills while holding onto metal rails, and today she looks extremely spry. She is such a loving child that the doctor and therapists love to just hold her, and swing with her, while little Paula just hugs them back with so much love that everyone in the clinic is moved.


Later, eight year old Adolfo Issac Gomez Bañuelos came in with braces around his whole body. He suffers from Toxoplismosis Szcurlas, which I was not able to understand, but this kid is quite the character and full of joy, as he battles to walk the same path that little Paula is mastering. He had the whole office laughing, playing air guitar to the music played in the clinic, and singing along as he trudged the path between the metal bars he held onto.


The two assistant physical therapists, Annabelle Placito Gordian and Feilicitas Meza Barraza, open the clinic on Mondays as well, while awaiting Thursdays when the doctor sets up the treatment plans. Mondays and Thursdays are the days that give these kids hope of becoming more able to function normally in society, and the smiles on their faces and their persona of bravado just makes me a believer that one day they will accomplish their goals.


Dra. Valeria, her mom and I got into her car at 2 pm so she could drive back down the hill, shower and go to her clinic to see her late patients. I have been one of those patients for two months now, suffering from tendonitis and seeking her help in getting ready to get back on the tennis courts. The next time I'm able to strike a ball with my racquet, I'm sure my thoughts will be of those little kids in that small town battling to survive.


In this modern day of health care concerns due to the lack of affordable medical insurance, and not being able to spend more than a few moments with your doctor, the selfless acts of Dr. Lizaola renews my faith in the medical community. She comes highly recommended by me and others who have recovered not only from sports injuries, but also for all of those being treated for more severe ailments. Her clinic is located at Ave. Francisco Villa #764, directly across from the Versalles movie theatre. You can reach her by calling her office at 225-3137 or her cell phone, 044-322-116-7241.
Tell a Friend
•
Site Map
•
Print this Page
•
Email Us
•
Top