News from Around Banderas Bay | September 2005
Lazaro Navarro Wins XXI Copa Canto Del Sol

Martin Parra - PVNN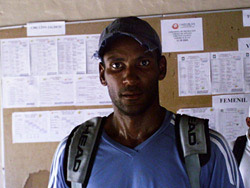 Cuban born Lazaro Navarro will be driving home to Mexico City in a brand new Mazda.

Puerto Vallarta - Cuban born Lazaro Navarro will be driving home to Mexico City in a brand new Mazda after defeating Rolando Vargas of Queretaro Saturday afternoon 6-4, 6-3. The final displayed the powerful serve and volley game of Navarro and the resilience of the feisty Vargas. Just two rounds ago Vargas never looked like a finalist, but as each match passed, he raised his level of play to get to the finals. Navarro played like a machine, each match a photo copy of the previous, as Vargas fought hard for every point he won.


How they got to the final Saturday follows:


As the pros started the main draw, all qualifiers lost early as the higher seeded and rested professionals played their first matches of the tournament. The heat index of 115 took its toll on players that needed tow or three matches just to get into the final draw of 24. The top eight seeds even had a bye and played their first matches the field was down to 16. Late Friday morning the quarter finals began and seven of the top eight seeds won, with only 5th seed Fernando Marquez losing to Cuban born Lazaro Navarro 6-1, 6-3.


Next up for Navarro in the field of eight was the top seed Juan Elizondo from Guanajuato, playing out of Guadalajara. Elizondo hit with two hands from both the backhand and forehand side, reminiscent of tennis great Monica Seles. As the match progressed on Court #2, fans crowded the area for a match that turned up in intensity and quality. The first set went to Elizondo, winning in a tiebreak 7-6 and Navarro returned the favor in the second set, winning by the same score. Navarro boasted a powerful serve and forehand and Elizondo hit with amazing consistency. Tempers started to flare a bit as players disagreed with calls, as the final set began. Navarro took three of the last four games to win the set 6-3 and advance to the semi finals.


The marathon match lasted about three hours and Navarro had to come back to play the 4th seed Daniel Langre at 7 pm match, just four hours later. Langre, also from Guanajuato and playing out of Guadalajara had an easier time in his match, defeating 8th seeded Gerardo Heyser 6-3, 6-3. Navarro's antics and complaining made Langre the immediate crowd favorite, and the match was on serve for the first eight games when Navarro broke and served out the first set, winning 6-4. His power game and continuous aces gave him an early break in the second set and a break late in the set sealed the victory, winning the second set 6-2.


In the other side of the draw 2nd seed Pablo Martinez of Guanajuato also playing out of Guadalajara and a former Davis Cup player for Mexico squared off in the semi final against 3rd seed Rolando Vargas of Queretaro in a match that ended late Friday night. Each player came off straight set victories in the quarter finals. This match was played into the late hours of Friday night as Vargas held of Martinez, winning by the slimmest of margins 6-4, 4-6, and 6-4.


After a full day of Finals Saturday, 26 in all, the pros closed out the week long tournament. Singles winners in all categories are as follows:


Men's A - Levi Navarro (Los Mochis)
Men's B - Francisco Javier Macias (Guadalajara)
Men's C - Jose Quezada (Privadas)
Men's D - Jorge Romero (Colomos)
Men's Novice - Juan Carlos Solis (Puerto Vallarta)
Women's B - Rosa Elena Sevilla
Women's C - Edith Marquez
Women's D - Lorena Martinez
Women's Novice - Paty Rodriguez


Boy's 18 - Luis Dominguez (Jalisco)
Boy's 16 - Jorge Verea (Jalisco)
Boy's 14 - Adrian Betanzos (Jalisco)
Boy's 12 - Miguel Arevalo (Sinaloa)
Boy's 10 - Humberto Angulo (Sinaloa)


Girl's 16 - Ivette Lopez
Girl's 14 - Viridiana Valdez
Girl's 12 - Rebecca Aguirre


Nine doubles finals were played after the singles awards award were presented and concluded before the professional final.


The final was what we came to expect as vintage Navarro, his booming serve providing him with at least an ace or two in each game. Vargas, a recent graduate from the University of Alabama, played even and was tied 4-4 before his serve was broken by Navarro. The Cuban served out the set, winning 6-4 and came out strong in the second set, breaking serve twice, opening a commanding 5-1 lead. Vargas excited the crowd by breaking serve and holding his own, closing to 5-3, but Navarro served the match out.


Thanks to so many people involved in the planning and background, the tournament would not have been a success without your hard work. Congratulations again to the winners, and most of all, the players that traveled to Puerto Vallarta for the competition.
Tell a Friend
•
Site Map
•
Print this Page
•
Email Us
•
Top