News Around the Republic of Mexico | September 2005
Nigerian President Decries Chauvinistic Attitudes at Home During Visit to Mexico

Morgan Lee - Associated Press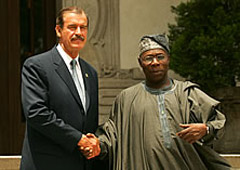 President Vicente Fox, left, shakes hands with Nigeria's President Olusegun Obasanjo in Mexico City on Monday. (Photo: AP)

Mexico City – Nigerian President Olusegun Obasanjo on Monday said male chauvinistic attitudes continue to prevail in his country during a meeting with Mexican lawmakers.


"What we do have is what I call male chauvinistic society," said Obasanjo, meeting with Mexican senators to discuss subjects ranging from women's rights to management of natural resources. Obasanjo also met Monday behind closed doors with Mexican President Vicente Fox.


Referring to members of Nigeria's diplomatic staff and two male ministers at his side, Obasanjo said, "These men here, almost all of them without exception, they all believe that man must be on top – all of them. And that is my quarrel with them."


Kano, Nigeria's largest city, recently started to enforce an Islamic policy separating men and women on public transport and states across Nigeria's Muslim north have implemented a strict Shariah legal code.


On an overnight visit to Mexico, Obasanjo said about 30 percent of his Cabinet ministers are women and said women's rights have advanced in Nigeria including minimum quotas for female elected officials.


"I find women are more loyal when you put them in appointments," said Obasanjo, who was scheduled to leave Monday night for Brazil.


Mexican Senate President Enrique Jackson said oil was an unavoidable subject of discussion with the Nigerian president as their countries respond to soaring world fuel prices.


"It's a bubble that will be difficult to maintain for much time," Jackson said.


Mexico is the world's sixth largest producer of oil, while Nigeria ranks 11th. But both countries must import most of their fuel for lack of refining capacity.


Nigerian trade unions and activists said Monday they would hold a series of rallies to protest against a steep rise in fuel prices, but would not call a nationwide strike as they had earlier threatened.


Fox on Monday said he plans to issue a decree this week to counter the effects of Hurricane Katrina on domestic energy prices and supplies.
Tell a Friend
•
Site Map
•
Print this Page
•
Email Us
•
Top