News from Around the Americas | September 2005
Agassi Emerges in Thriller

Michelle Kaufman - Miami Herald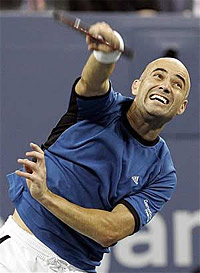 After losing the first two sets 3-6, 3-6, Andre Agassi pushed James Blake to a fifth-set tie-break, winning it 8-6 and advancing to the semifinals to face Robby Ginepri.

Clearly torn over whether to root for 35-year-old icon Andre Agassi or popular wild card James Blake Wednesday night, the jam-packed Arthur Ashe Stadium shifted into neutral during warmups and chanted "U-S-A! U-S-A!"


The crowd - which included actress Nicole Kidman and TV host Regis Philbin - cheered wildly as Agassi and Blake strolled onto the court at 10:15 p.m., after waiting through Elena Dementieva's stunning three-set win over top-ranked Lindsay Davenport.


They got drama. They got five sets. They certainly got their money's worth. And the sport of tennis got an epic that will not soon be forgotten.


When it finally ended, at 1:10 a.m., Agassi proved why he is one of the greatest players of all time. He came back from two sets to love, seemed to grow younger as the match progressed, and prevailed 3-6, 3-6, 6-3, 6-3, 7-6 (8-6).


"First of all, let me say, 1:15 in the morning, for 20,000 people to still be here, I wasn't the winner, tennis was," Agassi said. "That's awesome. I don't know if I've ever felt so good here before."


"That couldn't have been more fun to lose," Blake told Agassi at the net as the players embraced. "If I was in the stands, I would have been cheering for him, too. He's a class act in every way."


Just before Blake served for the match, ahead 5-4 in the fifth, the crowd was on its feet, chanting, "Andre! Andre! Andre!" He felt the love, and delivered, breaking Blake to make it 5-5.


And then, just after serving an ace to force the tie-breaker, Blake looked up at the scoreboard and smiled. Even he couldn't believe it.


Agassi, playing in his 20th straight U.S. Open, fell behind by two sets after an hour, but staged a furious comeback that belied his age, electrified the crowd and seemed to be tiring Blake, who had never won a five-set match in five tries.


Blake managed to fight back, but it wasn't enough against the two-time U.S. Open champion, who becomes the oldest semifinalist here since Jimmy Connors in 1991.


"I think James has a great shot," TV commentator Patrick McEnroe said before the match. "It all depends on how he handles the situation, the energy of the night. If it gets down to the X's and O's of it, James has a great shot. I think he's playing well enough to win. If Andre gets behind early, he could be in big trouble."


And he was. For a while.


Agassi, coming off a tough five-setter in the previous round, looked sluggish early and had trouble keeping up with Blake's speed. Blake won 14 of 16 points late in the first set, broke Agassi's serve four straight times, tracked down shots that looked unreachable and took a 6-3, 6-3 lead.


"I was thinking, Wait a minute, I don't want to get off the court yet, this isn't right," Agassi said. "So, I somehow found a way to stay in it and things started going my way."


Agassi advances to a semifinal against unseeded American, Robby Ginepri, who isn't a balding legend, doesn't have a made-for-Hollywood comeback story, and does not appear on nationally-televised commercials.


Ginepri is such a nonstar that when one of his marathon matches went past 11 p.m. early this week, USA Network chose to pull the plug and go to a Law and Order rerun. Up until this week, he was best known for briefly dating actress Minnie Driver a few years ago.


But he won't be anonymous for long.


On Wednesday, he pulled off the biggest win of his career, 4-6, 6-1, 7-5, 3-6, 7-5 over No. 8 seed Guillermo Coria of Argentina.


"As long as I keep winning, I'll get the spotlight sooner or later," Ginepri said. "I hope I'm more notable than just for a little fling [with Driver]. I'm making my name with tennis now, that's what I'm here to do."


He seemed genuinely stunned after beating Coria, who had 14 double faults. Ginepri is ranked No. 46 in the world and had never gotten past the fourth round of a Grand Slam event.


"I don't think it's really sunken in yet," he said. "I'm so overwhelmed right now, and exhausted. I'm still a little foggy, dizzy. It's crazy."


It was Ginepri's third consecutive five-set match.


He said he is looking forward to getting a good night's sleep.


"I'm pretty beat up," he said. "This match was rough. Those other five-set matches took a lot out of me. . . . Good things have come this summer, really quick. Everything is folding into place."
Tell a Friend
•
Site Map
•
Print this Page
•
Email Us
•
Top