Entertainment | November 2005
Mexican Band Wants English Speakers to Listen, Too

Phillip Zonkel - presstelegram.com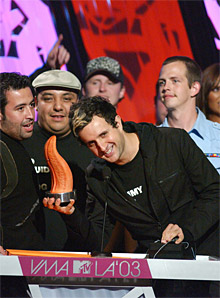 MTV award-winning Molotov says you don't have to understand Spanish to dig its metallic funk.

Molotov is a musical explosion. The rock-en-Espanol band uses biting social commentary in its English and Spanish lyrics to skewer racism and political corruption. The quartet also raps tongue in cheek about sex and fighting for the right to party.


The Mexico City-based group (bassist Paco Ayala, drummer Randy Ebright, guitarist Tito Fuentes and bassist Micky Huidobro), which plays the Vault 350 in Long Beach on Wednesday, drenches the songs with metallic funk, heavy bass lines and guitar rock for a cocktail that ignites audiences.


While some have compared the group to Rage Against the Machine, Molotov prefers to blend comedy with consciousness.


"It's easier to listen to," says Ebright, during a recent phone interview from Denver, one of the band's tour stops. "Political cartoons always have a serious message, but there's a comical undertone."


"Mexico City has had a lot of influence on my writing. That's what we draw inspiration from," says Ebright, 28, a Michigan native, who's lived in Mexico City since 1992. "There's always something dark or tragic going on in the country, but for some reason, there's always some comic relief. It's hard to listen to something when it's fire and brimstone."


Molotov, which formed in 1995, burst onto the scene with its 1999 debut, "Donde Jugaran Las Ninas?" a mix of sex, politics and Hispanic slang that was a critical and commercial smash. The disc title, "Where Will the Girls Play?" was a parody of "Donde Jugaran Los Ninos?" ("Where Will the Children Play?)" by the Mexican rock band Jugares. Molotov's tongue-in-cheek approach was obvious in the album art - a woman's legs seductively displayed while wearing a Catholic school uniform. Some Catholic groups were offended by the portrayal.


The band found itself in hot water with the song "Puto." The word can be used as a derogatory, Spanish slang for a gay male, but the band said the song's lyrics used the term to mean "coward," referring to someone who wasn't standing up for himself.


The following year, Molotov released "Apocalypshit," but it wasn't received as warmly.


Ebright says the record was the result of being under pressure from the label to release something, practically anything, while the iron was still hot.


"After the success of the first record, we were on nonstop tours. While on tour, the record company was biting at the bit to have something released," Ebright says. "Our manager had us writing on the road, and the conditions weren't that great. You're on a bus with the same people for four years. When you have any free time, you want to be in your own world and excluded."


"The songs on the record are pretty much just the identity of each individual member and not collective at all," he says.


The band took a break before making 2003's "Dance and Dense Denso." The album art of two guys smashing skulls until blood oozes said it loud and clear - Molotov was a force to be reckoned with.


The CD also marked the return of the legendary rock en Espanol team of Gustavo Santaolla and Anibal Kerpel, who produced Molotvov's first album.


"Dance and Dense Denso" was aggressive, intelligent, infectious and fun. "Changuich a la Chichona" celebrates drunken dances with girls gone wild, but things really heat up with "Frijolero (bean picker)." The track is about an angry Mexican farm worker and someone trying to stare him down. The song is loosely based on Sly and the Family Stone's 1969 song "Don't Call Me Nigger" and Ebright's personal experience in 2002.


Ebright, his wife, and 9-month-old daughter were traveling from Mexico to Michigan to visit family. They passed through immigration at the Miami airport.


"My wife and I had to go through separate lines because of nationalities. My wife is Mexican, and I'm American, and my wife took the baby with her," Ebright says. "They were wondering why my daughter had an American passport coming in with a Mexican woman. They frisked my daughter."


Molotov's latest disc, "Con Todo Respeto," is a covers record, but with a Molotov twist. The group takes 12 offbeat but cool tunes and rearranges the musical DNA - Falco's "Rock Me Amadeus" becomes "Amateur," Gil Scott-Heron's "The Revolution Will Not Be Televised" is retitled "La Revo" and Glenn Danzig's "I Turned Into a Martian" morphs into "Marciano." The album has been embraced by critics and fans on both sides of the border. But Stateside, Ebright says, the overwhelming majority of Molotov's fans are Spanish speaking.


Ebright wishes non-Spanish speaking audiences in the U.S. could move past the potential language barrier.


"In Europe, they're so used to being bombarded by different languages and cultures and are a lot more open to new music, even though they don't understand word-by-word what the lyrics mean," he says. "In the States, they're not used to being bombarded."


"It's frustrating traveling around and seeing other countries that are more open to listening to music from different regions of the world," Ebright says. "Why can't (audiences in the U.S.) turn the tables sometimes?"
Tell a Friend
•
Site Map
•
Print this Page
•
Email Us
•
Top