News from Around Banderas Bay | November 2005
The ABC's of Gourmet - Recipe

Kathy Taylor - PVNN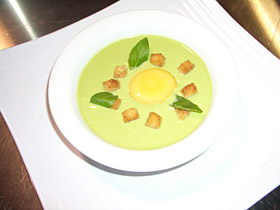 Chilled Cream of Fresh Peas in Bacon Aspic

Chilled Cream of Fresh Peas in Bacon Aspic
Serves 10


To make the Gelatin Base:
500 gr Chicken wings
250 gr Aromatic garnish
100 gr Smoked Bacon
10 gr Gelatin leaves
2 Egg Whites


To make the Pea Cream:
400 gr Fresh or frozen peas
100 gr Onion
100 gr Chicken Broth Powder
50 gr Butter
1 dl Fresh Cream
1 bunch Bouquet Garni


Garnish:
10 Quail eggs
10 gr Butter
1 bunch Chervil
4 pieces Bread Slice
25 ml Peanut oil


Seasoning:
1 pinch Fine salt
1 pinch Rock salt
1 pinch Fresh ground pepper


Directions
Using the wings and aromatic garnish (onion, celery, carrot), prepare a classic chicken stock. Add the smoked bacon cut in small slivers, skin on. Degrease the stock frequently, and when cooked, clarify with beaten egg white. Dissolve the gelatin in a small amount of cool water, and add to stock. Pour a layer of stock into each soup plate, and chill.


Sauté the chopped onion in butter until soft, add the peas, bouquet garni and the chicken stock powder. Cover with water and simmer for 10 minutes. Cool. Puree in blender in batches. For extra smoothness, pass through a sieve. Incorporate cream which has been whipped to soft peaks.


In a small skillet, fry quail eggs over low heat, leaving yolk soft, and trim with a round cutter. Save on a non stick sheet pan.


Trim crusts and cube bread (small) and sauté until golden and toasted in butter and oil.


Presentation:
On top of the gelatin/stock (aspic) base, spoon the pea cream. Centre a quail egg, spooning more cream until only the yolk is exposed. Scatter with a few croutons and garnish with chervil.
Tell a Friend
•
Site Map
•
Print this Page
•
Email Us
•
Top