News from Around Banderas Bay | November 2005
Filmmaker Ash Adams of "The Distance" this Week at the Film Festival

Bob Cohen - PVNN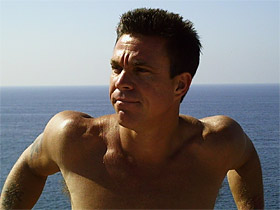 Ash Adams, actor/writer/director/producer of "The Distance", seven floors above Los Muertos Beach. The film will debut Friday at 8:00 PM at the PV Film Festival.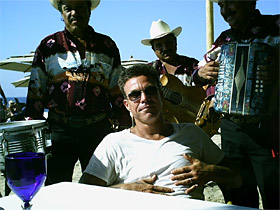 Coming to Puerto Vallarta every year since he was nine, Ash learned to love the Mariachi music in Puerto Vallarta.

Being the sports fanatic I am, the opportunity to interview Ash Adams, who wrote, directed, produced and acted in "The Distance" had me excited before we ever met. However, after speaking with Ash for a short while, I realized that he portrayed boxing as a microcosm of life in the film.


The film, which will play Friday night at 8:00 PM as a part of the Puerto Vallarta Film Festival, is a documentary about boxing and boxers, but according to Adams, "It's about what happens when you put it all on the line in life, not just boxing."


After a successful premiere at the Montreal World Festival in September, followed by a screening at the Rhode Island Film Festival last month, Adams brings the second film he has written, directed and produced to the Puerto Vallarta Film Festival.


The film features appearances and interviews, along with film footage, of boxers including ex-world champion boxers, Ray "Boom Boom" Mancini, Gerry Cooney, Bobby Chacon, Mando Ramos, Vernon Forrest, Gabriel Ruelas, Art "Golden Boy" Aragon, and others that had career losing records. Insight was added by the two most famous boxing analysts, Larry Merchant and Jim Lampley of HBO. Actors Louis Gossett Jr., James Whitmore and Michael Madsen, who are all very close to the fight game, were also involved.


Our three hour visit - rather than interview - was enlightening and insightful as Ash talked about the 18 months he spent with the boxers involved in this film, stating, "The physical act of boxing represents all of our lives perfectly - symbolically and literally. Boxing is our life in a 20 x 20 ring of canvas and rope. Each round represents the time we have to accomplish our goals and desires in everyday life. We bob and weave, slip, jab, punch and counterpunch. Sometimes we win, sometimes we lose, but we keep on fighting."


Adams, from Los Angeles, considers Puerto Vallarta his part-time home, as he has been coming here for part of the last 31 years. His first visit was with his parents as a youngster and he has returned regularly ever since. His personal motto about PV is "anything is possible, everything's ok", which inspired him to write his last two scripts here.


Ash started acting in 1986 as John Ryan on Ryan's Hope, an ABC daytime drama that aired for three years. Other television roles were in Thunder Boat Row, The Young Riders, and Acapulco Bay. He also played guest-starring roles on Adam 12, FBI: The Untold Stories, Beverley Hills 90210, Renegade, VIP, and Dragnet.


He later went on to the big screen, appearing in feature films including After the Past, The Stranger, Lionheart, Original Intent, I'll Love you forever…tonight, Puppet Master 4 and Striking Resemblance. Ash is a lifetime member of the legendary Actors Studio and is on the board of directors of the Malibu Film Foundation.


"Why the switch to writing?" I queried. With an insightful response, he replied "I was chasing my own ego and needed to tell a story about people who achieved goals and aspirations and came out the other side with wisdom and knowledge we can all learn from. Besides that, I was turning 40 and not being that proud of what I was doing and wanted to symbolize the human experience."


His first feature as a filmmaker was "After the Past" which he wrote, directed, co-produced and starred in. Narrated by acclaimed actress Amy Madigan, the film won the 2003 Audience Choice Award at the Malibu International Film Festival. He is currently writing and directing another film, "Once Fallen" that will be released next year, teaming up again with Amy Madigan as her co-star.


Another project on the horizon is "Border Land," a story about Mexico and two men coming up on their 40th birthdays, who are very dissatisfied with their lives. The movie depicts their haphazard adventures as things do not go as planned - and all goes wrong.


Returning home, I put in the DVD that Ash gave me to preview his documentary. It covered the spectrum of the boxing world, from fighters (both ex-champions and journeymen), boxing analysts, actors, trainers, referees, doctors. Unspoken questions were answered in the film. Boxers spoke about killing an opponent and the emotional scars it leaves. Why are most boxers flat broke after successful careers?


Most importantly, it asks the question, "What does it mean to go the distance?" True, it is a boxing term, but Adam's documentary left me thinking about my life thus far and asking myself if I had gone the distance. My feeling is anyone that sees the film should look beyond the boxing aspect to a large degree and look at the sacrifices human beings make in life regularly to attempt to go the distance.


As a film critic, I rate it a "thumbs up!" The Distance airs Friday at the Puerto Vallarta Film Festival at 8:00 pm. Do yourself a favor and take an inside look at the boxing world and the world of humanity.
Tell a Friend
•
Site Map
•
Print this Page
•
Email Us
•
Top