News from Around Banderas Bay | November 2005
Like the Best Wine, Café des Artistes Only gets Better with Age

Kathy Taylor - PVNN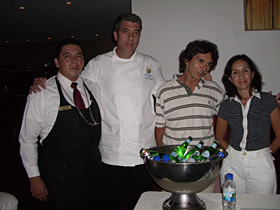 Mayan Palace Sommelier Daniel Mendez, Thierry Blouet, Robin Bouchard, and Carolina Barrera Gomez.

"Thank You, Puerto Vallarta, for 15 Wonderful Years!" It is with this sentiment that Thierry Blouet is celebrating the 15th anniversary of his landmark restaurant Café des Artistes.


The traditional gift for a 15th anniversary is crystal, and Café des Artistes is busy polishing the crystal in preparation for the 15 days of celebration that begins on December 1st. For these 15 days, Café des Artistes will recognize its community, guests, and staff in very special ways.
Click HERE to see the Event Calendar.

During the entire period of 15 days, they will be offering the three-course Bistro menu in Café des Artistes for only $250 pesos per person. Each evening during the anniversary celebration, the Constantini Wine Bar will feature select wines for a free wine tasting event, from 6-6:30 pm.


Do you have a "special" bottle of wine at home that you have been saving for an "extra-special" occasion? Thierry Blouet Cocina de Autor is also offering a unique "no corkage fee" for those special bottle(s) of wine that you may bring to accompany your dinner from December 1-15th.


As well as all of the fiesta-long features, there are some exceptional treats in the offing, something to suit every palate and pocketbook.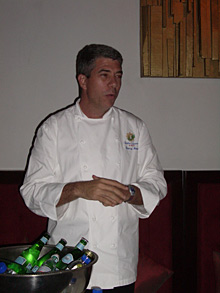 Chef Thierry Blouet at press conference announcing Anniversary Celebration.

Since 1990, Thierry Blouet's staff have served countless glasses of champagne to discriminating diners, so it is no surprise that the kick-off event on December 1st will be an exclusive Dom Perignon tasting. The upper terrace of Cocina de Autor will be the elegant venue for this glittering event, at a cost of $800 pesos per person.


Café des Artistes' exploration of champagne continues on Friday evening with a tasting of two other legendary champagnes, Moet et Chandon and Veuve Clicquot in the contemporary wine bar, Constantini. Canapes will be served with the champagnes, for $500 pesos a person.


Beginning on December 5th, Thierry presents the "Three Musketeers", renowned chefs and friends, Vicente Etchegary, Bruno Oteiza, and Pablo Sanroman, who will each present a special chef's table in Thierry Blouet Cocina de Autor. The six course meals will be paired with wines, for a special price of $950 pesos.


The "Three Musketeers" represent some of the best dining experiences in Mexico City.


Basque food, with its emphasis on fresh ingredients, is one of the most rapidly evolving and popular cuisines globally. Characteristically not overly sauced or spicy, its trademark is a complexity of flavours achieved by the combination of the freshest of basic components and traditional cooking techniques.


Chef Vicente Etchegary is chef/proprietor of Bakea, which features Basque-French specialties. Etchegaray's mission is to wow you with "Mi interpretación" of scallops, raviolis, lobster and quail. Chef Etchegary's chef's table will be presented on Monday, December 5th.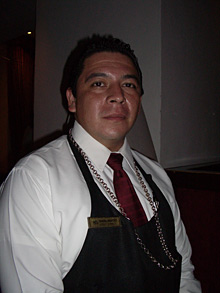 Mayan Palace Sommelier, Daniel Mendez.

A native of the Basque region of Spain, Chef Bruno Oteiza's zeal and competence have brought him international recognition. He has been a distinguished guest at the Basque Institute of Chicago in the annual Comunidad Vasca Mundial dinner, as well as other professional accolades. He comes to Cocina Autor for one night, Tuesday, December 6th, from Tezka, in Mexico City.


Chef Pablo Sanroman, also Basque, is co-founder of D.O. (Denominacion de Origen) with fellow Basque, Bruno Oteiza. He says that in his kitchen he looks to discover the most authentic flavors to "please the palate rather than trigger a reaction." His heartfelt preparations include artichoke hearts with minestrone of cod with clams and baked txangurro, a Basque specialty. Sanroman will present the final night of chef's table dinners on Wednesday December 7th.


Four members of the Federation of Sommeliers of Mexico, including Café des Artistes' own Sergio Gutierrez go "Mano a Mano" on Thursday night in Constantini's Wine Bar with a special tasting marathon, including hors d'oeuvres, for a cost of $350 pesos per person.


The inaugural cooking classes in the specially designed open kitchen of Thierry Blouet Cocina de Autor will happen on Friday and Saturday, December 9th & 10th, between 12 and 2 pm. Chef Thierry Blouet will prepare four courses, and you will take home not only inspiration but the recipes for his creations. These classes are $350 pesos each per person.


Also on Friday evening at Constantini Wine Bar, Café des Artistes will present a tenor and piano concert with Dr. Octavio Gonzalez Lomeli. All of the proceeds of this $1000 peso per person event will be donated to Arturo y Hijos de Dios A.C., which Thierry Blouet assisted in forming in 2001. This local non-profit association directly assists individuals and families who are suffering misfortune.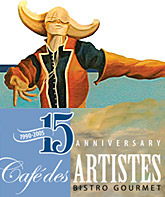 The variety and depth of the anniversary celebration reflects Thierry Blouet's character, and the character of his trio of dining experiences. His cuisine is without category, coming from a well of classic experience and spirited adventure. His immense energy and enthusiasm for excellence arrive from this source as well. He says "I love what I do," and it shows.


For reservations or more information, contact Café des Artistes at (322) 222-3228.

Click HERE to see the Anniversary Event Calendar.
More information on Arturo y Hijos de Dios A.C. can be found at http://www.arturoyloshijosdedios.org.
---
Ultraglam: Champagne by the Glass at Café des Artistes

Kathy Taylor

New York's trendy Bubbles wine bar has over 16 champagnes available nightly by the glass. Café des Artistes in Puerto Vallarta, Mexico has a rival cellar, and recently offered an evening of Moet & Chandon and Veuve Clicquot tasting to celebrate their 15th anniversary.
more »»»
---
"Tasting the Stars" under the Stars

PVNN

On Thursday December 1st, Café des Artistes kicked off their 15th Anniversary celebrations with a champagne tasting party. Join BanderasNews video journalist, Laura Gelezunas, as she pops the cork in celebration of this sparkling event.
more »»»
Tell a Friend
•
Site Map
•
Print this Page
•
Email Us
•
Top